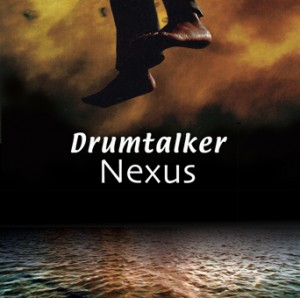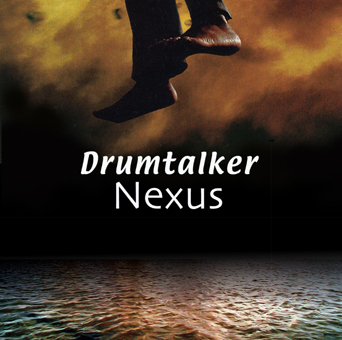 THE ABILITY TO BREATHE TOGETHER   We were honoured to have our Drumtalker album nominated for a Juno, the Canadian equivalent of the Brit Awards of Great Britain or the Grammy Awards in the USA. The reviews were in:   Payton MacDonald (American Record Guide) said,  "Nexus remains one of the great percussion groups in the world. They continue their legacy of excellence with their newest release" and called Russell Hartenberger's Invisible Proverb "a lush, groovy exploration", "sensitive and smart". Of Bob Becker, the review says "his musicality and rhythmic flow are stunning…no one else in the world approaches the phrasing and the improvising with the level of intelligence of Becker." An interesting comment from MacDonald: "One outstanding attribute of this group is their ability to breathe together. These five musicians possess a deep sense of groove and pulse."
            Lisa Rogers in Percussive Notes calls Drumtalker "A new addition to my list of the top-ten CDs of all time…simply the best in percussion ensemble performance" and mentions the quality of recording. The album was recorded, edited and mixed by our hero Ray Dillard. She mentions Peter Schickele's "colorful work".  Annette Sanger in The WholeNote magazine says, "Everything about this CD is wonderful: the performing is technically impeccable and musically sensitive, and the diversity of the three pieces … showcases Nexus' versatility and high level of comfort in disparate styles." She also mentions the "great artistry" of the album's stunning design by Bonnie Scheckter, and says it is "uplifting to hear music from a 'serious' contemporary ensemble that exudes such flair and fun!"
Read an interview with artist Bonnie Sheckter about creating the cover art at  http://bit.ly/2XKHHmI
Listen to album excerpts at  http://bit.ly/38MX5p9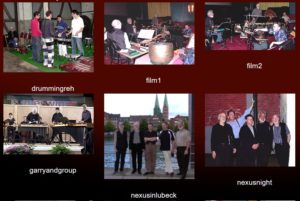 TREMBLING WITH RELISH – SCHLESWIG-HOLSTEIN   We had a great (and varied!) week at Germany's Schleswig-Holstein Music Festival. Christoph Eschenbach conducted us in Takemitsu's "From me flows what you call Time…" with the Festival orchestra; we did workshops and concerts in Salzau, Lubeck and Hamburg; and we presented the European premiere of the great Kinugasa silent film "A Page of Madness" with Bill Cahn's accompaniment at the Metropolis Cinema. In a review headlined "Ecstatic Sound Experience," the Hamburg Morning Post called it "a little jewel of film history" and said "the music developed an undertow nobody could escape", summing up "Never before has the tranquil balcony at Metropolis Cinema trembled with such relish." The film had been lost for 45 years until rediscovered by Kinugasa himself in a rice barrel at his country home! The wonderful violinist Midori shared the stage for the orchestral concerts. She had recently been awarded – twice- the Deutscher Schallplattenpreis, published her 2004 memoir Einfach Midori (Simply Midori) in Germany, completed her Masters in psychology at NYU a month before our concerts and had just taken the Jascha Heifetz Chair at the University of California! A remarkable person. You can check out more photos including the gigantic hamburgers of Hamburg, sights, students, the Takemitsu performances, and our terrific crew at https://bit.ly/30fbaK0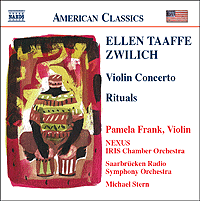 THRILLING MUSICAL COMBAT    Autumn brought the release of the Zwilich commission "Rituals" on the Naxos Label, and a live performance of this superb piece with the Florida State University Symphony under Alexander Jiménez. Of the extensive instrumentation, Bill notes that the 4th movement calls for a number of improvised drum passages: "I wanted my sound to be distinct from the other players, so I decided to use my six-drum set of boobams, which I had created for R Murray Schafer's Shadow Man and which has worked very well in this piece for every performance since the premiere."  Bob, on the other hand, was dealing with castanets. While in Madrid, he had found enormous ones, nearly 6 inches in diameter. "I had no idea such things existed, and to this day I wonder about the size of the hands that can hold them. I couldn't imagine playing them on handles of any kind, so I asked Andrew Feldman to mount them so they could be played with the hands or with mallets. His mounting system is ingenious. I have used these castanets in various contexts, and Ellen Taaffe Zwilich included them in my part [for] "Rituals". When asked what to call them, I suggested the term 'contra-bass castanets', which is the indication now written in the published score."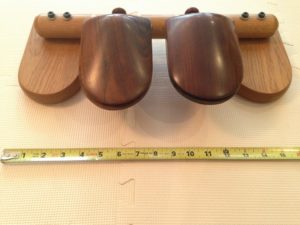 In a "Classics Today" review of the CD, Victor Carr Jr. said "Rituals" is "a total delight, from the opening Invocations, with its stunning pageantry of bells, gongs, and cymbals, to the dancing Ambulation, to the electrifying Contests, where groups of percussionists engage in a thrilling musical combat, set against an orchestral backdrop of increasingly alarming freight-train chords. Under Michael Stern's leadership, NEXUS/IRIS Chamber Orchestra members play magnificently as they build to a frenzied, exhilarating conclusion…highly enjoyable… enthusiastically recommended!"
             Listen to excerpts from the CD at http://bit.ly/38peLag
Read more about Bob's adventures with castanets at http://bit.ly/3bHP3Qf   (scroll to the bottom of the post)
         Read more about Ellen and "Rituals" in Bill Cahn's book "Unpopular Music" (p135ff). Copies available by writing to billcahn@aol.com
Read more about Julie Delton's cover art for the CD at http://bit.ly/2LSjB75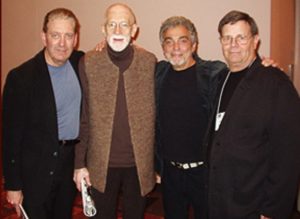 LIFETIME NIGHT RIDE    Some nice shots from PASIC 2005 in Columbus, Ohio. You will see Bill and Robin with John Wyre and Steve Gadd (photo by Lauren Vogel Weiss). It was one of the final times we were together with John.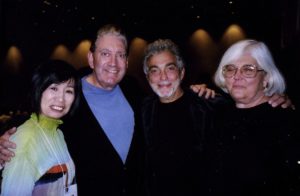 Bill and Ruth Cahn are pictured with Mika Yoshida Stoltzman and Steve Gadd. It was Mika's first time performing at PASIC. Bill, Ruth and Steve had been in the same graduating class (1968) from the Eastman School of Music.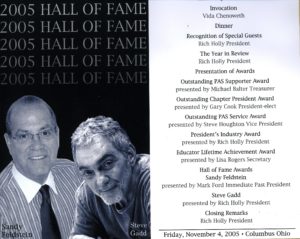 Steve and Sandy Feldstein were inducted in the PAS Hall of Fame that year, and Steve performed with the Columbus Jazz Orchestra. In our NEXUS concert, Bill was able to preview his new work, just completed in August '05, called "Night Ride".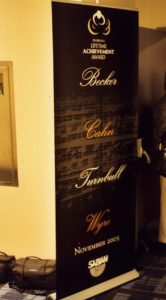 A major event was the SABIAN "Lifetime Achievement Award" presented to Bill, John, Bob Becker and Ian Turnbull of London Ontario. Over 200 percussionists gathered for the presentation. The group photo shows Bill flanked by Ian and by Nick Petrella (the SABIAN Artist Representative) and John flanked by Andy and Bob Zildjian (owner of SABIAN). Past recipients of the Award had included (among others) Alan Abel (Philadelphia Orchestra), Vic Firth (Boston Symphony), Morris ˜Arnie' Lang (New York Philharmonic), and jazz greats, Roy Burns, Jim Chapin, Joe Morello, Ed Shaughnessy and Ed Thigpen. This was a very special honour. Bob had been unable to attend the presentation and Bill read Bob's letter of thanks and accepted the award on Bob's behalf.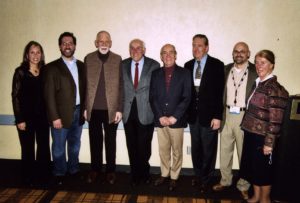 SABIAN had been founded 25 years before in eastern Canada in the tiny village of Meductic, New Brunswick. Our other connection to New Brunswick in 2005 was our summer performance at the Baie des Chaleurs Chamber Music Festival in the small town of Dalhousie, NB, where we presented Russell Hartenberger's new work (2004) Telisi Odyssey, Robin Engelman's new arrangement of Takemitsu's A Song of Circles & Triangles, and the Christos Hatzis' commission, Four Rituals, recorded and broadcast by the Canadian Broadcasting Corporation across Canada.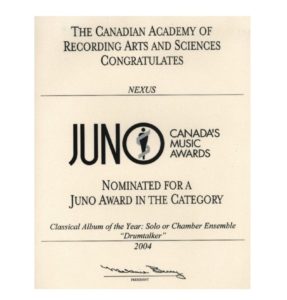 COLOURS IN CANADA – COOL TO COLD    It was a very Canadian year: Nominated for Canada's Juno, Sabian recipients, an eastern Canada festival, a cross-Canada broadcast. Then the Colours of Music Festival in Barrie ON, a Cool Drummings event for Soundstreams Canada, and a late fall tour of northern Ontario. In Toronto, Cool Drummings featured Steve Reich, and a wonderful collection of vocalists and musicians performing "Drumming" in its entirety. This was a preamble to Soundstreams' later recurring Cool Drummings International Festival initiated a couple years later. In Barrie, one of NEXUS' longest of long-time friends and supporters, Bruce Owen, headed up Colours of Music. Bruce was one of the very first presenters ever to book NEXUS.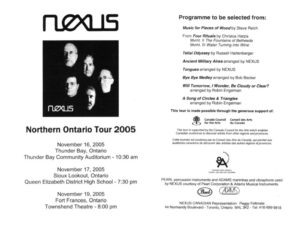 Touring to northern Ontario in November might not have been the best idea. Craig Snowden was driving the instruments and clocked some 22 hours of driving, one way, from Toronto north to Thunder Bay, Sioux Lookout and Fort Frances, and recalls, "It became so cold at night that the truck literally froze and would not start. I had to go to the hardware store for an extension cord and run it out of the hotel to plug in the truck heater." But what a warm welcome we received! (This was also the year when Craig drove our instruments to Tallahassee FL – He and Robin "wanted to go to the beach so we hopped in the truck and drove about 30mins to the Gulf of Mexico. When we arrived we found that a hurricane had gone though and almost completely destroyed the beach-front homes and cottages. A number of them were flattened while others were simply pushed back into the trees from the storm." The varied life of a NEXUS equipment manager!
      You can read more from Craig Snowden about "Moving NEXUS" at http://bit.ly/39MHkxF
     Here is a photo of Robin and Bob at our Sioux Lookout concert, and a pic of our new 2005 NEXUS flyer, too.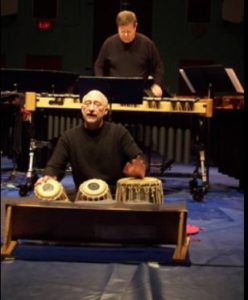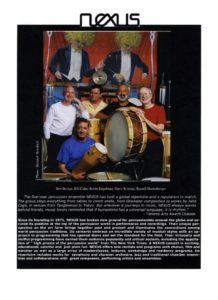 WRITINGS AND LINKS!!   There was a lot of work going on with regard to publishing! Russell's Invisible Proverb was published by Steve Weiss Music. Bob started work on his book Rudimental Arithmetic in 2005, and he composed his Eight Etudes for Snare Drum. Bill's important book Creative Music Making on freeform improvisation was published by Routledge Books and you can read more from Bill about his CMM work and the necessary skill of listening in his book "Unpopular Music (p101ff).  Bill was also asked in 2005 "to give presentations to several local historical societies.  I decided to simply write down the fife and drum school program that I had presented many, many times over several decades, and to assemble the program, along with some background information, into a book titled, "Music for A Revolution."  The book would enable professional performers to present (and classroom teachers to discuss) the hour-long program in a way that is intended to be fun, informative and entertaining." Read more about 18th Century Roots HERE.
         You can also read an interview with Bob Becker that appeared in the July, 2005 issue of Mallet Shop Quarterly at  http://bit.ly/35VS23M.   Back copies of the Quarterly are available HERE.
         Read more about Bill Cahn's approach to Creative Music Making in this blog post: http://bit.ly/3bTQ5IN