1975:   DIFFERENT MUSIC   We continued performing our George Hamilton Green ragtime arrangements. Bob Becker was totally smitten, and says, "I was tracking down all of it". For two appearances, we played rags and also our improvisation at the famous (or infamous) Bohemian Embassy coffeehouse in Toronto which (thanks to founder and long time CBC performer Don Cullen) launched or added impetus to many careers, e.g. Margaret Atwood, Lorne Michaels, Gordon Lightfoot, Joni Mitchell. Cullen presented a host of eclectic artistic activities: poetry and literary readings, cabaret revues, sketch comedy, folk and chamber music. It was a place where you could be "different", and NEXUS could do that!
              By the mid-'70s, Bob and Russell (who were also members of Steve Reich and Musicians) were performing Reich's Marimba Phase (a version of Piano Phase) on NEXUS concerts. We continued to include our African-inspired pieces, and now we also added Fife & Drum music, a particular interest of Robin Engelman. New compositions were coming from the NEXUS members too – John Wyre's Utau Kane Nowa incorporated vocal chorus – We premiered it with the Festival Singers of Canada conducted by Elmer Iseler.
         And Bob was stretching his compositional wings. In '75 he completed "Lahara". He says, "I don't consider any composing that I did prior to around 1975 to be of any real significance, except for myself. In '74 I was working on translating tabla repertoire to snare drum – finding a way to move a hand/finger technique on two drums over to two sticks on one drum. I knew a few percussionists who had tried transferring tabla pieces to drumset…It's an interesting exploration, but I wanted to be able to play tabla repertoire on an instrument I knew well with a technique that was comfortable and part of my background…I could see a pretty clear link between tabla playing, which is metric and always specifically measured, and rudimental snare drumming. By that time, I was pretty advanced as a tabla player, and so I was able to 'feel' connections between various common tabla phrases and standard snare drum rudiments and when I played tabla, I often had a kind of subliminal awareness of playing something similar with two sticks. So I tried to work from that sensation rather than devising an arbitrary system of tabla stroke equals drum sound…Remarkably, I found I could also do the reverse, and my tabla teacher was interested to hear how I played some traditional rudimental drum solos on tabla. The result of this work was the solo Lahara, which was finished in 1975 and is now published by KPP." For NEXUS performance we added accompaniment by drone and melody instruments (marimba and vibraphone). You can read more about Bob's composing in this interview.
1976:   DIRECT-TO-DISC TECHNOLOGY   In 1976 we utilized the newest (and most nerve-wracking) recording tech of that time: Direct-To-Disc. In the Soundstage and JAMF studios in Toronto we performed our Ragtime Concert directly onto a master lacquer – a live performance in every sense. We performed each side of the album completely as if playing a live concert, in a single take with the performance continuing uninterrupted as the master lacquer was cut. That's six pieces in a row without a break and with no possibility of edits, fixes, changes. The D-to-D process improved the purity of the audio signal giving a cleaner sound by eliminating the intermediate steps of analogue audio tape transfers. This was the state-of-the-art in recording technique in 1976, just before the advent of digital recording. You can hear an example in Bob Becker's blog post (his arrangement of Green's "Triplets"): https://bit.ly/2VmYIT4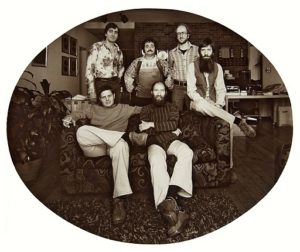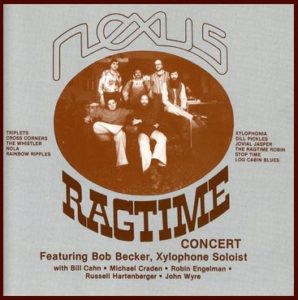 Bill Cahn also talks about it: "The best technology at the time was the direct-to-disc process, in which a performance was recorded in real-time directly from the mic to a cutting stylus to create the master disc, from which all copies were made. The technology was short-lived, however, because of the emerging digital recording process used on compact discs. It was a challenge – and not just for the players, but for the engineers too! Michael Craden was the percussionist for the sessions and he played on a unique variety of small percussion instruments that were placed on a table and struck with various sticks and mallets. Because his amazingly creative playing was entirely improvised, the recording engineers who were 'riding' the volume controls for the cutting stylus, were severely challenged in trying to avoid volume overload. In fact, one or two of the 'takes' had to be discarded due to overload peaks in the percussion. The possibility of overload distortion was simply something that had to be accepted as a part of the direct-to-disc process in order to capture the excitement of a live performance. Ultimately, several overload-free takes were recorded for each of the two-LP sides – which of course meant we had had to perform the entire concert over again, each time!" Here's a shot of the recording session from the sound booth side. In 1991 the Ragtime Concert album was re-released on CD, but because the original D-to-D metal was no longer available, it is made from the high-technology tape master produced at the same time as the performance was recorded directly onto the master lacquer. Drop a line to billcahn@aol.com if you would like a copy.
1976 :  JAPAN!  Our first tour outside of North America was to Japan where we had been invited to participate in Toru Takemitsu's "Music Today" series. Toru had known John Wyre and Robin Engelman for a number of years, and indeed it was in 1976 that Toru completed his composition "Bryce" dedicated to Robin's young son Bryce Engelman. Robin writes, "I will always remember this first tour with fondness because Toru's manager had arranged for venues, advertising, our hotels and transportation – luxuries Nexus rarely savoured. However most memorably, Toru travelled with us, sharing 'the road.' He acted as our Master of Ceremonies, introducing us to our audiences." John Wyre had the role of group manager (a task which can often feel like herding cats) and asked Toru for some managerial advice. Toru's response? "You must always remember that they are coming at you with a good heart."
 Bill Cahn says, "Virtually every experience in Japan had been exciting and memorable…After having spent almost a month on tour, I was …  well accustomed to finding myself in situations where I had no idea of what to do or how to behave. Ironically, it was precisely that kind of circumstance, where nothing is explained and for which I had to teach myself to cope, that I eagerly sought for myself during ever NEXUS…improvisation…Life as art…you know what I mean?"
The tour was sponsored by Canada's Dept. of External Affairs and by Seibu Department Stores. We toured the main island with notable performances in Osaka and Kyoto. Toru said of NEXUS, "While they are in full possession of the astounding technique and professional bases implied in modern music, they perform simply for the joy of making music." Read more: Bill's tour stories in his book "Unpopular Music" (billcahn@aol.com). Robin Engelman's blog at https://robinengelman.com/ , especially his "Toru Vignettes",  and "Bryce". John Wyre's managerial story in his book "Touched By Sound".
1976:    EXPANDING REPERTOIRE    In February 1976 for New Music Concerts (Toronto) we gave our first performance of Steve Reich's milestone work, "Drumming", with Reich in attendance. Reich is arguably the most influential American composer of the late 20th Century in the world of classical music, emerging onto the music scene in 1971, the same year as did NEXUS and the important and long-lived New Music Concerts. Our primary connections to Reich were Russell Hartenberger and Bob Becker who were both members of NEXUS and of Steve Reich and Musicians. Bill says that because of their enthusiastic commitment to Reich's music, "NEXUS could now include a major work by an important contemporary composer on a solo ensemble program." Wendalyn Bartley, new music columnist for The WholeNote reminds us that there was an afternoon program that day that included "Piano Phase" performed on marimbas by Russell and Bob, Clapping Music, Music for Pieces of Wood and Music for Mallet Instruments, Voices and Organ, and an evening concert that culminated with "Drumming": "I remember too the instantaneous and roaring standing ovation this piece received, a rare occurrence at a new music concert…Those concerts…had marked the first time Reich's music had been performed by anyone other than members of his own ensemble. This was only possible because of the presence of Hartenberger and Becker. Both at the time were teaching percussion at U of T and York and were members of NEXUS…Hartenberger told me that to make the concert happen, he gathered together musicians from other members of Nexus, some of his students, and other Toronto-based musicians he knew. Just how significant a moment in time was this concert? 'Steve was wary of other people playing his music,' Hartenberger said. 'But he knew that Bob and I knew the music and were able to coach, so there was some trust there that it would be the way it was supposed to be. He allowed us to do it, but it was quite a while before anyone outside the group played those pieces.'
We also had a new work by Jo Kondo whom Toru Takemitsu had commissioned to write a piece for NEXUS. Titled "Under the Umbrella", we premiered it at an autumn New Music Concerts event, along with "Etats" by Betsy Jolas written for violin and 6 percussionists. "Under the Umbrella" was written for 25 untuned cowbells or "almglocken" and a gong, in 4 movements. Morton Feldman, on hearing the composition, is quoted as saying, "I think [it] is going to be another kind of classic as the years go by." At Philadelphia's Temple University and in Glassboro NJ we added John Cage's "A Flower" to our programming. NEXUS members were writing too. John Wyre wrote "Bernie", dedicated to saxophonist, clarinetist, flutist Bernie Piltch who had been a member of John's "first" group (1969-70) with Michael Craden called "I Ching". Bernie's son, bassist David Piltch, has shared with us Michael Craden's portrait of Bernie.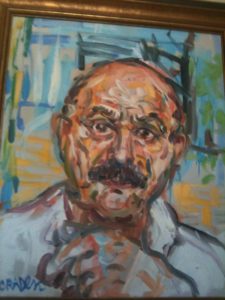 NEXUS premiered "Bernie" in Toronto with the voices of the Festival Singers of Canada and Bernie himself on bass clarinet. Bill Cahn was also inspired by our recent tour of Japan to write "In Ancient Temple Gardens" (Honeyrock Publishing). You can hear excerpts of this lovely piece at https://bit.ly/2Vr8LGN . But improvisation was not forgotten, most notably a reconnection with poet Earle Birney in May, and at the September opening of the Royal Ontario Museum's "Gold For The Gods", an exhibition of pre-Inca and Inca gold and artifacts from Peru. You can read Bartley's WholeNote article at the Soundstreams Blog: https://soundstreams.ca/2016/04/wholenote-steve-reich-now/     
1970s:   EARLY NEXUS INSTRUMENT   The Orange Capatonus was made in 1970 in @BillCahn's garage. It started its musical life with the NEXUS duo (Bill Cahn and Bob Becker) and continued with the NEXUS sextet. Bill says, "It took a few days to find and assemble the parts to build it. Its tuning matched the tuning of a toy xylophone (found in an import shop; the toy was made in the Soviet Union).  The toy was inexpensive and small – easy to transport – so that Bob and I could use it in our improvised music.  In contrast, the Orange Capatonus was more bulky and in two parts that needed to be assembled before performances and disassembled afterwards. Even so, it was used in virtually every NEXUS improvisation for the first few years. It especially played a prominent role in my piece 'The Stringless Harp' which was composed for NEXUS and orchestra and performed several times in Rochester and also in Courtenay, B.C. in 1974." The Orange Capatonus is a marimba with maple wood bars and plastic blueprint tube resonators. The tubes originally had orange-coloured caps, but the caps faded in colour over time and were then painted black. It's scale system (matching the toy xylophone) had uneven intervals ranging from a minor-third to a quarter-tone as the scale was ascended.
1970s:   BLACKEARTH PERCUSSION GROUP  Let's talk about the roots of our future NEXUS member, Garry Kvistad. Concurrent with NEXUS' development, Garry co-founded the Blackearth Percussion Group in 1972, shortly after NEXUS came into being. Blackearth was together for 7 years. Along with Garry, the original group members were @RickKvistad, @AllenOtte, @MichaelUdow and @ChrisBraun. In later years, James
Baird, David Johnson and Stacey Bowers joined and in the last two years the group was a trio consisting of Allen Otte, Stacey Bowers and Garry. (Photo: the trio in 1977). You may have attended the PASIC 2016 Blackearth Reunion event in Indianapolis. If not, you can see and hear highlights in Garry's blogpost at https://www.nexuspercussion.com/2017/01/18346/ Blackearth held several university residencies, performed 38 world premieres, gave 157 concerts in the US, Canada and Europe, made three recordings, and commissioned many compositions (including concertos with orchestras), as well as performing works composed by members of the group as well. The use of film, electronics, theatrical intermedia and homemade instruments were an important part of programming and the group experimented with micro-tonal tuning systems and incorporated a vintage 5-octave marimba to add bass notes not common for that time period. Like NEXUS, Blackearth was one of the 1st percussion groups to write and perform music of the minimalists, played George Hamilton Green ragtime arrangements, and incorporated improvisation in many of its concerts. You can see why Garry fit seamlessly into NEXUS some 25 years later!