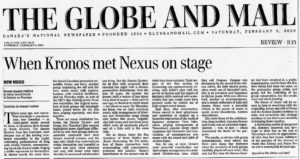 WHEN KRONOS MET NEXUS   The Globe & Mail: "Thirty years ago, 2 ensembles were born – one American, one Canadian – as avant-garde music moved its locus of operation from Europe to North American. The Kronos Quartet from San Francisco soon became one of the leading new-music ensembles in the world…At almost exactly the same time, the famed Canadian percussion ensemble Nexus was born…combining the old & the new, world music with ragtime, humour with musical excellence…As part of the CBC's fine OnStage series, these 2 ensembles, the original members of both groups still amazingly intact, joined forces…Both groups show remarkable command…and the ease with which they communicate within themselves was beautiful to watch & hear. Their virtuosity & easy skill shows what three decades of continued collaboration can bring….Kronos…master of just about every kind of music…but slaves to none presented their material with a distinct postmodern detachment……Not so Nexus. From the first downbeat…the 5 members approached their musicmaking with commitment, precision & passion…extraordinarily exciting…with a musicality that you would never have guessed could be coaxed out of eight simple tuned drums…The main focus of the collaboration, long-awaited…was an extended improvisation…there were many fine moments…This was the first time…Kronos Quartet had been involved in a public improvisation & far from the first time Nexus had done the same…the results were well worth hearing. The future of music will be secure as long as musicians with the originality, power and skill of Nexus & the Kronos Quartet continue to exist…A fascinating crowd of young & old…leapt to their feet at the end…in appreciation of what they had heard, fulfilment of the promise of the renewal of music that Kronos and Nexus 1st set out to accomplish 30 years ago." Reviewer Robert Harris. Bob Becker expanded his arrangement of Takemitsu's "Wings" to include Kronos. You can hear Kronos & NEXUS perform it, here: http://bit.ly/3mNkudK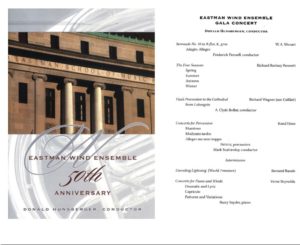 EASTMAN WINDS at 50 and KAREL HUSA     So Nexus was 30 years old, and the Eastman Wind Ensemble was 50 – both with strong Rochester roots – so we got together!  First, we gave a solo concert in Kilbourn Hall in tribute to our very 1st concert there in 1971, and   a couple of days later we joined the Wind Ensemble itself. Donald Hunsberger conducted Warren Benson's landmark Symphony for Drums & Wind Orchestra – also fitting, as Warren had instigated our 1st concert. Then Mark Scatterday conducted Karel Husa's Concerto for Percussion and Wind Ensemble – with Husa in attendance! Bill Cahn talks about our earlier Husa encounters: "Back in 1986 we had performed at Cornell University where Husa was on the faculty. After our concert, with a number of large instrument trucks packed and ready to be hand carried down a long flight of stairs…Husa – already at a respectable age, not to mention his towering professional status – started lifting some of the NEXUS cases. He actually made several trips down those stairs with rather heavy cases before we finally were able to persuade him that it was best to let us do the moving. In April '99 NEXUS unexpectedly met Husa at breakfast in the Watergate Hotel in washing DC during our week with the National Symphony Orchestra at the Kenny Centre. Husa was breakfasting with cellist Lynn Harrell. We briefly jumped into their conversation with our greetings…The next (and last) time NEXUS met with Karel Husa was…the 50th anniversary of the Eastman Wind Ensemble under Mark Scatterday, who also had a longtime friendship with the composer at Cornell University." It was a wonderfully musical few days – and it wasn't over yet. Our next post will tell you about our final performance that week at Eastman.  Read more: Bill Cahn's book "Unpopular Music".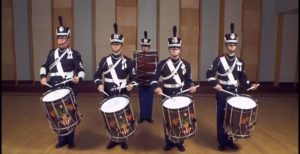 JOHN PRATT and the WEST POINT HELLCATS    As a final hurrah in the musical celebration at Eastman, we had the opportunity to perform with Robin Engelman's idol, John Pratt and the West Point Hellcats. John was inducted into the PAS Hall of Fame that year, and Lauren Vogel Weiss for her write-up talked to Robin:
        "Says Engelman, 'The swing and musicality of his solos changed the course of rudimental writing and performance. If I had been asked about John Pratt a few years ago, I would have speculated, as would many others, that he was either dead or in retirement…To learn that he was still alive, a member of a fife and drum corps, a published poet, the author of an acclaimed thesis on the poetry of John Keats, a teacher of the English language, a composer of dozens of rudimental snare drum solos, a selfless propagator of the art of rudimental drumming, and an honorary member of the Canadian Rudimental organization CADRE was only half as revealing as actually meeting him in person forty years after discovering and falling in love with his great book, 14 Modern Contest Solos. John is one of those people who arrived at the right time with the talent and will to change the direction of music.' Engelman met his…idol at a 1999 clinic…'Robin introduced himself and hauled out an early copy of 14 Modern Contest Solos, which was pretty well patched together with cardboard,' Pratt recalls. 'Robin said, "I've wanted to meet you for forty years," and then he asked if I'd autograph it! I even played his favorite solo of mine, "Gingersnap," for Robin and some of his percussion-ensemble students from the University of Toronto.' Engelman and Pratt subsequently played that solo together at a special performance during a musical celebration for the 50th anniversary of the Eastman Wind Ensemble held in Rochester, New York…'Because Robin loves rudimental drumming,' Pratt continues, 'I sent him about twenty-five or thirty pieces I had recently written, because I've always shared my music. I had no idea that he was going to show it to a publisher! The next thing I know, I got a call from Garwood Whaley from Meredith Music and we decided which solos were going to go in it.' Pratt's most recent book, Rudimental Solos for Accomplished Drummers, was released in 2000."   You can read all of Lauren's article here: http://bit.ly/2M6GRy1 .       Sadly, John passed away in April this past year. You can see a Hellcats tribute to him here:  https://bit.ly/3n1pgEN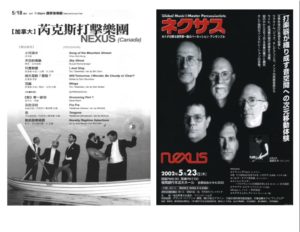 MIKA, TORU, and CHIEN-HUI HUNG    In mid-April we recorded with Mika Yoshida at CBC Studio 44 in Toronto two new pieces, Bill Cahn's "Time Traveler" and Russell Hartenberger's "Sky Ghost".  Following, we spent the latter half of May with Mika overseas, and Ray Dillard performed with us on that trip as well. We played the National Concert Hall in Taipei, Taiwan, Hondo City Hall in Japan, and Fukuoka, Japan. The two new pieces were part of our programming as was a newly commissioned work, "Song of the Mountain Stream" by Chien- Hui Hung, a founding member of Taiwan's Ju Percussion group. Russell's "Sky Ghost" is based on some of the musical material from Toru Takemitsu's song "Small Sky", and we also included 3 other Takemitsu pieces: Robin Engelman's arrangement of Takemitsu's "Will Tomorrow, I Wonder, Be Cloudy or Clear"; "Wings" arranged by Bob Becker; and the Toru-inspired "Just Sing" newly composed by Bill Cahn. "Just Sing" was inspired by Takemitsu's "Utau dake". Bob explains that in 2001 Robin Engelman had suggested a group project "to create a body of percussion ensemble repertoire based on some of Toru's pop-style songs. The resulting creative approaches turned out to be as varied as the personalities of the NEXUS members. The new repertoire formed a major segment on our concerts for several seasons. I arranged Toru's nostalgic  song "Wings" for NEXUS in April, 2001. Toru composed it in 1982 (also writing the lyrics himself) for a staging of Arthur L. Kopit's play of the same name at the Seibu Theatre in Tokyo. It became quite popular in Japan, and has been recorded by several famous vocalists there."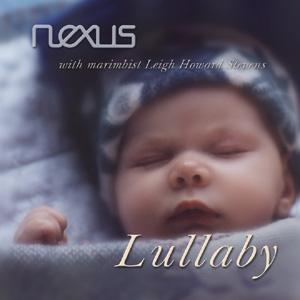 LULLABYS, ORGANS AND CHOIRS, OH MY!    As part of our 30th anniversary celebrations, we released our recently recorded CD "Lullaby" on January 1st. Featuring guest artist Leigh Howard Stevens, he performed the 3 movements of Bill Cahn's "Rosewood Dreaming". Also on the album is Jo Kondo's "Nocturnal" and Robin Engelman's "Lullaby for Esme" featuring Bob Becker on solo steel pans. All 3 works had been commissioned and composed in 1997. In March we performed with the Syracuse (NY) Symphony under Kazuyoshi Akiyama, music director of the Tokyo Symphony. He had just received the Emperor's Purple Ribbon Medal from the Japanese Government for his outstanding contribution to that country's musical culture. We were heartened to see in Syracuse Symphony's season-end report that ours had been the best-attended Classics performance of their season, drawing over 3,000 attendees. August took us out west to the Calgary Organ Festival to perform with Roy Goodman the Harrison Concerto for Organ and Percussion. And in a new iteration of the Toronto International Choral Festival, we performed Carmina Burana with the Uppsala University Choir with Cecilia Alin from Sweden. This fine choir has been in existence for 180 years!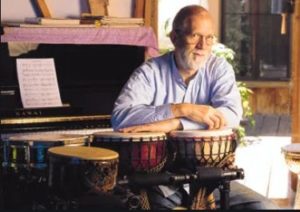 JOHN WYRE RETIRES FROM NEXUS    As the year wound down, it was time for NEXUS to say goodbye to John Wyre who had made the momentous decision to leave NEXUS and his beloved Bellwood home in Ontario and move with his wife Jean Donelson to St John's Newfoundland. And it was time for NEXUS to say hello to Garry Kvistad! We marked the occasion with a concert on September 27th where the SIX of us performed together. It took place in the University of Toronto Faculty Artist Series – NEXUS was Artist In Residence at the University. The program is pictured here and you can see that Russell's "Sky Ghost" had become the final movement of his 4-movement work "The Invisible Proverb", along with other additions to our new Takemitsu Songs project. Bill Cahn's new piece "Ching" referenced John's earlier group with Michael Craden and Bernie Piltch called "I Ching". Bob's new arrangement, "Away Without Leave" opened the evening. That year, John published his autobiographical book "Touched By Sound" to share his ideas about music and sound and to explore, he said, "how sound has woven such an influential path in the fabric of my life." It also served as a place to share his spiritual philosophy, inspirational quotes, and warm tributes to mentors and colleagues. Our poignant final concert with John was an October performance of Takemitsu's "From me flows what you call Time…" with the Toronto Symphony conducted by Jukka-Pekka Saraste, broadcast on CBC FM Radio. The concert took place in the newly acoustically upgraded Roy Thomson Hall. The review, attached, is lovely and calls John "this remarkable man". Read more about John's home called Bellwood in Norland Ontario, his quidditch, and "Touched By Sound" in this blog post: http://bit.ly/3n1ZqQW   You can hear (and read about) the Engelman and Becker Takemitsu arrangements ("All That The Man Left Behind When He Died" and "Unseen Child") from that concert, here: https://bit.ly/3mNkudK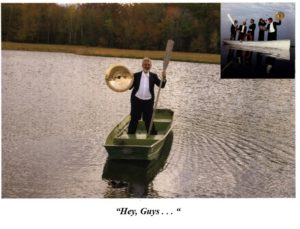 #NEXUSat50   2002   GARRY KVISTAD JOINS NEXUS   Following our September joint concert with both Garry and John Wyre at the University of Toronto, Garry was ready to "get on board" as you can see from his attached photo! We were immediately touring – to Kansas City, then Texas, then to PASIC in Ohio where we performed with University of Toronto students. Garry was the logical choice to fill that fifth "chair" in NEXUS. His percussion path mirrored ours in a great many ways: a love of found sounds, building instruments, studying sound and acoustics, and of course he was a co-founder of the Blackearth Percussion Group that enjoyed and developed explorations much as we had. Garry had been performing and recording with Bob and Russell since joining Steve Reich and Musicians in 1980 – Together, they were 3 of the 18 musicians to win a Grammy for the 1998 Nonesuch recording of Steve Reich's "Music for 18 Musicians". And of course there was his creation of the specialty chimes used in the Takemitsu concerto. Below are Garry's personal photos from that Carnegie Hall premiere celebrating the Hall's 100th birthday with Seiji Ozawa and the Boston Symphony. As founder/CEO of Woodstock Chimes, Garry was a 1995 winner of Ernst & Young/Inc. Magazine's Entrepreneur of the Year Award for the Southern New England Region and served as a New York state delegate to the 1995 White House Conference on Small Business. Russell said, "Garry has been a long-time friend of NEXUS. He has appeared with NEXUS at various times over the years as a guest.  It is a very natural transition for him now to be a regular member of the group." Bill added, "in every way Garry is the right person to join with us on our music-making journey; he is a wonderful percussionist whose positive personal chemistry with each NEXUS member has already been established in previous collaborations.  He'll hit the ground running." And so he did! And this Fall 2020, Garry was inducted into the PAS Hall of Fame.