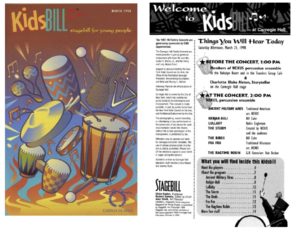 KIDS AND CONCERTS    We kicked off 1998 with 3 months of intensive touring, beginning with Canada's National Arts Centre where we presented our new commissions and a new piece by John Wyre called Still Life. We would come back to the NAC in May for 3 more concerts with its orchestra under Boris Brott. From there we headed to New Hampshire (with Richard Stoltzman), then to a Family Fun Concert with the Des Moines, Iowa symphony for our Story of Percussion program, on through Kansas and then to Kansas City, Missouri where we performed with a young maestro named Samuel Wong who had switched from a career as an eye surgeon to symphony conducting. The following year, '99, Sam's essay, "Musical Healing" would be the cover article for Harvard Medical Alumni Bulletin. We continued on visiting Texas, North Carolina, Virginia, Tennessee, Kentucky, then popping up to Michigan, and then back down to Carnegie Hall for a kid's concert. A notable part of the program there was "The Storm, created by NEXUS and the audience"!  We would be back in Carnegie Hall in May'98 to perform "From me flows what you call Time…"with the Toronto Symphony and Jukka-Pekka Saraste.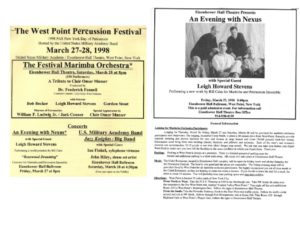 STEVENS, FENNELL and FINKEL   As part of the PAS New York Day of Percussion we were a part of the West Point Percussion Festival, hosted by the United States Military Academy Band. This two-day event in March was an opportunity to present Bill Cahn's new piece "Rosewood Dreaming" with Leigh Howard Stevens. In a tribute to Clair Omar Musser, Fred Fennell conducted a 150- piece Festival Marimba Orchestra. Leigh Howard Stevens, Bob Becker and Gordon Stout were soloists. As part of the festival there was also a performance of the Military Academy Band with special guest Ian Finkel, xylophone virtuoso. Sadly, we just heard this week of the Ian's passing, a victim of CoVid-19. You can read more about this colorful performer here: https://nyti.ms/36d9cdz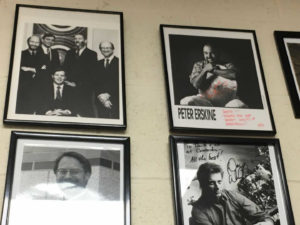 NOT REALLY OFFBEAT    April took us to Concordia College, Minnesota. We mention it because in 2010 Bob discovered our photo from that visit still on the wall of David Eyler's studio! Thank you for that! Leading up to our May performances at Canada's NAC and in Carnegie Hall with the Toronto Symphony, articles appeared in Ottawa and in the New York Times. Allan Kozinn's NY article was headlined "Touring Percussionists Who Aren't Really Offbeat". It says we had "just cracked the majors" with our new Takemitsu and Bryars recordings. The interview also gave us a chance to recall that infamous concert of imaginary sounds:
     "ONE might have thought that 5 percussionists who wanted to band together as a full-time touring ensemble were unrealistic, even slightly eccentric…Yet NEXUS …now have plenty to show for their persistence. The quintet gives about 100 performances a year. It has released more than a dozen recordings on its own label…
     "…Nexus concerts also include improvisations, entirely unscripted. 'The one time we tried to plan an improvisation,' Mr. Hartenberger said in a conversation with the group, 'was about 25 years ago, when Bill had the idea that we should go out onstage and pretend to hit our instruments without actually touching them.'
    "William Cahn took up the story: 'The underlying philosophical idea was that if there are radio waves that you don't see and can't hear without a radio receiver, then perhaps there is something about music that can be communicated through means other than sound. So the plan was that we would set up the instruments; we'd try to feel inside what we feel when we're making music; we'd make the gestures and do everything we could to communicate a musical idea, without producing a sound. I still don't have an answer as to whether that communicates or not.'
    "'I do,' Mr. Hartenberger said, drawing laughter….'At any rate,' Mr. Engelman chimed in, 'we agreed to execute Bill's idea, and we went out onstage. And in the first gesture Bill made, he accidentally hit his instrument, ruining the whole concept.' The interaction among the 5 musicians is not unlike the give and take in their concerts."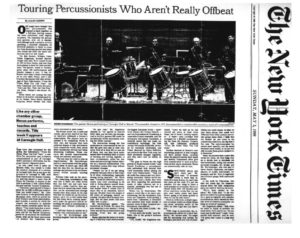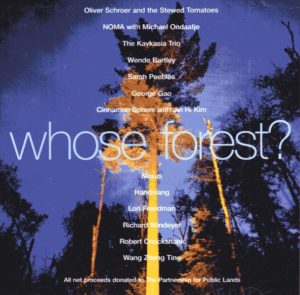 WHOSE FOREST?   Along with the release of the German World Drum Festival CD and the recording of the Takemitsu concerto with the Pacific Symphony (both recorded the previous year) we also were a part of the 1998 Canada-only recording called "Whose Forest?" All the proceeds went to the Partnership for Public Lands. They was a July release, made just before we appeared in Ontario's cottage-country summer playground at the Huntsville Festival of the Arts in Muskoka. Meanwhile, Bob Becker was very busy. He completed his drum solo New-thaan, with melodic and drone accompaniment. This was published in the NEXUS Portfolio for Snare Drum by Honey Rock. He rescored his Palta for a larger 8-player ensemble including piano and electric base, making it playable by amplified table, drumset or congas. Palta has been performed by NEXUS with Steve Houghton and with Peter Erskine on drumset, and with Rolando Morales-Matos on chromatic congas. Percussionist Dan Moore created an interesting version for snare drum solo with electronics. Palta is published by KPP, and includes solo parts in both traditional Indian tablature and standard drumset notation. He also completed Never in Word for soprano solo, crotales/glockenspiel, vibraphone, marimba and piano in preparation for its premier the following year, 1999, with Barbara Hannigan, soprano, at the University of Toronto's Walter Hall.
You can read more about Whose Forest? Here:  https://www.discogs.com/Various-Whose-Forest/release/13463512   
You can find the NEXUS portfolio on HoneyRock's snare drum solos page here: http://www.honeyrock.net/solo-sd.htm
Bob answers questions about New-thaan herer: https://www.nexuspercussion.com/2011/05/answers-to-questions-about-new-thaan/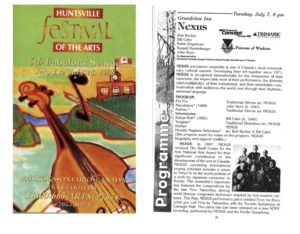 THREE FESTIVALS AND A GRAMMY   You didn't think we'd finish a year without going overseas, did you?  Our autumn trip took us to 3 concerts in Germany and at the Besançon International Music Festival in France performing the Takemitsu concerto with the Saarbrucken Radio Orchestra under the baton of Michael Stern.  Our artistic association with Michael began in the 1970s but this work with him in 1998 was notable and laid the groundwork for an important future collaboration with him in 2004. We met up with Kroumata once again for the Stockholm International Percussion Event. Below is a great photo of NEXUS with Kroumata onstage in Stockholm, that just emerged from the vaults. Thanks to Russell and Bill for sharing it!  It was here that Fritz Hauser and NEXUS first heard each other – leading to an exciting collaboration 6 years later. We returned to the BBC Symphony with Maestro Andrew Davis to perform the Takemitsu in London's Royal Festival Hall and performed Connexus and Kebjar-Bali under John Storgårds with the Tampere (Finland) Symphony. We were also in Oslo! We performed at Norway's Ultima Contemporary Music Festival. Back in North America, we visited Fairbanks, Alaska where we met John Luther Adams for the 1st time. We enjoyed several concerts with Richard Stoltzman in '98, and we rounded out the year with 2 more Leigh Howard Stevens performances in Florida, including #PASIC98. This was also the year when Garry, Bob and Russell became 3 or the 18 musicians to win a Grammy award for the 1998 Nonesuch recording of Steve Reich's "Music for 18 Musicians". And November and December?  We rested.