GUESS WHAT! NEXUS is celebrating its 50th season! To celebrate, over the coming year we're going to bring you snapshots of each year in our career. We have been posting weekly on our Facebook and Instagram feeds: Fifty years, fifty weeks! Every now and then, we will amalgamate the latest posts and place them here on the NEXUS blog, for posterity – and for those of you who may not use Facebook or Instagram. We'll cover a lot of ground. Celebrate with us! If you have anything to add – memories, photos, questions – we'd love to see your comments and shares. And do join us on social media if you can, where you will find a few more photos.  And thanks for hanging with us through these amazing decades.
Let us begin here with THE LEAD UP:  
AS Bill Cahn says, "Before NEXUS was formed, we all knew each other, and better yet, we were all friends." There was an amazing web of connections: Bill and John grew up in Philadelphia and studied with the same teachers. Bill and Russell met in Alan Abel's Philadelphia percussion ensemble. Bill and Bob met at Eastman, performing together in student ensembles and the Rochester Philharmonic. Bill and Bob met Robin when he became principal percussionist with the Rochester Philharmonic in 1966. Robin and John performed together in the Milwaukee Symphony, and after Rochester, Robin joined the Toronto Symphony where John was timpanist. Bob met Russell after Eastman in Washington DC when Bob was with the Marine Band and Russell the Air Force Band. Then Bob and Russell became grad students in Wesleyan University's world music program. In 1968 all five came together at the Marlboro Music Festival in 1968 to perform in Stravinsky's "Les Noces.  Read more in Bill's blog post:  https://www.nexuspercussion.com/2011/12/more-about-the-beginning-of-nexus/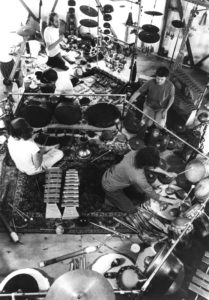 MUSICAL SENSIBILITIES: When NEXUS came together, each member had other income – orchestra and other gigs, teaching.  Bill says: "There was never a decision to make a living from NEXUS, which gave us virtually absolute artistic freedom to pursue our musical interests" – no pleasing managers, presenters, or even audiences for that matter! "Even better, we shared common musical sensibilities. We were all classically trained, had a common interest in orchestra music, and the Philadelphia Orchestra concept of focusing on producing beautiful sounds (rather than technical virtuosity) was a shared value. And we all wanted to expand our musical vision….driven not by money – and certainly not by a quest for fame – but simply by the excitement of exploring new music territories.  Photo: Russell and Bill in John Wyre's home and studio in Norland, Ontario, a geodesic dome. Read more in Bill Cahn's book "Unpopular Music".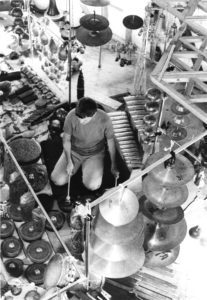 COLLECTING INSTRUMENTS:  John Wyre influenced us all.  In the mid-'60s he was exploring Indian Classical Music and non-western percussion instruments – especially bells from Asia – that he found in antique shops.  Bill explains, "He suspended each bell on a long string, and hung them from the ceiling in his Toronto apartment.  When anyone visited, John would activate the bells by gently starting them swinging back and they would make sounds for a long time, randomly chiming, gradually fading. In listening, we developed an appreciation for the power of sounds alone to be rich and interesting, as well as the ability to appreciate random sounds alone as abstract form, yet wonderfully connected.  This led to experiments in free improvisation on non-western instruments, and we all began to collect. It wasn't possible to find these in music stores or catalogues.  Most were randomly found, rummaging through shops that had acquired them from the estates of world travellers and World War II and Korean War soldiers, brought home as souvenirs. The good news for us was that Asian bells and gongs were not generally valued then – $5.00 for small gongs to $50.00 for larger ones. The pitch of any found gong had to be accepted as it was.  (Interestingly, because tuned gongs were generally not available, composers were not yet writing pieces that utilized them. Curiously, when percussion parts were scored for gong, what the composer usually intended was the sound of an unpitched tam-tam.)"   Remarkably, just before NEXUS was officially formed, Robin and John actually had an opportunity to travel to Asia to perform Toru Takemitsu's music at EXPO'70 in Osaka and from there to the Philippines, Java, Bali, and Hong Kong. As you can imagine, they came home with quite a bit of "excess baggage"! And although Russell had been invited to perform in the first NEXUS concert, he was unable to; he was in Ghana, collecting instruments! (You can read more in Bill's blog posts on the beginning of NEXUS https://www.nexuspercussion.com/2011/12/more-about-the-beginning-of-nexus/ and on the art of hanging gongs. https://www.nexuspercussion.com/2016/10/the-art-of-hanging-gongs/ and in John Wyre's book "Touched By Sound".)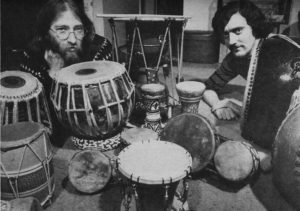 A DUO NAMED NEXUS? In 1970 in Rochester, Bill and Bob collected found and homemade instruments and non-western percussion instruments and began experimenting with free improvisation. Bob says, "At first, we simply played together in Bill's home and recorded our experiments. My composition teacher at Eastman, Warren Benson, agreed to listen to these recordings. He was very supportive and offered interesting and provocative suggestions. Bill and I were also listening to recordings of composer Harry Partch, and the sounds of his chosen musical instruments –all constructed or adapted by Partch – were a big inspiration – They often sounded similar to the random tunings in our collection of instruments ." Bill adds, "We agreed on the name NEXUS following a lengthy and gut-bustingly funny discussion about Harry Partch and imaginary music in a restaurant near Eastman. Partch used "nexus" frequently in his book "Genesis of Music" and the meaning was loose enough to relate to just about anything!" They created a brochure and played a few performances around Rochester, culminating in a 30-minute continuous improvisation on the TV program "Gap's Generation" (after host Gap Mangione, brother of Chuck) in 1971, a day or so before they were joined by John and Robin for what became the "first" NEXUS ensemble performance.   (Read more in Bob's post on the beginning of NEXUS, http://bit.ly/2w620xl  and in Bill's book Unpopular Music avail from billcahn@aol.com)
AUDACITY      "World Music" hadn't even been conceived of as a category to the general public, but our collections of instruments were definitely global in scope. Bill says, "Most of our instruments were metallic and long ringing, and as percussionists, we were also intrigued that there were musics in the world that we had not studied as part of our conservatory training. It was the discovery of unfamiliar new sounds to which NEXUS became enamoured."  With no existing repertoire, the only practical approach was to improvise. Home tape recorders had recently become available (reel to reel) and we could playback our experiments. Bill continues, "We discovered that the sounds of the instruments alone sustained interest, but more than that, the sounds could also convey an underlying spiritual quality, as the sound of bells is connected with religious rites. It was our deep emotional connection with symphonic music that gave us the audacity to imagine that it might be possible to create similar emotional and intellectual responses in music produced solely on percussion instruments."  Enter Warren Benson, a distinguished composer who had been Robin Engelman's percussion teacher at Ithaca College and by 1971 was teaching composition at Eastman and listening to Bill Cahn's and Bob Becker's experiments.  During a 1971 performance of Benson's work in Niagara-on-the-Lake with Canada's Lyric Arts Trio and Robin and John Wyre, Benson was sparked to invite John and Robin to come to Rochester for a joint concert with Bill and Bob. "Could our perceptions also be produced for concert listeners? As NEXUS waited backstage to begin its first concert there would soon be an answer to that question." (Read more about this early musical milieu in Bill's book Unpopular Music, avail. from billcahn@aol.com)
INAUGURAL CONCERT:  In Rochester NY, Eastman's Kilbourn Hall was literally filled, wall to wall, with percussion instruments from non-western cultures: Asia, Africa, Latin America, the south Pacific. We had only minimal understanding of how these instruments were played in the music of their native settings. Despite our classical training, not one of the instruments onstage would be found in a symphony orchestra percussion section. This was the first (and only!) time that all of our four personal collections were assembled together. The performance was called Sculptured Sound. John and Robin were billed as simply "Toronto".  Benson wrote a poem hailing "musicians from two countries…coming together." We had never improvised together in public – the audience had never seen such instruments.  It was a "let's see what happens" moment, for both parties.  52 minutes of uninterrupted freeform improvisation followed by another 40 minutes after intermission.  The next morning the review in the Rochester Democrat & Chronicle described Robin and John as members of the Toronto Symphony Orchestra and Bob and Bill as "from Rochester… But those statistics don't begin to relate the excitement of their international art….One could say it was the most meditative, contemplative evening of music all season. But that's not right. One could, on the other hand, call it a highly stimulating and innovative evening. But that's not quite right either. For me, it was both." Bob describes "instant feelings of camaraderie, shared musical sensibility, curiosity, irreverence and discovery among the four of us. Although there was no decision at that time to create a formal ensemble, I think we all knew something had begun that was going to continue and grow. I don't remember any fears – in fact, that absence of worry, both in relation career and performances, was one of the most persuasive and seductive things about the group for me."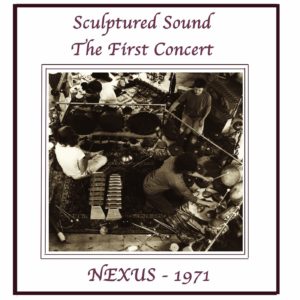 (You can download this first concert from CDBaby.com (keywords:  "NEXUS Percussion"), Sculptured Sound –  $9.99 USD. Read more in Bob's blog  http://bit.ly/2w620xl And Bill's Blog post: http://bit.ly/2HCmPWs
And his book Unpopular Music  billcahn@aol.com)
1971:  WHAT NEXT?   Our inaugural concert in May had been a success, and we wanted to re-live the experience. A few months later, in November, NEXUS (numbering 4) was invited to appear as guest artists with the Hamilton Philharmonic Orchestra in Ontario Canada by its Music Director, Boris Brott. We would work with Maestro Brott with other orchestras over the years, too: Chautauqua, National Arts Centre, and Sacramento. But in this instance, we did not play WITH the orchestra. Remember? No repertoire! Instead, the concert was in 3 parts with 2 intermissions. The orchestra alone played Parts 1 and 3, and in Part 2 NEXUS (unaccompanied) performed a reprise, if you will, of our first Sculptured Sound free improvisation. We each selected the instruments we wanted to use and created our own individual set-ups. Again, the performance engaged the audience and we received an enthusiastic ovation. In a 2002 interview, our mentor and catalyst Warren Benson said, "It's very difficult to convey how strikingly different this was…Percussion heretofore was so orchestral or military…This was neither." Another ground-breaking percussion milestone in 1971 was set by  Steve Reich and Musicians, premiering Steve's remarkable "Drumming" at Alice Tully Hall in New York. Russell Hartenberger performed at that premiere, and Bob Becker also joined SR&M not long after. (NEXUS member Garry Kvistad joined SR&M c.1980). Steve's music was destined to play a big part in NEXUS repertoire and we are looking forward to celebrating our 50th along with Drumming's 50th!   
1971/72: EXPERIMENTS     NEXUS continued to discuss musical ideas which led to more experiments. @BillCahn was beginning to compose. It had begun with "Perplexus" which he wrote for Bob Becker's student recital at Eastman. There were various percussion instruments, an audio tape player and two "imaginary groups of instruments" and looked at three elements of "knowing" music: the performer, the instruments, and the sounds of the instruments. Then came his "Stringless Harp" which was performed with the Rochester Philharmonic featuring Bill and Bob (a photo is attached with conductor Taavo Virkhaus), and has lived on in several other performances over the years. The piece culminates with intense sound that evolves into "a sea of soundless motion". (Bill Cahn, "Unpopular Music" p 108ff)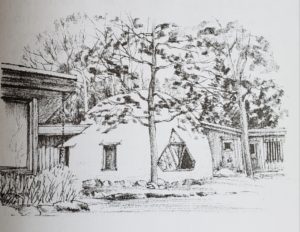 1972  MEANWHILE IN CANADA  While Bill and Bob were busy state-side, in Canada John Wyre found himself inspired by Buckminster Fuller and McLuhan's "Touch the Earth". He wrote, "I decided I wanted to live in a round open space, so in 1972 I began a nest by building a four-phase geodesic dome forty-feet in diameter. A third of the ground floor was for the kitchen, bathroom and a small study. Over these three areas spread a sleeping loft. The rest of the space was for music. I hung hundreds of bells from the curved arc…The bells evolved into a nightly lullaby lasting from 20 to  30 minutes at bedtime…It was wonderful to have an instrument that played itself into oblivion." (John Wyre, "Touched by Sound" p 51ff). The Dome was to become a cross-border hub for musicians and composers including of course the 4 members of NEXUS, who came together to perform a Sculptured Sound improvisation in Toronto that summer. Then Russell Hartenberger joined them in August at the Marlboro Festival for a performance of Oiseaux Exotiques. NEXT UP: A new NEXUS member! (and it isn't Russell)
1972  OPPORTUNITY!  We'd been waiting for this. Two weeks at the Shaw Festival's "Music Today '72. Two weeks with all our instrument collections and a chance to really "get into it". Music Today '71 had brought Warren Benson together with John and Robin and caused Warren to invite them to perform with Bill and Bob in Rochester. Now, having all agreed to continue using the name NEXUS, we had been invited to perform, and we would be adding 2 new people: Russell Hartenberger, an awesome player whom we all knew well, and Michael Craden, who was a "wild card" – self-taught, audacious, challenging – and irresistible. John Wyre described his 1st
meeting with Michael. In John's studio, he and Michael began to improvise. John wrote, "I was playing softly, trying to listen and accompany him. Suddenly he turned to me and shouted, 'Hey man! If you're going to play with me you've got to mean it!!!' One of the greatest performance lessons of my life."  Michael was a gifted visual artist, his sense of humour marvellous, his creative energy powerful, his music spontaneous. He considered music notation "fly shit" that got in the way. Music Today '72 turned out to be an extraordinary experience. For the final concert, NEXUS improvised on a church carillon, played "Spanish Lullaby" that Robin had created, and immersed itself in the instruments. Bill says "Michael totally fried my brains with the uniqueness of his approach…The audience was riveted…He had changed my definition of music, and though I realized that I still couldn't really define what 'music' was, my definition was now somehow broader." Read more in Bill's "Unpopular Music" and John's "Touched By Sound", billcahn@aol.com )