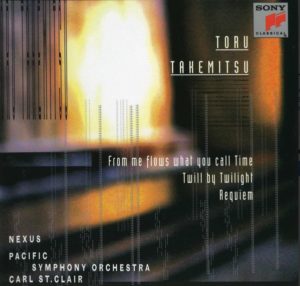 RUNE We seemed to hit some kind of perfect constellation for CD recordings in 1997. February took us to California where we performed with the Pacific Symphony Orhcestra under Carl St. Clair in preparation for recording Takemitsu's "From me flows what you call Time…" the following days. The reviewer of the performance said, "You listen to Takemitsu the way you listen to rain falling…[The] percussion solos are broken up with small, radiant passages for strings and woodwinds…It's like John Cage; after listening to Takemitsu, you hear in new ways." This SONY Classical CD would be released in 1998.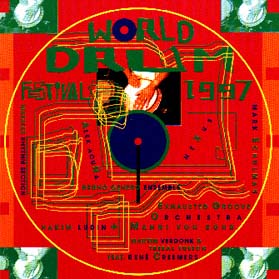 July saw the release of "Toccata", celebrating our 25th Anniversary concerts. August saw the release of "NEXUS Meets Peter Sadlo" that we had recorded in Hamburg, Germany in October '95. In March '97 we were in Germany once again, participating in a World Drum Festival that resulted in a two-CD release (Syrinx Music & Media – SXP 130079). NEXUS appears on CD #2 performing Bill's "Kebjar-Bali" and our African-inspired pieces "Mbira" and "Kobina". The recording took place at the Fabrik in Hamburg, that wonderful repurposed factory that we mentioned in a previous post. The eye-catching cover art on the CD was by Hardy Brackmann.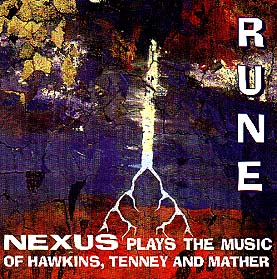 November saw the release of our own CD, "Rune" – an opportunity to share 3 important works that we had commissioned in the 1980s: #JohnHawkins' "Dance Variations", #BruceMather's "Clos d'Audignac" and #JamesTenney's "#Rune". The first two pieces had been recorded in 1984 (Koln) and 1987 (CBC Toronto) respectively. We recorded "Rune" in 1996 at Master's Workshop, Toronto. The CD features cover art by Canada's Regan Morris, two works entitled Lightning and Lightning #2, that are scrubbed, scraped, cracked, with the weave of the rough canvas showing through gaps in the richly coloured paint.

Read more about Regan Morris: https://www.nexuspercussion.com/2010/09/nexus-cover-art-5-regan-morris/
Hear part of "From me flows…": https://bit.ly/2UyTx1K
Hear Hawkins' Dance Variations: https://www.nexuspercussion.com/wp-content/uploads/2017/10/04-Dance-Variations-John-Hawkins-IV.mp3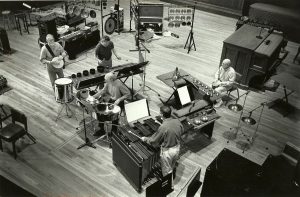 DREAMING A NOCTURNAL LULLABY In 1997 Leigh Howard Stevens commissioned Bill Cahn to write a marimba concerto. This was "Rosewood Dreaming" which was originally published as a four-mallet marimba solo with percussion quintet accompaniment. It is now also published as a marimba solo with both orchestra or band accompaniments. We also received a newly commissioned work, "Nocturnal", from Japanese composer Jo Kondo whom we had known since 1976. Another commission came from Kelly-Marie Murphy. She had been born in Sardinia but grew up on military bases all across Canada. She had recently come to prominence with a number of awards and large commissions, so we were very pleased that she agreed to write "If Only…" for us.
In 1997 Paul Ormandy asked Robin Engelman to compose a piece featuring steel drums. Robin knew Bob's steel pans, and planned on NEXUS performing the new piece too, so he wrote a quintet featuring double tenors as a prominent voice. The resulting work, Lullaby for Esmé, became a staple on our concerts for a number of years. Rosewood Dreaming, Nocturnal, and Lullaby for Esme were all recorded in 2001 on the CD Lullaby that features Leigh Howard Stevens as guest artist. We performed Lullaby… at Oberlin in '97 and the review loved it: "…haunting in its quiet simplicity…The texture of the piece was amazingly clear, like sunlit glass, but remained warm and pliable, it's rhythms and textures somehow comforting…chamber music of the highest degree, as delicate and personal as a sting quartet." The photo is from our Oberlin concert – you can see Bob on steel pans at centre.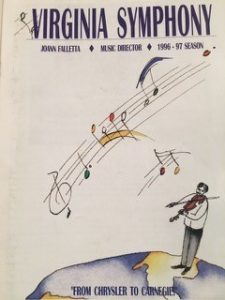 Bob too had been writing. His "Music on the Moon had it premiere with the Esprit Orchestra in Canada and with the Virginia Symphony under JoAnn Falletta in the USA. Bob was Composer-in-Residence for the Virginia Waterfront Festival that year, and as well as another concert featuring the Bob Becker Ensemble, Steve Reich and Musicians appeared at the Festival, which of course included Russell, Garry and Bob.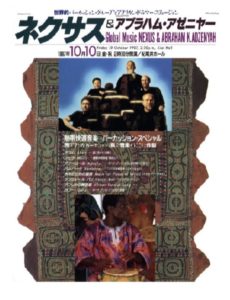 OCTOBER SURPRISE(S) The month began with an honour: the Banff Centre for the Arts National Award which cited NEXUS for its '…constant and joyful commitment to the development of the next generation of musicians and audiences' and '…as superb musicians, with a following around the world.' The award recognizes those who achieve much in their own careers, contribute significantly to the development of their art form, and encourage and train the next generation. A few days after, we were performing in Japan! We appeared in Kioi Hall in Tokyo with our good friend Abraham Adzenyah. We also appeared in Sugar Hall in Okinawa. These 2 halls had opened in 1995 and 1994 respectively. We also had the opportunity to perform in the brand new 2-month-old Sapporo Concert Hall in Sapporo. When Simon Rattle visited it the following year, he described it as "the best modern concert hall in the world". These were superb performance halls. In our next post we will tell you about a few more Amazing Spaces of 1997. Photo: Sapporo Hall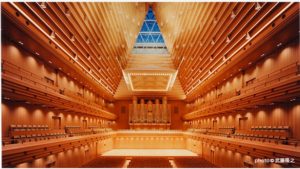 AMAZING SPACE(S) It was a great honour to be asked to perform at Opera City in Tokyo, the Takemitsu Memorial. The hall had debuted on Sept 10th and we performed two concerts there on Oct.7th. Richard Stoltzman joined us in this remarkably beautiful and unusual hall with its steeply vaulted ceiling.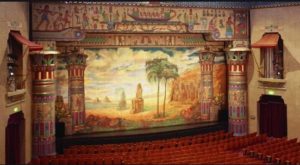 Ten days after Japan, we had the pleasure of performing in Peery's Egyptian Theater in Weber, Utah a few short months after its grand reopening. It had been built in 1924. The architects had taken cues from other opulent western theaters such as Grauman's Egyptian in Hollywood. Peery's began as a movie house. In the 60s it was remodeled and a lot of the details were painted over – in pink! After it closed in 1984, it faced demolition a number of times, but through community action it was rescued and restored. The images are courtesy of Big-D Construction who were in charge of the reconstruction.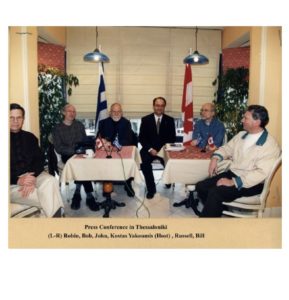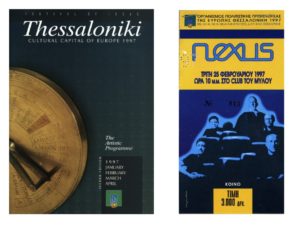 In the spring of '97 we were in Europe. In Greece, we performed for two nights in the Mylos Club in Thessaloniki. The Club is the historic centre of a large complex on the site of an abandoned flour mill. You can see the rounded silos still on the side of the building. A space full of boiler rooms, diesel engines and stone warehoused was transformed and opened in 1995.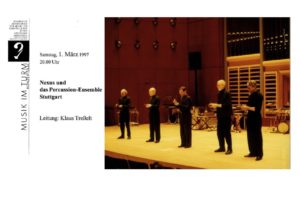 In Stuttgart we played the Theaterhaus and also the Musikhochschule, one of the oldest schools in Germany but with architecture newly realized including its notable cylindrical tower. In Ulm, we played the city's brand new Stadthaus, one of the iconic rounded white creations of architect Richard Meier. Contrast these with the extraordinary white cube of the Landesfunkhaus in Hannover where we performed the Takemitsu with conductor Eiji Oue and the Hannover Philharmonic. In Amsterdam, a converted 19th century church houses the huge Club Paradiso where we appeared with Dutch jazz drummer Rene Creemers. And after playing the fabulous Fabrik in Hamburg once again, we stopped off in the percussion department of Rythmes & Sons in Strasbourg to give a workshop. It was a remarkable tour.

FROM SWEDEN, JAPAN and GERMANY Before we leave 1997 there are a couple more things to mention. You can see and hear two of our performances at The Fabrik club in Hamburg in 1997, complete with cheering. Kebjar-Bali: https://www.youtube.com/watch?v=TPRfEA1SPYc
Kobina: https://www.youtube.com/watch?v=lARfOiy8YDA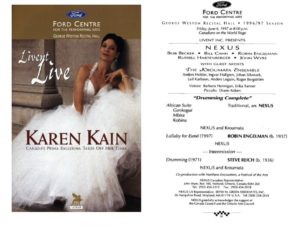 Switching directions and bringing Europe to Canada, the wonderful Swedish percussion ensemble Kroumata paid an early summer visit and performed with us in the Ford Centre in Toronto. Barbara Hannigan, Erika Tanner and Diane Aitken joined us for a full performance of Steve Reich's Drumming.

Some major groundwork was laid for Bill Cahn in '97. He says, "When we toured to Okinawa in 1997, I was introduced to Kazunori Meguro by Yoji Sadanari, who had studied at the University of Toronto in the 1970s, and who knew all of us in NEXUS. When Kazunori ('Kaz') invited me to come to the Showa Academy of Music in Japan for a 2-week teaching residency I accepted, having really no idea of what I would encounter there, even as I got on the plane to embark on my trek to Atsugi, Japan where the campus was located in 1998." Since 1998, Bill has visited the Showa Academy at least 12 times! 1997 really was a stellar year for all of us.