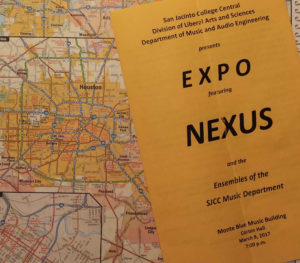 AN UNUSUAL BEGINNING   We had an unusual start to 2017. Bill had an unexpected knee injury and had to take time out to heal. We were grateful that Ray Dillard was able to step into the breach for our Texas week in Houston at San Jacinto College with Mike Mizma – interesting clinics and a movable feast of a concert – a Kaleidoscope Concert – where we moved with the audience from room to room performing with the SanJac Steel Band, Brass Ensemble, Wind Ensemble, Percussion Ensemble and Jazz Ensemble!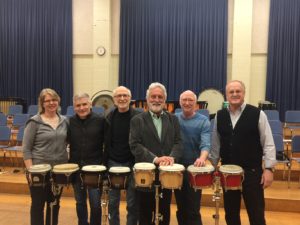 Next up was SUNY-Potsdam where we were honoured that Michael Burritt joined us. We have always enjoyed a visit to Potsdam – you can see us here with Michael and faculty Jim Petercsak and Catherine Meunier.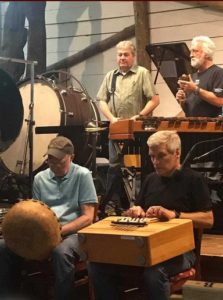 And Michael joined us again for Maverick Concerts, along with Stacey Bowers who had been a part of Blackearth Percussion with Garry Kvistad. We performed one of Stacey's pieces. Michael took the arresting photo of the interior of Maverick Hall that you can see below. Happily, by the time Drum Boogie rolled around, Bill was able to rejoin us. Thanks again to Ray and to Michael for stepping in – it was a case of delicious lemonade being made out of a serving of lemons.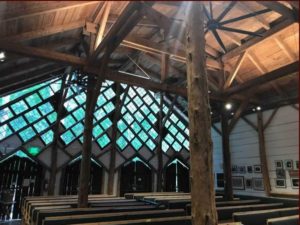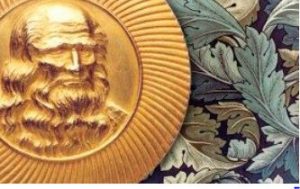 A REMARKABLE CONSTELLATION    In a remarkable constellation of events, Russell Hartenberger received the Leonardo da Vinci World Award of Arts from the World Cultural Council – he traveled to the Netherlands to accept the award – and Bob Becker was named one of Musical America's Top 30 Professionals of the Year – called a "Mover and Shaper".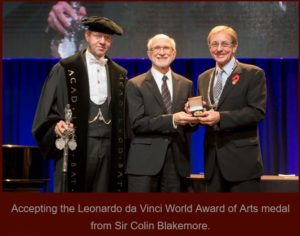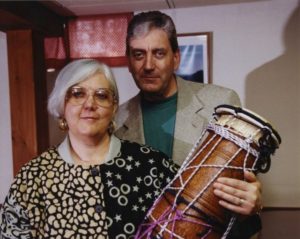 Bill and Ruth Cahn were both honoured by the Rochester Youth Philharmonic Orchestra for their extensive work in music education. Garry's expertise as both a percussionist and an entrepreneur was recognized in his presentation of a series of sessions for the Lifetime Learning Institute of Bard College called "Good Vibrations: A Life of Harmony" as well as sessions for the Leadership Development Institute of Ulster County Chamber Foundation.
Read Bob's Musical America award profile HERE.   Read the WCC's profile of Russell HERE.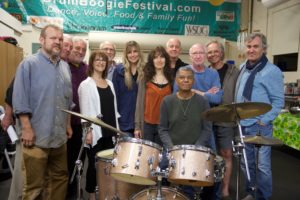 JACK DEJOHNETTE AND PRANA    An unusual combination, perhaps: NEXUS, Jack and the throat-singing vocalists of Prana. But really, that is one of the very best things about going to Drum Boogie every two years. We opened the festival with Prana performing a new piece by Baird Hersey called "The Wheel of Impermanence". Later in the day, we performed with Jack and Prana another new Hersey piece called "Stand Up!"  Here are photos of all of us rehearsing together in Garry Kvistad's studio. We also performed 4 movements from Chiaroscuro, the piece we had recently recorded with Prana. Then an interesting co-arrangement of Amazing Grace done by Rick Kvistad and Baird Hersey, and to end the set we were joined by vocal artist Tasa Kvistad for Bye Bye Blackbird written by Ray Henderson and arranged by Bob Becker. A Gary Hilstead photo of Tasa with her papa Garry Kvistad in the background is below. A great day!!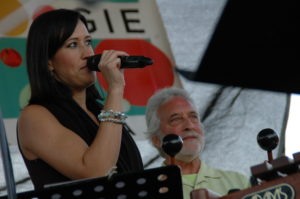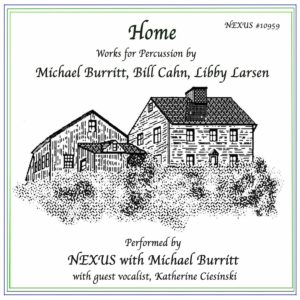 HOME     Our CD "Home" was released in 2017. The album takes its name from the lovely "Home Trilogy" written for NEXUS by Michael Burritt.  Michael is featured on the album as guest artist, performing in the "Home Trilogy" and also in Bill Cahn's "The Crystal Cabinet", and conducting our performance of Libby Larsen's "DDT". Also on the album is "This World" by Bill Cahn, featuring vocalist Katherine Ciesinski. These were the pieces that we premiered and performed at the 2015 Percussion Rochester Festival in a concert themed on environmental sustainability. Grammy-winner Libby Larsen took her inspiration for "DDT" from Rachel Carson's environmental manifesto "Silent Spring".  Bill Cahn's "The Crystal Cabinet" was originally written for the Pendulum Percussion Duo – Susan Powell and Joseph Krygier – and later arranged for NEXUS. Josh Armstrong reviewing the album for Percussive Notes remarks that his "favorite is the first track [Home], on which Burritt's marimba playing along with NEXUS is so balanced and beautiful". He mentions the "rhythmic intricacies" of "DDT" and the "great punctuations" of Bill's "This World" and calls his "Crystal Cabinet" "a thoughtful work. NEXUS has shown us once again what great music sounds like!"