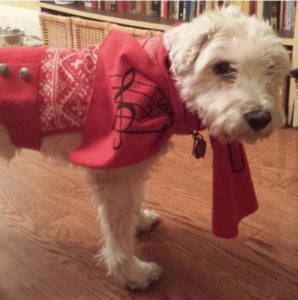 THE NEXUS OFFICE DOG    Some of you might remember the NEXUS office dog who made occasional appearances in 2015 through 2017. Usually associated with holidays! He left the office in 2018 to patrol more heavenly halls, but he remains immortalized here and there on the NEXUS pages.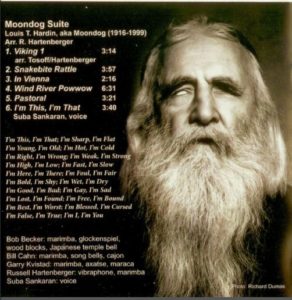 A NOBLE CD AND HOW IT'S MADE   Our release of the album "Persian Songs" featuring Russell's suite of the same name as well as his "Moondog Suite" was greeted with great reviews and it made it onto the CD Hotlist's Top Picks for December 2015.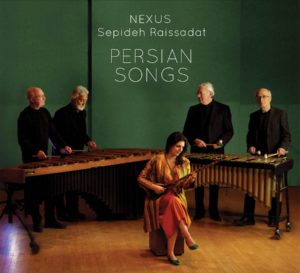 Our recording producer Ray Dillard and Noble Street Studio manager Donny Da Silva discussed the complexities of recording the percussion instruments of NEXUS and balancing it all with the ethereal voice of Sepideh Raissadat. Ray said, "We used between 20 and 30 microphones in the 'Noble' sessions, including dynamics, condensers, ribbon and tube mics. We also used up to 14 different preamp models. All percussion instruments are individually mic'd in the recording session; microphones were placed for optimal pickup of the specific instrument they were used for." Da Silva adds, "It's all about the balance in the song and if you select that one microphone that really makes the voice stand out, that's half the battle." Vocalist Suba Sankaran joined us for "Moondog Suite."  Artist Bonnie Sheckter designed the handsome CD and booklet, which you can see here, with photo by Aydin Bahramlouian.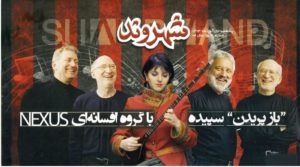 VOICE OF AMERICA and PASIC'15   Our remarkable collaboration with Sepideh Raissadat continued throughout the year: The Ottawa Chamber Music Festival, Maverick Hall in New York State, PASIC 15 in San Antonio TX, and a special celebration of the Persian New Year, Nowruz, in March for Voice of America Persia. VOA Persia has an audience of some 17-million viewers who were able to enjoy our interviews and performances. Also performing with Sepideh on the broadcast was the Sarv Ensemble. The PASIC performance of "Persian Songs" with Sepideh and "Moondog Suite" with Kristen Klehr was also a groundbreaking first. You can see a list of NEXUS' PASIC "firsts" here.   compiled by our in-house archivist Bill Cahn.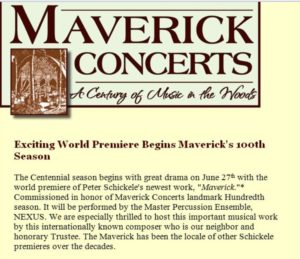 MAVERICK AT 100    We were honoured to kick off the Centennial celebrations of Maverick Concerts at the famed Maverick Hall in upstate NY. To mark the event we gave a youth concert and an evening concert (joined by Sepideh Raissadat) and premiered Peter Schickele's "Percussion Sonata #3: Maverick". You can see segments from our performances on YouTube HERE (along with our other Maverick performances with Steve Reich, So Percussion, and the Canadian Brass).   In the same month, Bill Cahn, fresh back from a kayaking vacation, received the Lifetime Achievement Award from The Arts & Cultural Council for Greater Rochester – a most deserved recognition. It was an amazing month.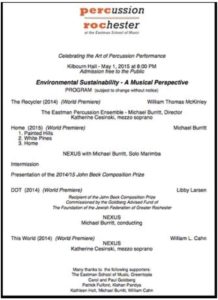 DDT AND A POWER DRILL   The biennial PERCUSSION ROCHESTER event combined forces with Rochester's GREENTOPIA Festival. On the theme Environmental Sustainability, new works were commissioned from Wm. Thomas McKinley, Michael Burritt, our own Bill Cahn, and thanks to the John Beck Prize in Composition, the Grammy-award-winning composer Libby Larsen. The pieces were called (respectively) The Recycler, Home trilogy, This World, and DDT. Bill wrote for NEXUS and voice, featuring Katherine Ciesinkski. Larsen used Rachael Carson's classic "Silent Spring" to provide the text for DDT. Larsen had the fascinating idea of translating important aspects of Carson's work into Morse Code, so as to be "read aloud" by the percussion instruments! Her instrumentation is equally unique; part of it calls for a cigar box and a Power Drill ("Recommended Variable Speed, RPM 0-1200)!! Burritt's Home, he said, refers to "our collective home together, Earth."  The pieces appeared on our 2017 album entitled "Home". The Eastman Percussion Ensemble joined us at the concert and performed Bill's "Tides" – a piece that was, surprisingly, inspired by the sounds of a commercial turboprop airplane flight. Bill worked hard to pull all this together and included a DRUMMERS' HERITAGE event, too – fife and drum events honouring the young drummer boys of the American Revolutionary War. Here are two pics of Bill and Bob at the event.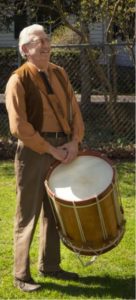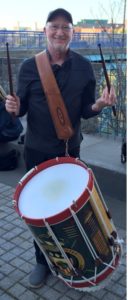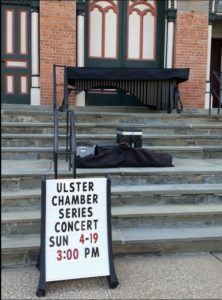 PAUL WINTER AND PRANA   April took us to upstate New York where we rehearsed in Garry Kvistad's new gong-filled studio space with Paul Winter and the vocal ensemble Prana led by Baird Hersey. We were preparing Baird's new work Chiaroscuro, and we also had new versions of The Birds and Sky Ghost arranged for NEXUS, Prana and Paul. The concert for the Ulster Concert Series was in Kingston NY's beautiful Trinity Lutheran Church. After their Sunday service, we had 2 hrs to unload the truck, packed front-to-back and floor-to-ceiling with instruments before the house opened for the 3 PM concert. Here is a quick pic of the front steps as we were loading in.
After the concert we packed and loaded out, took everything over to Garry's studio again for the next day's recording session of Chiaroscuro, to be released in 2016.
NEXUS connections with Paul Winter dated back to the '70s. Bob and Russell performed with the Consort for several year, then Bill performed several times with the Consort too, and from 2000 to 2005 Bill was a part of the "Winter Solstice" events in NYC, winning a GRAMMY award in 2006 for the "2004 Solstice Concert" DVD. Garry created many of the chimes in the Consort's revolving "Solstice Tree" musical sculpture. In this Ulster concert, Prana vocalized along with the pure harmonic overtones produced by Garry's new instrument, the Vistaphone – consisting of precisely-tuned metal tubes outlining the harmonic overtones of G-natural below middle-C. Prana has developed unique throat-singing techniques – using their regular singing voice rather than the low gravelly drone of Tibetan and Inuit throat-singing. Concert photos by Robert S. Gartner.
LET EARTH RESOUND    The Toronto Children's Chorus has been around almost as long as NEXUS and is one of the finest treble choirs in the world under the artistic directorship of Elise Bradley. Garry Kvistad says, "We were delighted to perform with the children in the magnificent St. Anne's Church, founded in 1862, reconstructed in 1920 in the Byzantine Revival style. The interior is painted with murals by artists who were members of Canada's famous Group of Seven. The acoustics are absolutely fantastic for both audience and performers, a rare dual achievement. I was energized by this concert, which was an affirmation of the devotion of many who encourage young people to not only make music but to appreciate it. Their involvement in the chorus will ensure a lifelong love of the arts. This is a huge organization with many wonderful conductors, organizers and participants. We performed Russell's "Moondog" arrangements with some of the older singers, then 'Sky Ghost' by Russell with a larger group and finished the program with everyone performing an arrangement by Rick Kvistad and Baird Hersey of 'Amazing Grace.' I suspect that everyone in the audience had the same feeling of overwhelming joy that I had while hearing these angelic voices. All of the conductors were exceptional and the preparation for the concert was also exceptional."  Here is Bill's photo of the rehearsal in St. Anne's.
  That autumn also found Bill travelling to the grand opening of the new Center for Mallet Percussion Research at Kutztown University, Pennsylvania, carrying 13 boxes containing about 1000 records manufactured between 1890 and 1929, He says, "They all feature wonderful xylophone performances by the greatest players ever – G.H. Green, Joe Green, William Reitz, Sam Herman, Teddy Brown, and many others. I collected the records between 1979 and 2000, and I transferred everything over to the new Center. The collection motivated my 284-page discography, "The Xylophone in Acoustic Recordings 1877-1929."