We have come to our final history post, celebrating our fifty years in music. We are posting this on May 22, 2022, which is (TA DA!) our 51st birthday!! It has been astonishing for all of us to look back at where we began and where we have been. Needless to say, Covid threw dismay, disruption, and loss into everyone's lives, all over the world. The year 2020 was not exactly what we had planned for our 50th season. But still, good things happened. Here is a look: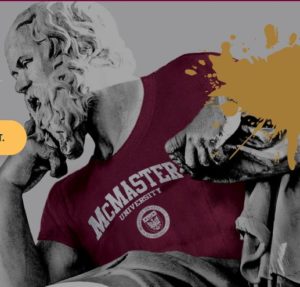 THE SOCRATES PROJECT In the early spring of 2020 we were pleased to be a part of the Socrates Project at McMaster University in Hamilton, Ontario. The Socrates Project is "a point of convergence for artists, scholars, and diverse communities to engage in crucial conversations around the most pressing issues of our time: asking questions, pushing boundaries, finding common ground." Check out their great Facebook page! Our participation was a chance to work once again with Dr. Michael Schutz, director of the MAPLE Lab (Music Acoustics Perception and Learning) at McMaster, named a 2019 University Scholars! Recipients of that title have "distinguished themselves as international scholars and have demonstrated a commitment to the discovery, communication and preservation of knowledge, excellence in education and pedagogy, and to serving local and global communities." Michael worked closely with NEXUS in the high-tech lab to discover the mysteries of "phasing" in Reich's compositions. Following our concert and residency we received some truly heart-felt email and posts from audience members. Thank you!
NOBODY EXPECTS A GLOBAL PANDEMIC! Well, okay, maybe Bill Gates expected a global pandemic. But we didn't. We had wonderful things planned for 2020: A Sound Symposium residency in St John's, Newfoundland, premiering a new work by Russell Hartenberger. Participating in SOSI, Sō Percussion's Summer Residency in New York. A super Soundstreams project in Toronto. Some fun at the Open Ears Festival in Kitchener-Waterloo. Despite continued postponements, The ULTIMATE GOOD NEWS is that Sound Symposium's and Soundstreams' projects are going to happen in 2022! We look forward to sharing more about them and other projects in the coming weeks. Hang in, everyone. 2020 was not quite the way we envisioned spending our 50th Anniversary Season!
RUSSELL IN 2020 As the pandemic took hold, live gigs evaporated for all musicians. Still, NEXUS members managed to keep busy behind the scenes. Russell continued composing, working on his snare drum piece for Ryan Scott's 21C Snare Drum project that has commissioned 15 Canadian composers. Russell was also commissioned by the Women's Musical Club of Toronto to write a percussion quartet, and you can look forward to a second percussion quartet too, that he started in 2020. One of the pieces is entitled "Eagles". Premieres were scheduled, cancelled, scheduled again, in various venues, as we are sure many of you experienced with your work, too.
With Ryan McClelland, Russell co-edited The Cambridge Companion to Rhythm, released in fall of 2020 with chapters by 18 different authors, including Russell himself. He took the opportunity to post on the NEXUS blog several conversations about rhythm that he has had over the years with well-known percussionists John Wyre, Alan Abel, Sharda Sahai, and Bob Becker.
Although PASIC had to be cancelled for 2020, Russell received the PAS Lifetime Achievement in Education Award. Online, Russell was featured on Josh Quillen's "Concert Honesty" podcast – you can listen to it at https://bit.ly/3g3uFbN – and on the NEXUS blog you can read his 2020 article on Japanese instruments and improvisation https://bit.ly/2WH1IKO, and a wonderful tribute to his mentors Alan and Janet Abel upon the sad occasion of Mr. Abel's passing. Russell also shared a 1960 high school essay he wrote, with Alan Abel's help – so much help that Russell says " 'We' received an A+ on the assignment." You can read it at https://bit.ly/3et5C1o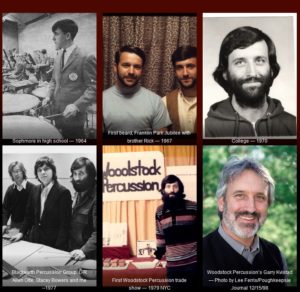 GARRY IN 2020 AND THE HALL OF FAME The big percussion news for Garry in 2020 was his induction into the Percussive Arts Society Hall of Fame. This had to be an online celebration as PASIC had to be cancelled. He was able to celebrate it "for real" at PASIC'21. In a lockdown-inspired move, Garry went totally radical – and shaved off his beard. His notable facial hair had been a part of him since 1967! He pointed out that when he came in to work next day, no one noticed – because he was wearing a mask!! Read all about it at https://bit.ly/3gD1j57 . Of course, the pandemic also impacted Garry's company, Woodstock Chimes. He had to shut down the in-person retail part but was able to continue with online-order shipping. This kept him quite busy and happily allowed him to gradually ramp back up and bring his wonderful team back in with all safety protocols in place. His mantra has been, "We will survive and thrive". He also was active on the NEXUS blog, posting about his "sound" mentors Oliveros, Partch, Harrison and Cage; providing some great pictures from Drum Boogie 2019; and sharing a moving remembrance of his friend and colleague Ron Snider. Read about the 2020 PAS Hall of Fame inductees at https://bit.ly/3sJKB8x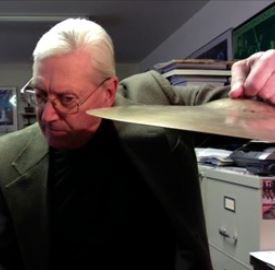 BILL IN 2020 Like every other musician, Bill had all his gigs cancelled due to the pandemic: the premiere of a new arrangement of his with the Rochester Philharmonic, his weekly hand-drumming sessions with the youngsters in the ROCdrummers program, his summer course for international high school students at Eastman, and of course our NEXUS gigs. Instead, he participated in a number of online Zoom workshops including "The Business of Music" for university percussion students – two sessions for Professor George Willis and his students at the University of West Virginia in Morgantown, WV and one session for Professor Megan Arns (Bill's former Eastman Doctoral student) at The University of Missouri in Columbia, MO. He has been attending ongoing Rochester Philharmonic board meetings where they, like every other orchestra, are dealing with the cruel financial realities of the pandemic. But to raise his spirits, he prepped and posted wonderful YouTube items, substantially expanding NEXUS items available online. In addition to discussing his cymbal and playing his cajón, in 2020 he posted our performances of This World, Spanish Dance, Wright's Lessons, Just Sing and Dance Music for Elfrid Ide and shared our fun Hong Kong interview and a number of paintings by NEXUS founding member Michael Craden. Bill has also taken the lockdown time to catalogue his library of xylophone/keyboard sheet music. You can check out Bill's interesting YouTube channel at https://bit.ly/3gzV8AE .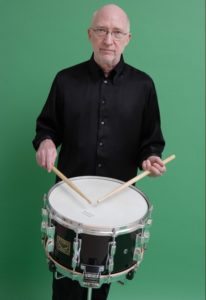 BOB IN 2020 In February 2020, just under the wire before the pandemic lockdowns began, the Bob Becker Ensemble had two performances of Bob's new works in Toronto. Lindsay Kesselman performed with the ensemble – she had just recorded with us for our recording Requiem. The review in Opera Ramblings was great, calling the music extremely interesting. completely individual. meditative. immersive and very enjoyable. And spoke of its intense restless energy. Once the lockdown moved in, Bob moved over to an online presence. You can see some wonderful posts with audio clips in his "More From Bob's Archive" on the NEXUS blog at www.nexuspercussion.com. He also posted about the new edition of his Eight Etudes for Snare Drum. He shared two interviews, one with Mark Reilly, another with Lin KaiPo, and a third with Jonathan Curtis about solo snare drum. And he also shared the travails, trials, tribulations of a composer in his blog about his composition "Time in the Rock".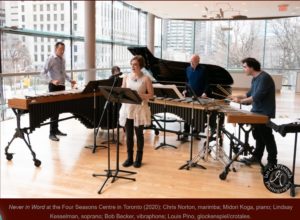 You can read the review of Bob's performance at https://operaramblings.blog/2020/02/05/bob-becker/ The ensemble consisted of Bob Becker, Christopher Norton, Louis Pino (percussion), Midori Koga (piano), Collen Cook and Tiago Delgado (clarinets), Heng-Han Hou and Gloria Yip (violins), Maxime Despax (viola), Allison Rich (cello), Andrea Ludwig and Lindsay Kesselman (vocals).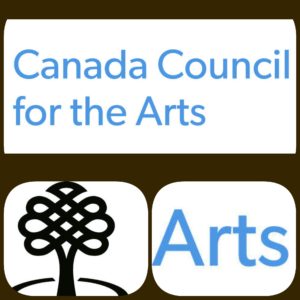 THANK YOU! WE'VE ALL BEEN IN THIS TOGETHER. In the midst of the Co-Vid crisis, a great many did what they could to help the plight of musicians whose income from gigs had dried up in the blink of an eye – from big venues, large events and multi-performer groups, through small ensembles, little theatres and weddings, right down to solo gigs in restaurants, clubs and church services. "The day the music died" indeed! But music is just down, not out. We and many other Canadian entities want to particularly thank the Canada Council for the Arts who provided emergency funding for a great many groups and individuals, as well as allowing travel funding for postponed events to be easily rescheduled until happier times open up. The CCA continues to help, with its Reopening Fund and other initiatives. In addition, many stepped up, both individuals and organizations, to help advocate for financial aid for musicians in need. And many musicians participated in the steep and sudden learning curve of moving their collaborations, their performances and their teaching from in person to online. Can you say "Zoom"? The music world is a remarkably flexible and supportive community, and every part of that community has done its bit to keep spirits up and body and soul together during a daunting time.
OUR HISTORY IN BYTES As we entered our 50th Season in May 2020, we realized there was little chance of having a celebratory concert, due to Covid and closed borders and so on. But we also realized we had 50 or so weeks before our official Golden Anniversary in May 2021, and 50 years to celebrate. We did the math – it all balanced out! We decided to put up posts each week on Facebook and Instagram celebrating one year of our existence. Bill dug out the huge scrapbooks and started scanning. Everyone sorted through their photos. Peggy combed through old files. Lots of reminiscences were shared. Eleanor Engelman came up with great stuff from Robin's archives. John Wyre's and Bill Cahn's books were perused, Michael Craden's paintings revisited (as can be seen here). In the past year, leading up to our 51st birthday today, we have been amalgamating all those social media posts and that is what you have been reading here on the NEXUS blog. So now, they are all in one place and can provide a chronological history of all our fun stuff. It's been a trip!! Thanks for taking it with us!!