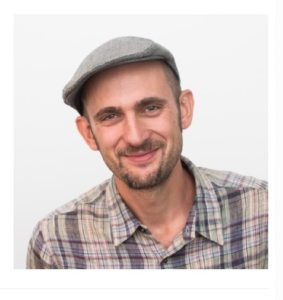 CBC "IN CONCERT" HALL OF FAME   We were honoured to be inducted into the Canadian Broadcasting Corporation's "In Concert" Canadian Musician Hall of Fame – NEXUS being the 13th inductee. It was such a pleasure revisiting our recordings that were featured in the broadcast: Steve Reich's "Sextet" (written for NEXUS) and his "Music for Mallet Instruments, Voices and Organ"; Bob's "Palta"; Russell's "Moondog Suite"; and Toru Takemitsu's "From me flows what you call Time…" (written for NEXUS and the Boston Symphony, recorded with the Pacific Symphony). It made for some beautiful Sunday-afternoon listening and you can hear it HERE. The host Paolo Pietropaolo (pictured here) provided some very thoughtful commentary and we appreciated it very much.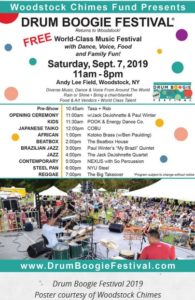 BOOGIE HIGHLIGHTS    You can see and hear why we love doin' the Drum Boogie Festival every two years, in this Highlights video at https://bit.ly/3av5L3R. Good fun, and in 2019 we were joined by the wonderful Yumi Tamashiro and Sō Percussion for a full-length "Drumming" performance – a first at the Boogie! Russell points out that it was also "the first given by only 11 performers: Beth Meyers sang in Part II and Part IV and whistled in Part III. Alex Sopp who is a flutist and a vocalist, sang in Part II, played piccolo in Part III, and doubled as a singer and piccolo player in Part IV, alternating between the parts." (You can read a great article by Russell with lots of pics called Disseminating Drumming at https://bit.ly/2NLKhHe .)
     Then, just for something completely different, NEXUS played "Dotty Dimples" as an encore! We also slipped over to Ellenville NY to perform in a town that has 3 major hang-gliding schools and is considered by the Nature Conservancy to be one of the "75 Last Great Places on Earth"! Amazing where music takes you.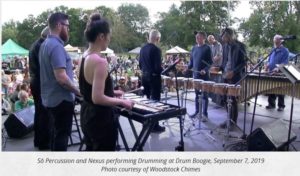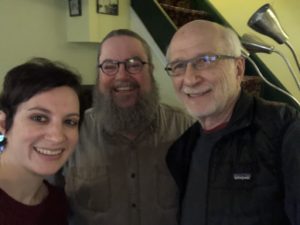 CRUSH STUDIO AND A NEW RELEASE   In the spring, Ray Dillard and Russell joined vocalists Lindsay Kesselman and Cory Knight in Ray's Crush Studio in Springwater, Ontario to record the voices for Russell's "Requiem". Then Ray and Russell were able to bring it all together – TorQ, NEXUS, Knight, Kessselman – for our newest recording called simply "Requiem" – "a personal reflection on time and timelessness." (You can listen and download at https://nexuspercussion.hearnow.com)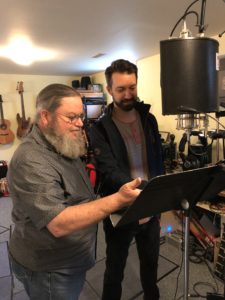 Russell has drawn on exceptional musical memories – as a toddler being pulled up and down by the bell rope in his hometown church; loons he heard on a remote northern British Columbia lake; the drum beatings he played as part of the US Air Force Band stationed in Washington DC; a flute tune heard in Ghana; a bird song noticed in Arizona. Tom Brett calls the first movement, Prelude, "an extraordinary piece…you want the experience to keep going". (You can hear Prelude at https://bit.ly/3efnb5q) The Whole Note called it, "tuneful, contemporary (in its truest sense), and a fine display of vocal and instrumental ability, Requiem is worthwhile listening for all."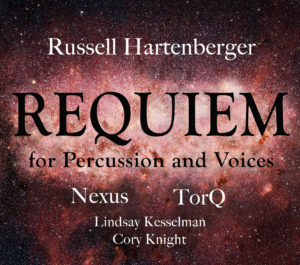 Bonnie Sheckter has given the hard copy CDs of Requiem an elegant design, and Russell's liner notes provide an evocative road-map to the listener. We are all very proud of this recording. Hard copies can be had from billcahn@aol.com.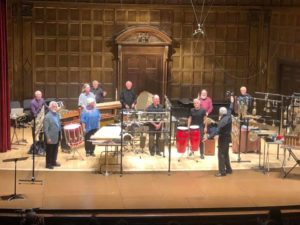 STILL FRINGE AFTER ALL THESE YEARS   In Eastman's Kilbourn Hall – where this whole "NEXUS thing" began in 1971 – we were part of  2019's Rochester Fringe Festival. Were you there? Your fantastic reception as "NEXUS and Friends" walked onto that stage – the tremendous ovation – set off an exciting night of music-making with John H. Beck, Michael Burritt, Conrad Alexander, Ruth Cahn, Ray Dillard, Gordon Stout and Brian Stotz.  Your reactions online made our hearts swell: "Rock stars!", "Percussion Royalty", "Awesome", "The Greats", "Legends of the percussion world", "What a joy!", "Cream of the Crop", "Wonderful!", "Role models", "Star-studded", "Epic!", "All stars!!", "Absolutely historic!"  We can't thank you enough.  You are the reason we exist. (Thank you to Deb Grohman for the photos!)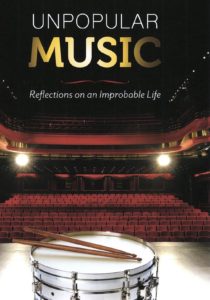 BILL'S BIG BOOK     Big news from Bill Cahn in 2019: He finished and published his autobiographical book, "Unpopular Music – Reflections On An Improbable Life". He received an excellent review of it too. Joseph Van Hassel in Percussive Notes called it, "A fabulously interesting and engaging book", "a page-turner", "fascinating and thought-provoking", and said that the "appendix of Nexus program information from their first concert up to 2019…[is] a great resource". At the same time, Bill came out with two more e-books: his compilation of the Cartoons of George Hamilton Green, and his Guide For Teachers: Hands-On Drumming for Kids (of All Ages). His Unpopular Music is available in hardcopy and as digital download.
Read how to get it at http://bit.ly/37jEw8M
SIDE NOTES 'N' LINKS 2019 VERSION   Another year of a mixed musical bag!
Bill did Josh Quillen's "Concert Honesty" podcast – (you can hear it at https://www.joshquillen.com/concert-honesty/2019/10/9/67-bill-cahn-nexus) and enjoyed a fulfilling performance with the Emeritus Symphonic Percussion Section at PASIC19 – a stellar line-up. His "Bombala" for drum ensemble and orchestra was premiered by the Rochester Philharmonic. It grew out of Bill's after school hand drumming program he had been facilitating for 4 years. He and Garry performed Mahler at the Phoenicia NY Voice Festival and Garry headed up to Interlochen to do workshops and perform Harry Partch's "Two Studies on Ancient Greek Scales" on a new instrument he had created called the Pipedream Eroica that Garry created. (Russell "dropped in" at Interlochen too!) Garry's pride and joy, Woodstock Chimes, celebrated 40 years of making beautiful sounds, and received a "One Coast" award for "40 years of Industry Leadership, Passion, and Commitment to Excellence".  Read more re Woodstock Chimes' 40th: https://www.nexuspercussion.com/2019/12/entering-the-fifth-decade/
Bob workshopped at the Leigh Howard Stevens Summer Marimba Seminar in New Jersey and was in residence at the U. of Denver, too, where a number of his compositions were performed. His "Music On The Moon" was performed by the Kitchener Waterloo Symphony and our good friends TorQ. Russell wrote a new piece commissioned by Escape Ten called Magic Time, premiered at Virginia Tech. He was guest artist at the TorQ Seminar in Nova Scotia, and lectured with Michael Schutz on "phasing" at the Rhythm Perception and Production Conference in Michigan. They also presented it at PASIC'19 in the fall. Russell was honoured with the Toronto Musicians Assoc. Lifetime Achievement Award, then promptly jetted off to Brazil where he was the Keynote Speaker at that country's Percussion Conference, and coached Drumming with percussionists from across the country. He also did another of those massive Clapping Music performances. Never a dull moment!