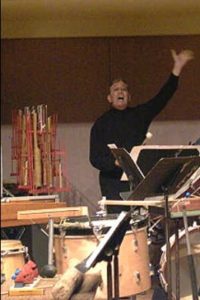 AUDIENCE PARTICIPATION   In 2003 we commissioned a new work from the distinguished Canadian composer Christos Hatzis, thanks to a Laidlaw Foundation grant. We premiered his piece "Four rituals for Percussion Quintet, Chorus and Audience in Dec.2004 in Toronto, and you can hear a 2005 performance at the Baie des Chaleurs Chamber Music Festival in Dalhousie, New Brunswick, in Bob Becker's archive: http://bit.ly/3oas3fX (scroll to the bottom for the link).
             The composer explains that the work encompasses "a kind of musical communication that is not one-sided but is based on feedback from the audience. For example, the actual length of the first movement is not predetermined but depends entirely on the level of audience engagement and participation…the audience is actively encouraged by the percussionists and the choir to take part."  Bob Becker explains, "The first movement is scored for marimba, kalimba, and tuned wooden wind-chimes, which I constructed using suspended marimba bars. The following movement includes a soloistic part for tabla, requiring two specific pitches and therefore three drums. In addition, all players need to speak rhythmic text fragments while playing their instruments, which include vibraphone, guiro, shakers, wood blocks, rain stick, talking drum, tabla, and bass drum."
          Here are photos from the premiere: Bill during Movement 1 – Lazarus; Bob on Tabla in Movement III – Water Turning Into Wine; Robin on Kalimba in Movement II – The Fountain of Bethesda.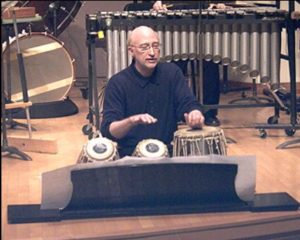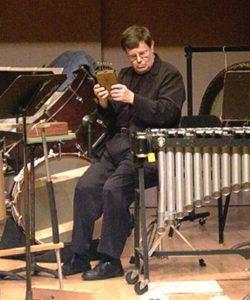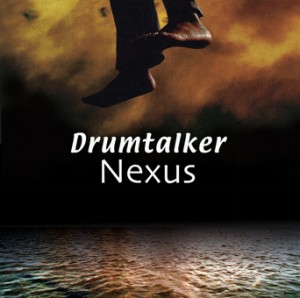 DRUMTALKER AND THE FINE ART OF BANGING ON THINGS   In Nov.'03 following on a series of percussion workshops at the University of Toronto, we released our recording "Drumtalker" at a concert in Walter Hall. The program was a live performance of the material on the CD, augmented with 3 additional Bob Becker medleys as closers, and 2 opening improvisations – one by NEXUS and another where we were joined by veteran Canadian clarinetist Phil Nimmons. Bill Littler in his review said it was "interesting to hear how wind and percussion could take inspiration from each other and undergo subtle personality changes in the process." The album title is taken from the 2nd movement of Russell Hartenberger's "The Invisible Proverb". Littler says, "Hartenberger built this tuneful quasi-minimalist piece using the talking drum styles and rhythm patterns of West African drumming, along with some African bell patterns and flute melodies from Ghana and horn music from Central Africa."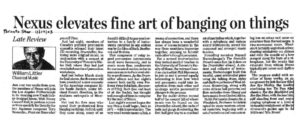 Also on the album/concert was Peter Schickele's "Percussion Sonata No.2 – Woodstock". Littler said that we were: "…five men who spend their professional lives banging on things. Indeed until [Nexus] came along, many of us found it difficult to pay much attention to a family of instruments unvisited in any serious way by the likes of Bach, Beethovern and Brahms. That composers of today regard percussion instruments much more favourably, and as much more than condiments for our musical cuisine, is due in some measure to their availability as performers…even Peter Schickele, discoverer of P.D.Q. Bach (last and least of all the Bachs), has thought well enough of them to compose for the men of Nexus."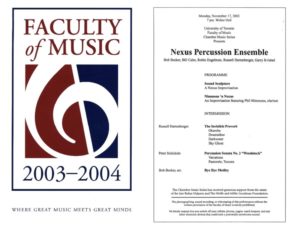 You can hear Bob's "Girlfriends Medley" from the album in his archive: https://bit.ly/2VmYIT4 (scroll midway down). Bob says, ""My arrangement on…'Drumtalker' was another one-take recording. Music like this, where continuous improvisation is a major part of the performance, kind of demands that approach. Although some extraneous noise and unintended sounds have to be left in the mix, the feeling of spontaneity in the music overrides all of that."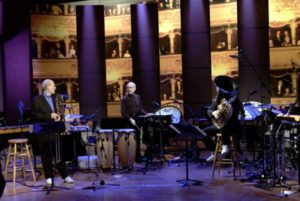 OPENING NIGHT WITH THE CANADIAN BRASS     In February '03 we appeared on the Canadian Broadcasting Corporation's weekly arts & culture program "Opening Night" with the Canadian Brass. The program was brand new, having only begun airing in the 2002-2003 season. It was a weekly, two-hour, prime-time, commercial-free showcase for the performing arts. Here are a few photos from the shoot. We would go on to perform with the wildly popular Canadian Brass at Maverick Hall, at the Drum Boogie Festival, and on their album "Stars & Stripes – Canadian Brass Salute America" featuring wonderful arrangements by Robin Engelman and Howard Cable.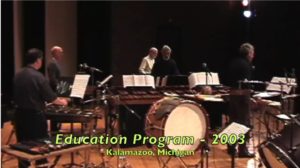 KALAMAZOO-ZOO-ZOO-ZOO-ZOO    We had a great time in Kalamazoo, Michigan. Check out Bill Cahn's compilation – complete with the screaming cheers of an appreciative young audience – You can hear many of the pieces that we have been posting about: https://bit.ly/3osd1CJ    It was also an opportunity to introduce out newest promo shot, featured on the Kalamazoo poster. The nice shot of 4 of us performing Drumming Part 1 is by Casey Spring.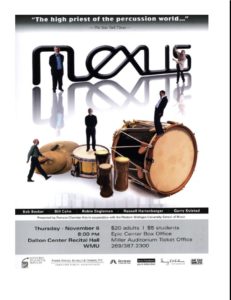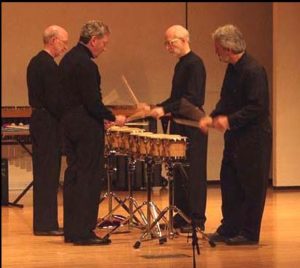 THINKING ABOUT CYMBALS    Here is an article that Bob Becker wrote in 2003: https://www.nexuspercussion.com/2003/11/some-thoughts-and-information-concerning-cymbals/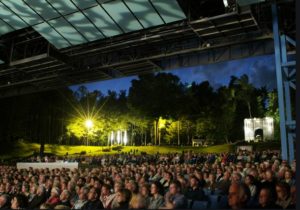 TWO EXTRAORDINARY TAKEMITSU EXPERIENCES   We had the highly unusual experience of performing the Takemitsu concerto at the Festival de Lanaudiere in an outdoor amphitheatre with the wonderful Orchestre Symphonique de Montreal under Jacques Lacombe. Fortunately, with a piece as serene as "From me flows what you call Time…", the venue is well-known for its exceptionally good acoustics. It can hold nearly 2,000 people under its roof and 4,000 on the lawns.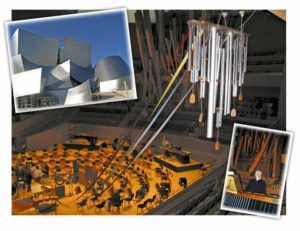 Six months later we gave 3 performances of the piece with the young conductor Yasuo Shinozaki (he was 35 at the time) in the astonishing Walt Disney Concert Hall (designed by Frank Gehry) with the Los Angeles Philharmonic. This was the Hall's inaugural season. Construction had been completed in the spring but the orchestra opted to postpone its grand opening until the fall so that the orchestra and chorale could adjust. Our performances were in early December.
       The Los Angeles Times music critic Mark Swed attended a late summer Ravel rehearsal and wrote, "…the hall miraculously came to life…a new sonic dimension had been added, and every square inch of air in Disney vibrated merrily…[Maestro] Salonen could hardly believe his ears. To his amazement, he discovered that there were wrong notes in the printed parts of the Ravel that sit on the players' stands. The orchestra has owned these scores for decades, but in the [old] Chandler [Pavilion] no conductor had ever heard the inner details well enough to notice the errors."
      The new Hall's walls and ceiling of the hall are finished with Douglas fir while the floor is finished with oak. We enjoyed 3 sold-out concerts and it was a delight. Richard H. Ginell's review in the LA Times said, "Takemitsu's composing was revealed in detail, strings slithering with amazing clarity, each exotic percussion instrument having its own precise profile." During the week, we also gave pre-concert talks giving the series subscribers a guided tour into the music; and masterclasses for college students at the University of Southern California at Los Angeles, San Diego State University, California Institute of the Arts, the University of California at San Diego, and California State University at Long Beach.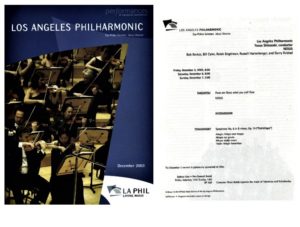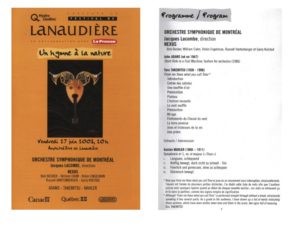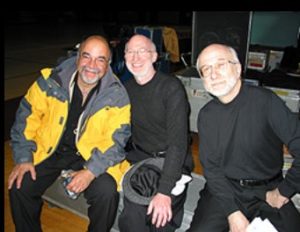 MOORHEAD WITH PETER ERSKINE ET AL    We had "one of those tours" again – 11 weeks – Texas, Illinois, Missouri, Wisconsin, Indiana, and Tucson, finishing at U of Minnesota and with the Fargo-Moorhead Symphony where Bill Cahn conducted 2 educational and a Family concert. From there we headed to Concordia College's 14th Annual Day of Percussion for a solo concert which included Bob Becker's work Palta with the Britain/ Moore Duo, Bill Law, electric bass and Peter Erskine playing the Tabla rhythms on drum set. Mat Britain played steel pans, Daniel Moore played vibraphone and the whole piece sailed away. What great fun and superlative playing! All the artists contributed to the success of the percussion days and were treated to the best hospitality in Minnesota where "all the women are strong , all the men good looking and the children above average".
       Here are a couple photos, and you can see more at http://bit.ly/3pPSVCt . The shot of the whole crew shows, from L to R our illustrious leader and host, Dr. David Eyler, Robin Engelman, Bob Becker, Peter Erskine, Russ Hartenberger, Daniel Moore – one of the funniest people we ever met, Garry Kvistad, Mat Britain, Bill Cahn and finally the smooth and erudite Lowell Larsen who brought us all together and paid all the expenses.  To experience the efficiency and thoughtfulness of both Gary Cook and David Eyler in the space of one week was a blessing!