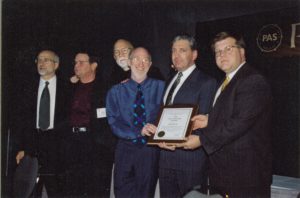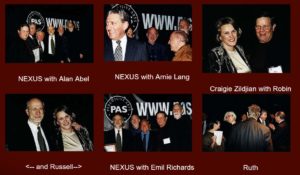 "IN 20 YEARS WE'LL BE RETIRED" Not yet! In 1999 NEXUS was inducted into the Percussive Arts Society's Hall of Fame – a great honour indeed. And this fall, 2021, our newest member, Garry Kvistad will receive that honour too. Lauren Vogel Weiss wrote a very fine article about NEXUS, describing the complexities of our coming together as a group, and interviewing us. It's wonderful reading: https://www.pas.org/about/hall-of-fame/nexus Asked "what lies ahead for NEXUS in the next 10 to 20 years" John Wyre laughed, "Well, in 20 years we'll be retired for sure…One of the reasons we have survived this long is because we haven't had a plan. We've been able to go with the flow…We're just one of the ripples on the pond… The fact that we've reached out and touched some people, inspired them to continue along the trail – that's enough for me. " Russell Hartenberger said, "I never would have dreamed that I would spend most of my life travelling around the world with a bunch of friends having a great time playing percussion instruments… NEXUS has never set out to accomplish anything in particular. We have explored the world of percussion and brought to the group the kinds of instruments and music that appealed to us. We have not set out to have an influence on anyone, but many people have told us that they have been affected by what we have done." Bill Cahn, always thinking ahead, said, "In the 22nd century it would be nice for folks to occasionally plop a NEXUS music chip into the data input slots that have been surgically embedded in their skulls at birth!" Robin Engelman remarked, "Based on the cycles of the past, I suspect we will be doing exactly what we have been doing for the past 30 years: carefully guarding the essence of our relationships." "NEXUS is unique because it was not a copy of anything that came before," summed up Bob Becker. "There was no model for the group. It has always been based on the peculiar interests and characters of its members, and on our friendship for one another. Everything came out of that."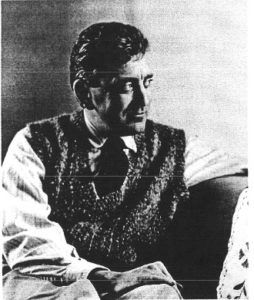 AN ARTICLE BY BILL CAHN "The Instrumentalist," a magazine serving the music education marketplace, contacted Bill in 1999 about the possibility of writing a short article on the subject of percussion performance at the high school level. Bill says, "Since my college degree was in 'Public School Music' and since I had regularly been invited to coach high school percussionists or to present workshops on helpful performance techniques, I decided that I would try to say something that could be helpful not only to high school percussion students, but also to educators, whose good work had been so encouraging to me when I was younger. So, instead of using the short space allotted for the article to focus on basic techniques, I decided to be more philosophical, saying something about what inspires the study of music in the first place – having fun, listening, and self-discovery through reflection." Click to see the 3 page article: https://bit.ly/3quE3us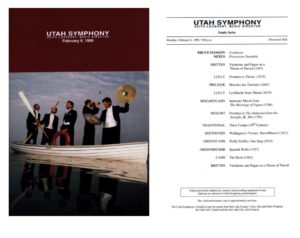 IF IT'S FEBRUARY IT MUST BE… Winnipeg, Utah, New Jersey, Ottawa or Oklahoma. Yes, it was intense. A New York Times article talked about the realities of touring percussion, and quoted Peter Jarvis of the New Jersey Percussion Ensemble saying, "If you want to be a percussionist, you play new music or you don't play" – thus we found ourselves at the Winnipeg New Music Festival. We played Reich, Bryars, Cahn, and our Kelly-Marie Murphy commission. In Utah we had a really interesting mixed orchestral program under Bruce Hangen and performed at Brigham Young U. Flying from there into Glassboro NJ is what prompted the Times writer Leslie Kandell to remark that we would not be able to repeat any of the musical works: "The 5 men of Nexus are physically fit, but no way can they lug all the instruments and gizmos a percussion concert requires. It's not only that bells and bowls are delicate, or the rattle family too numerous; marimbas, xylophones and the like defy normal cartage. Those are trucked to a future tour stop, where Nexus will catch up with them. In fact, moving gear from point to point is a crucial factor in Nexus's choice of repertory. It's the price of dazzling displays on an exotic array of objects, from tin cans to beaded gourds." 3 days of workshops in NJ, then 2 educational concerts a day for 5 days at Canada's National Arts Centre. We finished in Ottawa with a performance at Espace Musique, presenting our new Peter Schickele commission, "Percussion Sonata # 2 – Woodstock". The Times article finished with Bill Cahn's remark that he wanted to be remembered "as just about anything other than the guy who did the duck-call solo." Yes, Xylophonia was on our New Jersey program but "Mr. Wyre wasn't sure if it would be the version that features Mr. Becker's mercurial mallets or the one that has a lick for duck call… Mr. Becker has singlehandedly rejuvenated the xylophone repertory, but even so, 'the duck call wakes me up and makes me laugh' [said Wyre]."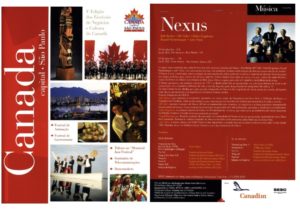 FLUTES, FIREFIGHTERS – and BRAZIL! Okay, August and September were a little bit unusual. We did a benefit concert for the Volunteer Firefighters in Norland, Ontario. John Wyre had his geodesic dome home just outside this picturesque village of about 300, and the fire department was (and is) crucial to the surrounding area of summer cottagers and locals. Then we did a Flute Society Convention in Atlanta GA!! September took us to a Canada Showcase event in Sao Paulo Brazil, where we had a truly wonderful time. Here are some photos from the trip: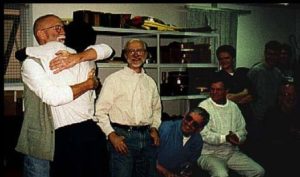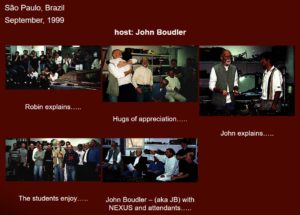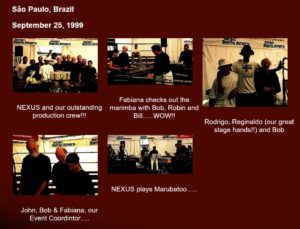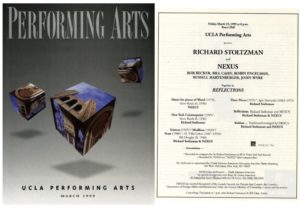 AN AFRICAN CELEBRATION March took us hopping from Syracuse NY to UCLA on the opposite side of the continent with Richard Stoltzman and then back again to New York State to the Eastman Theatre for a great evening with the Rochester Philharmonic under Principal Pops Conductor Jeff Tyzik. The first half of the RPO program featured Kebjar-Bali, by Bill Cahn and carried listeners' imaginations to the magical island of Bali. Peepers by John Wyre explored the haunting sounds of frogs through a gathering of unique percussion instruments from our collection. Bob was featured in a selection of novelty xylophone rags. The second half of the concert was devoted to West African music. It featured master drummer and dancer, Abraham Adzenyah, who was born in the village of Gomoa Aboso in the southern central part of Ghana, and whose friendship and artistic collaboration with us had begun in the early 1970s. The traditional music from Ghana included sophisticated drum ensembles as well as orchestrations of haunting African melodies. There was also the world premier of another new composition for NEXUS – Concerto for African Percussion Ensemble & Orchestra by Bill Douglas – that received enthusiastic ovations. In 'Gahu Songs', we were joined by Canadian artist, Kathy Armstrong, who led an ensemble of young singers and dancers from the Rochester City Schools in a grand finale of joyful music which brought the audience immediately to its feet. What a great night!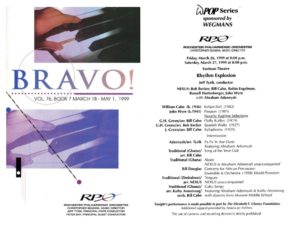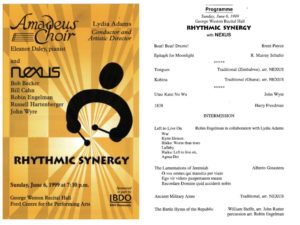 RHYTHMIC SYNERGY Before we leave 1999 we should mention a particularly lovely choral concert called Rhythmic Synergy that we presented in Toronto with the Amadeus Choir under conductor Lydia Adams. Have a look! It began with "Beat! Beat! Drums!" composed by Brent Pierce. "Epitaph for Moonlight" by Canada's R. Murray Schafer is a haunting piece that remained in our repertoire with choir. It was composed as a result of a workshop that Schafer led with Grade 7 students in Toronto in 1964. John Wyre's "Utau Kane No Wa" and Harry Freedman's "1838" were performed. In the second half Robin Engelman in collaboration with Lydia Adams created "Left to Live On", a 6 movement work. Then "Lamentations of Jeremiah" by Ginastera. The program ended with "The Battle Hymn of the Republic" with percussion arranged by Robin.