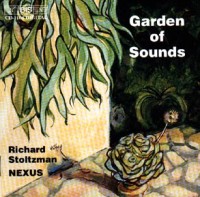 GARDEN OF SOUNDS In February we released our album with clarinetist Richard Stoltzman entitled "Garden of Sounds" on the BIS label. We had recorded it with Richard the previous year at CBC Toronto. Ray Dillard and Bill Cahn were the producers, Mark Wright the recording engineer. The cover painting is Garden Shadows by our late friend and founding NEXUS member Michael Craden. Bill Cahn had purchased the painting directly from Michael and has had it hanging in his home ever since. The album is made up of spontaneous free-form improvisations nurtured during our many performance collaborations with Richard. Among other delights, it features Bob Becker's steel pans. Bob says that for improvisations, "I generally used the rack from my Takemitsu setup to suspend the pans. That way I could have them close to any other instruments I chose to use, including small things on a padded table and/or drums on stands. Using steel drums in this way was interesting because usually I don't know what note is going to come out of a particular spot on the instrument. The pitches on most steel pans are organized in more or less concentric circles, as opposed to the straight lines of marimbas and vibraphones. A physical gesture in a certain direction on a xylophone is predictable in terms of lower or higher pitches. For me, a familiar movement by my hands on the pans produces almost random-sounding results."                                                                                                                                                                                                                                                                                                                                                                              
CHRISTOPH ESCHENBACH   Here we are in April '00 with Maestro Christoph Eschenbach with whom we shared 5 sold-out concerts with the Chicago Symphony, highlighted with performances of "From me flows what you call Time…" by Toru Takemitsu. The four performances in Chicago's newly refurbished Symphony Hall and our concert at the University of Illinois in Champagne/Urbana were well received by enthusiastic listeners who responded with numerous curtain calls for NEXUS. Writing for the Chicago Tribune on that April 1st, John von Rhein called the work "extraordinarily beautiful" and spoke of "the most exquisite meditative quiet" and "a gentle continuum of musical events". "Few East-meets-West fusion pieces succeed as triumphantly and on as many levels…The  Nexus players simply were marvels…Eschenbach did a masterful job." During the week we also gave pre-concert talks to the CSO subscribers, giving them a guided tour into the music, the performers and the many percussion instruments that filled the stage, surrounding the orchestra. We gave masterclasses for members of the Chicago Civic Orchestra and for the Chicago Symphony's Percussion Scholarship Group, comprised of talented grade-school students from Chicago city schools, and a workshop on West African drumming for students at the University of Illinois in Champagne/Urbana. In his book "Unpopular Music", Bill Cahn recalls a 1970 program by the Rochester Philharmonic when Bill was Principal Percussionist. The conductor was Gunther Schuller and in the Mozart segment of the program, the pianist was a very young Christoph Eschenbach. In a few years, 2005, we would work with Eschenbach once again in Europe.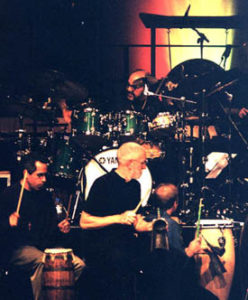 EXPO 2000 HANNOVER GERMANY    As part of the 2000 Expo, John Wyre created another World Drums event. In his book Touched by Sound, he says, "Over 300 performers came together in Hannover, adding many new musicians to the world Drums family. I have much admiration and respect for the skills of producer Karen Kopp who made this event such a success. Music has been a magic carpet transporting me around the world many times, fostering deep bonds of friendship and demonstrating the wonderful unison and harmony that is part of the human spirit in every culture."  What a varied line-up!  Abraham Adzenyah (Ghana); from Canada Aqsamit, Evergreen Club Gamelan, Alan Hetherington & NEXUS; Diguiya (Burkina Faso); from USA Peter Erskine, Percussion One, Robyn Schulkowsky & Glen Velez; Ray Dillard (USA/Canada); Rolando Morales Matos (Puerto Rico), Sal Ferreras (Puerto Rico/Venezuela), Harmonites Steel Orchestra (Antigua), Fritz Hauser (Switzerland), Herbert Dayasheela Ensemble (Sri Lanka), Kroumata (Sweden), Samul Nori & Changgo-chum (Korea), Trichy Sankaran (India), Seow Lim Teck Eng Tong Physical Association – Dragon Dance (Singapore), Tambuco (Mexico), Omar Faruk Tekbilek (Turkey); and from Ireland, Brian Fleming & Rónán Ó Snodaigh. The following year, Brian would be credited in the Guinness Book of World Records 2001 as the creator of the "Millennium Drum," the world's largest drum. The event ran from Aug.11 through 16, with much of it taking place in Hannover's musical centre, The Beat Box. Here you can see Sal Ferreras & John Wyre w/Peter Erskine on drumset; and the grand finale concert. Photos by Lorraine Dillard.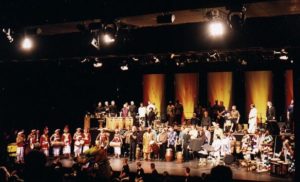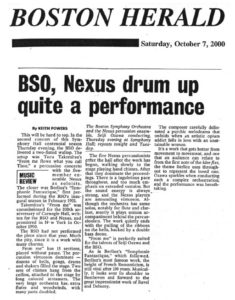 IN BOSTON WITH SEIJI   In addition to performing the Takemitsu concerto with the Chicago Symphony under Eschenbach and with the West Virginia Symphony under Thomas Conlin, we reconnected with Maestro Seiji Ozawa and the Boston Symphony in October, "a fabulous week of 4 performances in Boston's Symphony Hall," says Bill Cahn. It was busy! Seiji had not performed the piece since Japan 1991, so rehearsal was necessary of course, but we also had school concerts in New Hampshire, an open dress rehearsal and then the 1st evening concert (which meant setting up and tearing down twice), a masterclass at the Boston Conservatory, a solo recital up in Rockport Maine, and a visit to the Zildjian cymbal factory! The Cleveland Orchestra was also in town – a rare opportunity to hear both orchestras back-to-back & spend time with many percussion friends. Quite the week! The Boston Globe was glowing: "The players of Nexus are uncanny in their precision of ensemble, in their individuality, and in the the subtlety of their interaction; each is a master of attach, dynamics and color." The Boston Herald said, "This will be hard to top." Our 5th and final concert of this BSO series was on Oct.10th and Toru's wife and daughter Asaka and Maki were in attendance. Bill sums it up: "This [week] was the last of my personal encounters with Seiji Ozawa and every one was intense and engraved in my memory."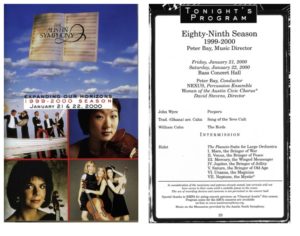 FROGS IN THE MUCK and SILVER CRESTED CHUCKLERS   Not a headline we were expecting for the review of our appearance with the Austin (TX) Symphony and Maestro Peter Bay. Reviewer Jerry Conn had fun with this one! Here are the highlights: "I'm now caught up on frog music. I may have had a serious deficit before, but the performance of John Wyre's Peepers remedied that very well, thank you. That's not at all to say it wasn't a delight…with all the resources and talents of…NEXUS, and followed so adroitly by what came after with the…Austin Symphony….The music was inspired by those amphibs in and around the composer's home in Ontario….A nifty change of pace placed the traditional Ghanian "Song of the Yeve Cult" (arranged by William Cahn) next. It featured NEXUS' gorgeous marimba sounds…full strings and woodwinds preceded a gorgeous full swelling with percussive emphasis from multiple kettle drums…If you thought the earlier frogs had a lot to say…next was Mr. Cahn's composition "The Birds"…[There were] rising sounds of silver-crested yellow-breasted chucklers in the audience…Full and delighted applause won an encore…After intermission, Holst's "The Planets"…the peace of Venus was of breath-holding beauty…A delightful evening of varied musical sounds – adventurous and artful programming and performance!"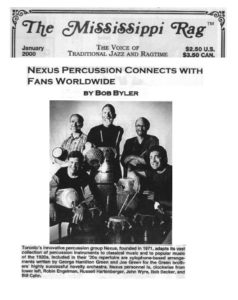 MISSISSIPPI RAG   Bill Cahn has shared a great article by Bob Byler in the Mississippi Rag. The piece brings back good memories and bits of our history, such as the 1994 Indianapolis Star review that said Bob Becker performed "with mallets aforethought." (Love that.)  Bill told Byler, "Bob Becker leaves us smiling and scratching our heads most of the time. He does every song in his own natural free way." Byler reminded us of our Jan.'95 performance with the Toledo Symphony and the Louisiana Repertory Jazz Ensemble. "This was the only time the LRJE was on the same date as Nexus, and it gave LRJE cornetist Lew Green a rare opportunity to hear his uncle George's music in a bright new format." (That would be George Hamilton Green.) He noted that NEXUS owned "about a thousand instruments" and that "up to 200 may be used in a concert and are hauled in a panel truck…Quantity however is subordinate to the quality of sounds." About Bill's arrangement of "Dance of the Octopus", Bill "learned more about the tune from Red Norvo about 1980. Red said he recorded the tune secretly because Brunswick executive Jack Kapp didn't want jazz on the label. It became a big hit in Europe and was finally issued by Brunswick in 1934." Here's another memory: "NEXUS was profiled on the CBS Sunday Morning show with Charles Kuralt in 1992. It showed excerpts…and instruments such as tuned paint cans…and an invention using the top of a vacuum cleaner and bottom of a steel bowl called a 'water phone'". Here's Bill in a 1995 interview, saying that NEXUS "began not knowing just what we would do but enjoying it, went through a self-conscious stage, then shed some of the that baggage and learned to play naturally with musical freedom." And Byler quoted a couple of alliterative review remarks: "Genius and geniality" (Hong Kong) and "craft and craftiness" (Indiana), and a Buffalo paper that said Bob's "ease and grace…recalled Fred Astaire's loose-limbed joie de vivre."  Great stuff, good memories. Thanks for keeping this article, Bill!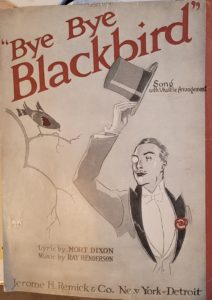 BYE BYE MEDLEY   Another offering from Bob Becker came into our repertoire in the year 2000: his Bye Bye Medley arrangement.  Bob says, "During the "roaring" 1920's an exciting kind of ragtime music became the rage in North America. Popularly known as "novelty ragtime", this music was associated with the various dance styles in vogue at the time. Highly technical, often programmatic and certainly speedier than previous ragtime music, it was a perfect vehicle for the xylophone. Propelled by the newly-invented phonograph, the xylophone as a solo instrument enjoyed a true 'golden age' during the 1920's and 30's. Xylophone soloists appeared with piano accompaniment, in dance orchestras and concert bands, and were heard regularly on radio broadcasts and in animated cartoons and motion pictures.  'Bye Bye Medley' features two great Tin Pan Alley songs from the 1920's.  The first is Ray Henderson's famous stop-time melody Bye Bye Blackbird (lyrics by Mort Dixon) which is still popular as a jazz standard.  Second is Bye Bye Blues, written by Fred Hamm, Dave Bennett, Bert Lown and Chauncey Gray.  An old banjo favorite, this tune was often used as a virtuoso showpiece by xylophonists as well."  The image is from our manager Peggy Feltmate's vintage sheet music collection! It is dated 1927.