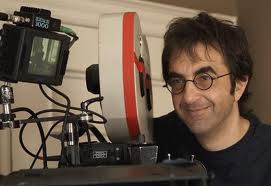 In October 1996, NEXUS celebrated their 25th anniversary with an appearance in Toronto with members of the Steve Reich ensemble, accompanying images by the highly acclaimed Canadian filmmaker Atom Egoyan. Here is the description :
"Canadian filmmakers Atom Egoyan and Peter Mettler join forces with two powerful Canadian music ensembles, members of Nexus / The Steve Reich Band and The Evergreen Gamelan Club, in two astonishing journeys through image and sound.
"'Nexus/Bolex 85-9' – Atom Egoyan compiles images taken on his hand-cranked 16mm Bolex and sets it to the intoxicating pulse of Steve Reich's Sextet. The film starts with a camera test in his Spadina Avenue apartment in 1985 and culminates in his first visit to Armenia in 1991. Members of NEXUS, Canada's world-renowned percussionists, and the Steve Reich Ensemble perform Sextet live with Egoyan's film.
"Atom Egoyan's cinematic career is awe-inspiring. His last film, Exotica won the 1994 Cannes Film Festival 'Critic's Award' and the 1994 Genie award. He recently served on the jury for the 1996 Cannes Film Festival and will make his operatic directing debut with Strauss' Salome at the Canadian Opera Company. Admired for his uncompromising statements about humanity's hidden, yet enticing darkness, Egoyan joins SONiC BOOM in a tribute to individual memories creating unique and interlocking histories.
"NEXUS' distinctive repertoire for percussion encompasses contemporary works to ragtime. Celebrating its 25th anniversary season, the five original members still thrill international audiences with their virtuosity, innovative programming and insatiable musical curiosity. Their new CD, One last bar then Joe can sing, is a work by composer Gavin Bryars, premiered by NEXUS at Queen Elizabeth Hall in London, November, 1994."
The second half of the evening was a collaboration between filmmaker Peter Mettler and the Evergreen Club Gamelan entitled "Bali-Diary". Mettler is known for his international-award winning Picture of Light and his Genie nominated adaptation of Robert Lepage's play Tectonic Plates. Atom Egoyan and Peter Mettler had collaborated on the film "Next of Kin" in 1984.
The year after the Egoyan/NEXUS  collaboration, Egoyan released The Sweet Hereafter, nominated for two Academy Awards, winner of 8 Genies and 3 awards at Cannes. Next came Felicia's Journey, then Krapp's Last Tape, and Ararat starring Charles Aznavour and Christopher Plummer. Where the Truth Lies with Kevin Bacon and Colin Firth was released in 2005 and nominated for a Palme d'Or in Cannes. I have a personal if small connection with Where the Truth Lies as my husband, who is a musician, appears on screen in the several vintage-style band scenes, filmed here in Toronto. Most recently Atom Egoyan directed the erotic thriller Chloe, released last March by Sony Pictures Classic.