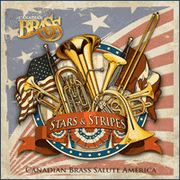 The Musical Heritage Society (Oakhurst NJ) has published their "Best of the Year" lists and  the Canadian Brass CD "Stars & Stripes – Canadian Brass Salute America" featuring NEXUS members has reached the rarified air as a TOP 5 CLASSICAL BEST SELLER based on sales of all new titles released throughout the year 2010 at this venerable record club and retailer.
The Canadian Brass site quotes Jeffrey Nissim, President of MHS, declaring "it's wonderful to see Canadian Brass continue to not only make great music but outstanding recordings that our members continue to look for. Thank you Canadian Brass for making 2010 a great year for everyone – we all look forward to your continued success!"
We have been delighted to be a part of this exceptional recording!