In 1976, at the invitation of composer Toru Takemitsu, Nexus made its first tour to Japan. A major event was our appearance on the Music Today Festival in Tokyo, for which Takemitsu had commissioned a new work from the brilliant young composer Jo Kondo (b. 1947). JK wrote a four-movement quintet titled Under the Umbrella, and we premiered the piece on June 27th in the Seibu Theatre. On the same program was music by John Cage, Steve Reich, R. Murray Schafer, and John Wyre. Takemitsu had requested Cage's First Construction in Metal, which requires six percussionists and a pianist. We were joined for the Cage by percussionist Yasunori Yamaguchi and pianist Toshi Ichiyanagi, himself a respected composer. Additionally, JK assisted Ichiyanagi with the prepared elements in the piano part.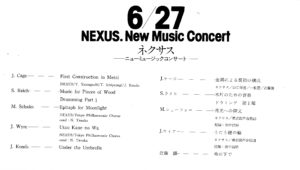 The Canadian premiere of UTU was presented on November 8, 1976 in the University of Toronto's Walter Hall, sponsored by New Music Concerts. A year later, on November 10, 1977 Nexus gave the US premiere in Alice Tully Hall at Lincoln Center in New York City. The concert there was sponsored by the Japan Society of New York, and also featured marimba soloist Keiko Abe, who was making her first American tour.
Nexus recorded UTU on August 18, 1980, in John Wyre's geodesic dome in Norland, Ontario. Each movement was recorded in one take using a single omnidirectional microphone and a Nagra portable tape recorder. The sound engineer for the project was composer Tim Clark, a classmate of Bill Cahn and mine at the Eastman School of Music, and at the time, music director for the McLaughlin Planetarium in Toronto. The original mastering was done by Robert Ludwig, a multiple Grammy Award winner and also a classmate of ours at Eastman. The recording was included on the LP Jo Kondo – Standing/Sight Rhythmics/Under the Umbrella (CP2 11), released in 1981 by Paul Zukofsky on his CP2 label. Subsequently the recording was re-released in 2007 by ALM Records on the CD Jo Kondo: In Summer (ALCD-74); and in 2018 on the CD Jo Kondo – Mulberry/In the Woods/In Summer/Under the Umbrella by CP2 Recordings (CP2 123).
UTU is scored for 25 suspended cowbells and a large gong (played only once at the end of the piece). The cowbells are indicated to be graduated from low to high, but not necessarily pitched as in traditional classical tuning. Swiss-style cowbells, called almglocken, tuned to the chromatic scale have become standard in contemporary percussion orchestration; however, JK did not want that sound for this piece, although he didn't preclude using some almglocken-type bells in the mix. The large bell between Bill Cahn and me in the photo above is an example of an untuned Swiss almglocke, originally presented as a trophy for a championship-winning cow. Bells meant to be worn by cows, camels, and buffalo are common throughout cultures around the world, and many of them have inventive shapes and lovely sounds (with clappers removed).
In order to select 25 cowbells for UTU, each member brought the best-sounding (in his opinion) bells from his instrument collection to the first rehearsal. There were a few Swiss almglocken, but most of the bells were from India, Pakistan, Turkey, and Indonesia. This created a nonhomogeneous assortment with the non-traditional pitch relationships JK desired. After choosing the 25 bells we all liked best, we followed Kondo's instructions to organize them from low to high, and then select a set of 5 for each player using numbers 1, 6, 11, 16, 21; 2, 7, 12, 17, 22; and so forth. Nexus has constructed a variety of rack systems to suspend many kinds of instruments, and for UTU we created an interlocking pentagon of metal pipes, which allowed us to be close together and positioned so that we could see each other easily. At first, and for the premiere performance in Tokyo, we played sitting cross-legged on the floor. Later, we sat on chairs, making our postures slightly more formal as well as somewhat more comfortable during a twenty-four minute piece.
A fascinating result of the instrument selection process outlined above is that the linear contours of UTU are clear with any collection of 25 graduated bells; however, the specific ones used by a given ensemble will produce melodies not heard in any other versions. The compositional method, called sen no ongaku ("linear music") by JK, uses the principle of hocket throughout much of the piece, with a dampen-as-you-go method of playing the suspended bells similar to the technique used for certain Balinese and Javanese instruments (one hand strikes with a mallet while the other hand dampens). UTU is a serious challenge to play, and a bit of a puzzle to learn, but it's beautiful music, and a unique contribution to percussion repertoire. The only piece I know that is anything like it is JK's Nocturnal, composed for Nexus in 1997 and recorded on the CD Lullaby (Nexus 10612).
The audio files below are UTU Movements I (3:32), II (3:35), and IV (1:39).