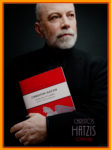 In 2003 Nexus was able to commission a new work from the distinguished Canadian composer Christos Hatzis through a grant from the Laidlaw Foundation. We premiered his piece Four Rituals for Percussion Quintet, Chorus and Audience in December, 2004 on the Faculty Artists Series at the University of Toronto. The piece is in four movements: I. Lazarus; II. The Fountains of Bethesda; III. Water Turning into Wine; IV. Agnus Dei. The composer has written:
"The title of the work itself implies a kind of musical communication that is not one-sided but is based on feedback from the audience. For example, the actual length of the first movement is not predetermined but depends entirely on the level of audience engagement and participation. Throughout the course of the work, the audience is actively encouraged by the percussionists and the choir to take part in this process of exchange and participation. The two inner movements do not engage the audience or the choir directly, but their structure and feel still adhere more to the concept of ritual than to that of a piece of concert music."
We included the two movements without choir on our tour program during 2005. The first of these is scored for marimba, kalimba, and tuned wooden wind-chimes, which I constructed using suspended marimba bars. The following movement includes a soloistic part for tabla, requiring two specific pitches and therefore three drums. In addition, all players need to speak rhythmic text fragments while playing their instruments, which include vibraphone, guiro, shakers, wood blocks, rain stick, talking drum, tabla, and bass drum.
The performance below was recorded by the CBC directly from the stage, without separate microphones for our voices. Still, the blend of voices and instruments creates an evocative timbre that can be heard on the recording. The concert was part of the Baie des Chaleurs Chamber Music Festival in Dalhousie, NB in July, 2005. Performers are Bob Becker, Bill Cahn, Robin Engelman, Russ Hartenberger and Garry Kvistad.