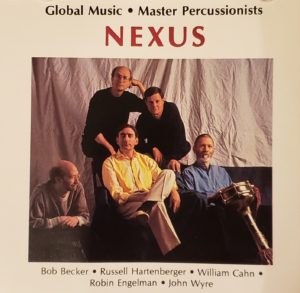 #NEXUSat50 1988-1989 EVERYBODY'S WRITING! In the midst of the heavy 1988 travel schedule we somehow found time to compose! Toronto concerts and a Stamford CT concert in 1988 saw premieres of new works, as did Merkin Concert Hall in New York City in 1989: "Lali-Pops" by Wyre (not related to the movie that was just released in 2019!) and also his piece "Marubatoo"; "Kumasi" by Hartenberger (not related to a movement of the same name in his 2007 composition "Telisi Odyssey"); "Fauna" by Cahn; "Remembrance" by Engelman and we also premiered his "Fondue" written in 1985; "Cymbal" by Becker. At the Stamford concert we also played Cage's "Quartet for Percussion – No Instruments Specified" (considered Cage's 1st percussion ensemble piece) and at the Toronto concerts we premiered 2 new commissions: "Litanies" by Walter Buczynski, (a trio for 2 percussionists and accordion played by Joseph Macerollo) and "Rune" composed and conducted by James Tenney. The Merkin Hall concert with its new NEXUS-member pieces was reviewed by Allan Kozinn of the New York Times under the headline "Organized Noisemaking By Percussion Ensemble". The occasion was the 1989 New Music America Festival. Here is how he heard NEXUS' repertoire: "The players gave a musicianly demonstration of the art of organized, tightly choreographed noisemaking….Mr. Engelman's 'Remembrance' uses metal vessels and wooden blocks, and at first calls to mind…southeast Asian ritual processions. Eventually, the palette is expanded and other influences are heard, including that of an American marching band,…enlivened by touches of humor…Mr. Cahn's 'Fauna' was exotic in a different way, its starting point being the sound of the forest, with synthesizers contributing the watery whoosh of a brook and various horns supplying animal noises. This gave way to…various stylistic bases, from Minimalism to jazz…dramatic, insistent…In Mr. Wyre's 'Marubatoo'…graceful melodies were distributed between the bass regions of two marimbas, supported and accented by crotales, while a vibraphone and the upper range of one marimba filled in a sweetly moving harmony…And Mr. Becker's 'Cymbal' explored the subtle tones and resonances that can emerge from a steady roar of cymbals, gongs and bowls."
During the Down Under tour, Bill and Ray Dillard drove the instrument truck together up the eastern coast of Australia, and during their driving hours they planned the 1st series of NEXUS CDs – and sure enough, these 4 pieces plus Takemitsu's "Rain Tree" were released on our "NEXUS NOW" CD in 1989, produced by Ray, Engineered by Heywood Parrot, recorded at McClear Place, Toronto. Read more: Mr Kozinn's entire article at https://nyti.ms/3kaIPt6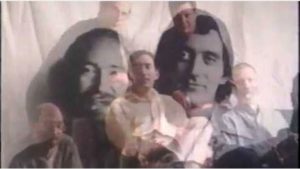 #NEXUSat50 1989 A VIDEO VISIT WITH NEXUS You're going to love this! Excerpts from all the pieces we've been mentioning in our text posts, and interview clips too! ENJOY! http://bit.ly/2qVndou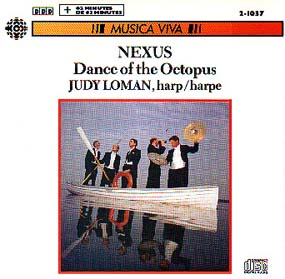 #NEXUSat50 1989 A YEAR OF RECORDINGS and RED NORVO With our new compositions (see previous post) we did a lot of North American touring in '89: Utah, California, New York State, Ravinia Festival, Vermont, Massachusetts, New Hampshire, Maine, Tennessee, South Carolina, and the New Music America Festival in New York City. Whew! But it was also a year of recordings. As well as the NEXUS NOW album that we recorded in June'89, we released THE BEST OF NEXUS in October, and had begun the year at a CBC recording session in Humbercrest United Church (Toronto) for our DANCE OF THE OCTOPUS (Musica Viva). "Best of NEXUS" gave us an opportunity to re-release excerpts from other recordings that had been done between 1976 and '86: Earle Birney material, George Hamilton Green, Cahn's "The Birds", Cage's "Third Construction", 2 improvisations ("Passage" and "Amazing Space") and our African-inspired piece Kobina. For "Dance of the Octopus" we were joined by the great harpist Judy Loman. Along with Bob's "Palta", Bill's In Ancient Temple Gardens" and some of our African repertoire, "Dance…" gave us an opportunity to record Milton Barnes' "Annexus" (1984). And of course, the album featured Bill's "Red Norvo Suite" that he had arranged in 1981. Two of the three pieces included in Bill's suite are xylophone showpieces: "Breakfast Breakdown" and "Knockin' on Wood" – you can hear these excerpts in Bob Becker's wonderful post about Red Norvo at https://bit.ly/32oqa6Z . Bob had an opportunity to test Red's custom-built Deagan xylophone in L.A. around 2010, and actually jammed with Red in Toronto in 1978. Bob recalls John Wyre asking Red, "How come you never look down at the keyboard while you play?" and recounts, "Red was famous for this, and his habit was always to look out at the audience with a dreamy smile. His answer to John was: 'Because it sounds so much better than it looks!' Bill Cahn, in a 2009 interview with Jim Clanton, recalled, "In the 1980s I interviewed Red Norvo in Toronto. He said that in the early 1930s he was a xylophonist at NBC-radio in New York City. One day in the mid-1930s he came into the radio studio for a broadcast and, at the decision of the NBC upper-brass, all of the xylophones had been replaced by vibraphones. A decision had been made that xylophones were 'old-hat' and vibraphones were 'in'; along with the new taste for swing music."
More: Bob's Red Norvo stories at https://bit.ly/32oqa6Z . Bill's interview on marimba/vibraphone questions: https://bit.ly/33EIgRR. Further excerpts from Dance of the Octopus ("Palta" and "In Ancient Temple Gardens") at https://bit.ly/3bYhCXQ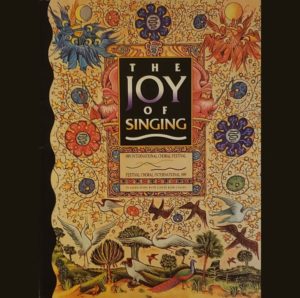 #NEXUSat50 1989 VARIETY IS SPICE! Some very interesting projects in '89! We began with a performance of Shchedrin's Carmen Suite with the Chamber Players of Toronto under the indefatigable Agnes Grossman. She had come to Canada from Vienna in 1981, after her promising solo performing career on piano had been curtailed by a hand injury, inspiring her to instead study conducting. By 1989, not only was she artistic director of the Chamber Players, but also of the Orchestre Métropolitain de Montréal and choir which she had recently founded, and the Orford Arts Centre – and she has gone on to many more. June brought us to the first Toronto International Choral Festival under the direction of another powerhouse, Nicholas Goldschmidt, who at this time was 80 years of age! "Niki" had brought in Peggy Feltmate and John Cripton for Production and Tour Management for this month-long festival that presented groups from over 14 countries. The opening concert alone featured 2000 voices. Our concert at Roy Thomson Hall presented Andrew Lloyd Webber's "Requiem" and a new commission for the event, Srul Irving Glick's "Songs of Creation". The performers (conducted by Elmer Iseler) were the 185 voice Toronto Mendelssohn Choir, The Toronto Symphony, organist Bruce Ubukata, NEXUS, and vocalists Gianna Rolandi, Vinson Cole and 17-year-old Darren Dunstan. A much smaller event but certainly interesting was our solo performance at the Elora Quarry east of Toronto, an actual limestone quarry with superb natural acoustics that had recently begun to be used as the venue of gala evening concerts enhanced by special lighting effects. We ended the year with renowned children's author and novelist Tim Wynne-Jones, who wrote and narrated "Once There Was Only Sky", a piece created for NEXUS and The Toronto Children's Dance Theatre and presented at Toronto's Young People's Theatre in December.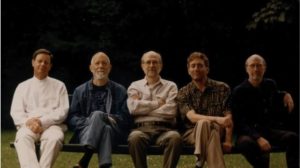 #NEXUSat50 1989 TORONTO ARTS AWARD in MUSIC In 1989 we were greatly honoured to receive the Toronto Arts Award in Music from the Toronto Arts Foundation, an award that had been instituted 3 years prior. The description under our photo in the program reads, "Since 1971, the five-man percussion ensemble NEXUS has built a global repertoire and a reputation to match. The group plays everything from tablas to conch shells, from Ghanaian compositions to works by John Cage, in venues from Tanglewood to Tokyo. But wherever it journeys in music, NEXUS always leaves behind friends, music lovers reminded that if humankind has a universal language, it is rhythm." The Citation from the Music Jury reads, "Nexus…is the human sound of music: drums, chimes and xylophones; hands and sticks on skin, metal, shell or wood. Formed in 1971…Nexus has appeared with orchestras from the Toronto Symphony to the New York Philharmonic, recorded with Oscar Peterson, Bruce Cockburn and Chuck Mangione, toured to Beijing, to Adelaide, to Paris, and performed at festivals from the BBC Proms to Tanglewood. Nexus has inspired a whole generation of young musicians to a more global perception of music, using Indian tabla, jazz and march rhythms, often in the same piece. Nexus is timeless in an art determined by time – simple and emotionally direct despite the complexities of its music and its career. " In looking at the program for the gala event, the final paragraph of our biography gave us a smile: "The group admits that to practise is not in its nature. Instead, Nexus prefers to get together before a tour or concert and just drum something up."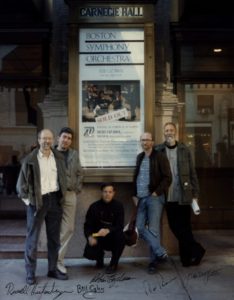 #NEXUSat50 1990 CARNEGIE HALL's 100TH BIRTHDAY Robin Engelman calls it one of "the most influential works for percussion and orchestra." He is talking about Toru Takemitsu's "From me flows what you call Time…" In honor of its 100 anniversary, Carnegie Hall commissioned Toru to write a work for Seiji Ozawa, the Boston Symphony Orchestra and NEXUS, to be premiered Oct.19, 1990. John Wyre says, "Toru's music is like the wind -dancing with silence and often finding a magical stillness to balance his vast soundscape…Toru explained the title of the piece: 'I suddenly imagined 100 years of time flowing through this man-made space, so full of special meaning.' " Costa Pilavachi (who at the time was Artistic Administrator for the BSO and Tanglewood) had been our manager in the mid 1970s and he was "the nexus" (as Bill Cahn says) who brought us all together for this commission. Costa went on to become head of Decca and EMI Classics and Sr. VP for Universal Music Group Int'l. Bill Cahn writes, "By September, with less than a month to go before the performance, NEXUS received the individual solo parts, on which the ink had barely dried. Among the immediate issues was a major solo part for a chromatic steel drum, an instrument that none of us had studied." In fact we didn't even own one. Bob Becker says, "My first reaction was panic". You can read about it "Surviving Steel Pans" https://bit.ly/3mXPHvW . Bill Cahn writes of a number of challenges, a frantic overseas phone call to Asian Sound in Germany for special delivery of specifically-tuned instruments, (pre -Google, -Skype, -Zoom, -cellphones), and contracting composer John Hawkins to create a piano reduction (pre digital files and notation software). The piece has been described as a "strangely beautiful, lushly erotic" work, and "35 minutes of extraordinary beauty" and is visually striking too. Large wind chimes were created by Garry Kvistad and suspended in the auditiorium. Carefully-chosen coloured ribbons extend from the chimes to the stage. The colours, ribbons, and number five were inspired by the Tibetan Wind Horse: 5 coloured streamers blowing in the seasonal winds that point out mountainous routes. Toru corresponded the five colours to the personality of each NEXUS member, which he knew well. Bill writes of the "special experience to be walking slowly in procession down the aisles of a sold-out Carnegie Hall, pass row after row of seats that were filled to capacity" that night, an audience that "erupted into a genuine display of appreciation" as the sound of the final windchimes gently receded. Nexus has performed the piece almost 100 times worldwide.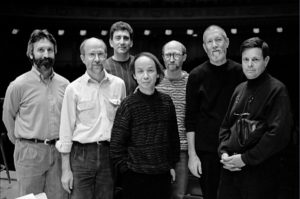 More: Bill Cahn, "Unpopular Music", pp 41ff ; NEXUS blog: Takemitsu and the International Language: https://bit.ly/3cxS5EU ; John Wyre, "Touched by Sound, pp 38ff ; Robin Engelman's Takemitsu Vignettes: https://robinengelman.com/?s=Toru+vignettes
NEXUS with Toru Takemitsu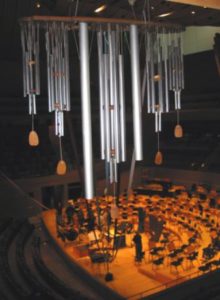 #NEXUSat50 1990 CREATING CHIMES FOR THE TAKEMITSU CONCERTO Garry Kvistad was not yet a member of NEXUS when he met with Toru Takemitsu in Tokyo in 1989 to discuss his commission to create the chimes for Toru's "From me flows what you call Time…". Garry is founder and CEO of Woodstock Chimes and his reputation for precision tuning and crystal-clear sound had preceded him.
Garry says, "In the score Toru asks for 5 bells to be suspended over the audience with ribbons attached and spread to the soloists on the stage. When we met, he asked me to produce two clusters of windchimes to be hung over the audience and played in the same way with ribbons. We discussed the main pitches that were key to the composition and 50 tubes for each of the 2 sets were chosen. The total of 100 tubes represented the 100 years of Carnegie Hall in NYC. The commission of the concerto was made by Carnegie Hall for their centennial celebration. It was a great honor to be asked to supply the chimes which happened a dozen years before I joined NEXUS as a member."
Bill Cahn points out that each array of the specially-tuned wind chimes has a clever spool device containing the colored ribbons that allow us to set them in motion. These exquisite chimes continue to be used whenever and wherever NEXUS performs this commission. Other commissions that Garry has carried out include a giant chime in 1987 for the newly-built Montgomery, Alabama County Courthouse, and a 2003 memorial to former students of St. Olaf College in Northfield, Minnesota housed in a lovely natural wood gazebo, tuned to notes from the hymn Beautiful Savior, St. Olaf Choir's signature song. Garry's chimes also feature in The Paul Winter Consort's revolving "Solstice Tree" musical sculpture.
The truly giant chime outside the Woodstock Factory is tuned to a Balinese scale. Then there is the King David Chime that one happy customer reported he had hung in a tree on his farm. "Due to its calming effect" now the chickens were producing twice as many eggs and the goats were giving double the milk. You can't argue with success!
The photo was taken during rehearsals in Los Angeles. Read More at www.chimes.com and at https://www.nexuspercussion.com/2009/03/garry-chimes-in/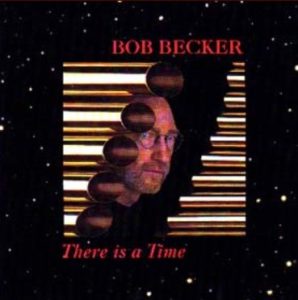 #NEXUSat50 1990 BOB BECKER's MUDRA In the midst of our anticipation of Toru's commissioned concerto, we spent the earlier part of the year touring with our solo repertoire in western Canada and down through the United States.
We also worked with a number of orchestras, variously under the direction of Thomas Nee (La Jolla CA), G. Ciepluch (Cleveland), Kate Tamarkin (Dallas TX), and Jere Flint (Atlanta GA) – performing a variety of repertoire. David Effron conducted us with the Youngstown Symphony (Ohio) in "From me flows what you call Time…" just a few weeks after our Carnegie Hall premiere. This was a preamble to presenting the work twice more the following February with David and the Rochester Philharmonic in their classical subscription series.
Another excitement was the release of Paul Horn's CD "Altitude of the Sun", which combined our first album ever, "Paul Horn + NEXUS" (1975), with a recording Paul made in 1976 with the brilliant Brazilian guitarist Egberto Gismonti, originally titled "Altura do Sol". If you would like to hear it, go to https://amzn.to/3egP5gk where you can stream the tracks.
A new work was about to enter our touring repertoire for coming year. Bob Becker was completing his piece "Mudra". Bob considers it a pivotal piece or him. Mudra is, in fact, an edited suite from a much longer work, UrbhanaMudra, which was composed in 1990 to accompany choreography by Canadian dancer/choreographer Joan Phillips who had assembled dancers half of whom were well-trained modern dancers and half trained in Kathak, a classical dance style of North India. The piece addressed the tensions in a modern urban multi-cultural society. Bob was inspired. "the idea was to extract a functional harmony from a purely melodic source: specific ragas of Hindustani classical music. The term rag," he explains, is given a very poetic meaning by Indian musicians, "that which colours the mind". Why was it pivotal? Itt was the beginning of a particular method of composing: "Perceiving, in my mind, harmonic progressions within a form that has no functional harmony had been a pleasant curiosity for me up until this time. I experienced the effect often, both listening to Indian music performances, and even more intensely when I was performing myself. It hadn't occurred to me, however, that I could communicate these very personal abstract perceptions in a specific form with concrete structure." UrbhanaMudra was awarded the National Arts Centre Award for best collaboration between composer and choreographer, 1990. Recorded on There is a Time (NEXUS).
Read more: An interview by Jonathan Latta with Bob: https://bit.ly/3czVkf8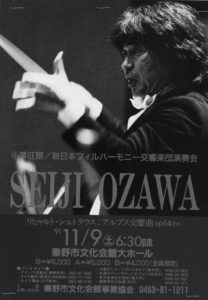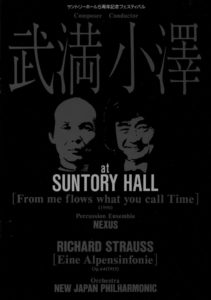 #NEXUSat50 1990-1991 OZAWA and JAPAN The morning after our Carnegie Hall premiere of Toru Takemitsu's "From me flows what you call time…", Seiji and the BSO and we were all on our way to the Kennedy Center in Washington DC. We took the Trump shuttle for the flight from LaGuardia and stayed at the Watergate Hotel. There was no rehearsal and barely enough time to get everything set up in place for the 5 p.m. concert. The Washington Post called it "a work of mesmerizing beauty…captured superbly." A full year later, November 1991, we met Seiji once again to perform this work with the New Japan Philharmonic in Tokyo's Suntory Hall and in Hadano. Our instruments arrived in perfect shape – our road trunks were more expensive than many of the instruments they protected! Bill Cahn shares some surreal Tokyo stories in his book "Unpopular Music", particularly his encounters with the popular composer/ conductor Naozumi Yamamoto who was a fixture in Tokyo society. The Suntory Hall premiere of "From me flows…" celebrated Toru's 60th birthday and the sold-out house gave Toru and the new concerto a full 10-minute ovation. One review, translated from the original in the Nihon Keizai Shinbun newspaper said, "The best thing was this Canadian percussion group. Their unbelievable delicacy of feeling and rich expression was something just beyond my words. They were not only performers, but also a part of the piece itself." We performed our solo repertoire in Suntory Hall the following day, showcasing its remarkable acoustics that supported large orchestras and small chamber ensembles equally well. Next day, we performed solo in Osaka at Izumi Hall, and then a runout to the town of Hadano for another performance of the concerto. It would be years until NEXUS would see Ozawa in person again. From Japan we flew to France for two performances of "From me flows what you call Time…" in Lyon and Grenoble with the Orch.Nat'l de Lyon under the baton of Matthias Bamert, who is best known for his work on behalf of new music. We would work with Maestro Bamert again in 1999 in Canada when he conducted the National Arts Centre Orchestra in a performance of John Wyre's "Connexus". There was a very interesting interview with Bamert conducted a few years after our France performances, which you can read here: Interview with Matthias Bamert by Bruce Duffie, October 27, 1995.
Photo: A night out in Tokyo: Yamamoto with his arm around Bill, Toru Takemitsu sitting between Bob and Russell, with John Wyre looking on: