August, 2015 – I'm happy to announce the newest CD by NEXUS – "Persian Songs" (NEXUS Records #10926).
The group's 16th CD under the "NEXUS Records" label features classical vocalist, Sepideh Raissadat, performing arrangements by NEXUS member, Russell Hartenberger.  A live performance of "Persian Songs" by NEXUS will be a featured event at the 2015 Percussive Arts Society International Convention in San Antonio, Texas from November 11 through 15.
For inquiries about purchasing this CD, or for more information about this and other CDs by NEXUS Records contact Bill Cahn (billcahn@aol.com).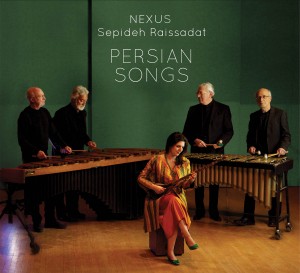 NEXUS – Breaking Boundaries: a distinguished history of firsts at PASIC
1977 – Knoxville, TN –first freeform improvisation on a PASIC concert
1981 – Indianapolis, IN – compositions by NEXUS members first performed at PASIC
John Cage 3rd Construction first performed at PASIC
G.H.Green novelty ragtime music fist performed at PASIC
1982 – Dallas, TX –first performances of music by Steve Reich at PASIC
first performance of West African drumming at PASIC
1984 – Ann Arbor, MI –first performance of a concerto for percussion ensemble and orchestra
at PASIC
1986 – Washington DC –first North Indian classical music with percussion at PASIC
1992 – New Orleans, LA –first full novelty ragtime program with small orchestra, and
the first silent film accompaniment at PASIC
1995 – Phoenix, AZ – first performance of a symphony orch. family/education concert at PASIC
1998 – Orlando, FL –first performance of music by Gavin Bryars at PASIC
2001 – Nashville, TN – 30th anniversary of NEXUS concert at PASIC
2002 – Columbus, OH – first complete performance of "Drumming" by Steve Reich at PASIC
2004 – Nashville, TN – first performance of Fritz Hauser with NEXUS at PASIC
2008 – Austin, TX – premiere performance of "The Eternal Dance of Life" by Eric Ewazen for
wind ensemble and NEXUS
2012 – Austin, TX – first performance at PASIC of John Cage's radio play, "The City Wears A Slouch Hat,"
2015 – San Antonio, TX – first performance of Persian music with percussion at PASIC