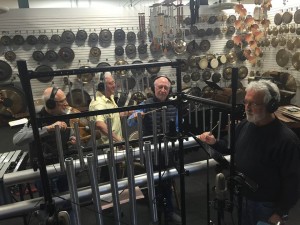 NEXUS enters its 45th year, next week! And what a way to usher in this milestone!
This spring, we had the great privilege of performing and recording with Sepideh Raissadat for Voice of America throughout Iran, with Russell's exquisite arrangements of Persian Songs. In April, we performed a very beautiful concert to a more-than-sold-out-house (the organizers had to bring in 50 more chairs!) with Baird Hersey and the vocal group Prana and the great Paul Winter. Thank you to Garry Kvistad and the Ulster Chamber Music Series for organizing this very special event.  It was wonderful to reconnect with Paul Winter: Garry created many of the chimes in the Paul Winter Consort's revolving "Solstice Tree", Bob toured with the Paul Winter Consort as a drummer/percussionist, and Bill often performs with the Consort and in 2006 received a GRAMMY Award as part of the Paul Winter Consort on the DVD titled, "2004 Solstice Concert." NEXUS went into the recording studio the following day to record Baird Hersey's haunting new work that was premiered at the concert: "Chiaroscuro". (You will see NEXUS IN EARPHONES above, during the recording session.)
For this concert Garry built a special amadinda for the performance of "Kalagala of Bembe", a traditional Ugandan song whose alternative title translates as "I would have been generous but the lake has dried up".  Bill and Russell created new arrangements of their much-loved works The Birds and Sky Ghost (the latter the final movement of Russell's The Invisible Proverb), to include voices and soprano saxophone. Garry and Baird spent a lot of time finding the acoustically perfect setting for this very special concert.
Speaking of new works, next up on May 1st was Percussion Rochester and a remarkable concert that included newly minted percussion works from Michael Burritt, Libby Larsen (recipient of the John Beck Prize for percussion composition), and Bill Cahn. It was an amazing night interspersed with many happy standing ovations. Featured at this concert was Michael Burritt on solo marimba, the Eastman Percussion Ensemble, and mezzo soprano Katherine Ciesinkski. May 2nd saw Bill and Bob participating in a moving tribute, also a part of Percussion Rochester, to the fifers and drummers of Revolutionary days and to musician Fred Fennell. The mayor of Rochester NY proclaimed the day "Drummers' Heritage Day."
June 27 will find NEXUS at Maverick Hall in Woodstock NY, celebrating one hundred years of ground-breaking music making. NEXUS opens the Maverick's summer-long centenary celebrations on June 27th with a Young People's Concert in the morning, and an evening concert featuring a piece commissioned from Peter Schickele (by the Woodstock Chimes Foundation) especially for the occasion: Percussion Sonata #3: "Maverick".  Also featured on this concert will be that wonderful suite by Russell, Persian Songs, with Sepideh Raissadat's haunting voice and beautiful Iranian setar stylings! Find out more about tickets and their other centennial events here.
Follow us on Facebook for updates and behind-the-scenes peeks at all these events.