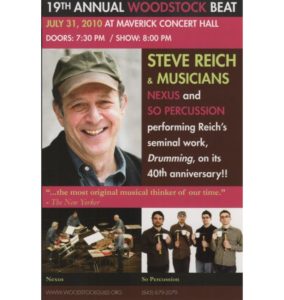 LUMINOUS ACOUSTICS   In July 2010 we returned to Garry Kvistad's "Woodstock Beat" event at Maverick Hall just outside Woodstock NY. We were joined by Sō Percussion and Steve Reich as we had been in 2008 at the Ojai Festival in California. The occasion was the 40th anniversary of the writing of Reich's "Drumming". We too were celebrating our 40th – just as in this season today both NEXUS and Drumming are celebrating our 50th birthdays! Check out the great photos (including rehearsal shots) from the Maverick event on the new DRUMMINGat50 website.
(The Maverick event is right below the short Ojai paragraphs). Ray Dillard and Alex Kessaris have built in a nice touch: Click on any of the photos and it will open a window where you can scroll through ALL the photos from the article without having to flip back and forth! Thanks, guys! You can see and hear part of the p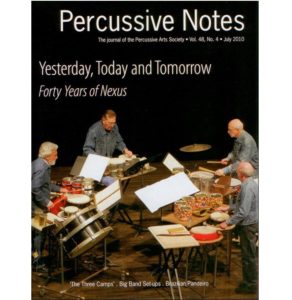 erformance there, as well!
     Russell Hartenberger says that Maverick Hall's "wooden construction, and the fact that the rear of the concert hall opens to the surrounding wooded area gives it luminous acoustics that create an environment perfectly suited to the intimacy of live chamber music."
     Another milestone: Having attained 40 years, we made it to the cover of Percussive Notes.
ROPE DRUMS AND THE CANADIAN  BRASS   Robin Engelman talked about this recording: "Chuck Daellenbach  of the Canadian Brass asked if I would be interested in helping the 'Brass' make a recording of American patriotic music for The American Heritage Society. Chuck wanted to use rope tension field drums…we had played a concert together in Toronto about 8 years earlier. I had made an arrangement of four prominent military songs for the Canadian Brass and NEXUS premiered on that concert…The brass arranger for this recording was the venerable Canadian musician Howard Cable…He had a distinguished career in Canadian music as a producer, conductor, composer and began his association with the Canadian Brass in 1977. Howard asked me if I would be interested in doing all the percussion parts for his arrangements. I was happy to accept. Soon, Howard's arrangements began arriving from his copyist and I set out writing for rope field drums and cymbals…Rehearsals began in a Toronto church in Feb.2010. The CD was released for the 4th of July holiday in the US…The collection of drums for the recording is impressive, and it seems quite possible to me that no recording in the past has included such a large and interesting array of snare drums, bass drums and cymbals.I wrote each arrangement with specific players in mind. I asked Chuck to engage Bob Becker, Russell Hartenberger, and Ryan Scott…all of them expert drummers who appreciate the particular style of drumming I employed in the arrangements; that is, the "Ancient" or "Open" style prevalent during the 18th and 19th centuries. [Note: Robin too played on the recording.] The works recorded consisted of marches and songs written during a span of time beginning with the American war for Independence and ending soon after the First World War."  Howard said that Robin's percussion parts were wonderfully intricate and challenging, and written for virtuoso players. Bob Becker described the recording session as "tons of drumming, very exciting". 
Watch the set up for the sessions at https://bit.ly/3pyKaMA
Video of the sessions and album tracks are backdrops to 3 short conversations between Howard & Robin about the project:
Part 1: https://bit.ly/2ZCfCPm with the official hymns of the 5 US military branches, arr.Cable & Engelman
Part 2: https://bit.ly/37yMtsT with Chester, arr.Cable & Engelman
Part 3: https://bit.ly/3dwDmg5  about the music of George M. Cohan, arr.Cable & Engelman
Hear 2 more tracks at  https://bit.ly/2NFgZu1  and https://bit.ly/3qGdjqD
Robin provided details on the drums at http://bit.ly/3bpPQn5  and http://bit.ly/3saJeja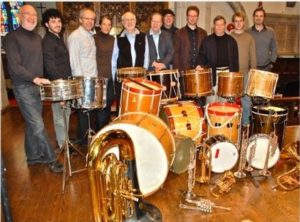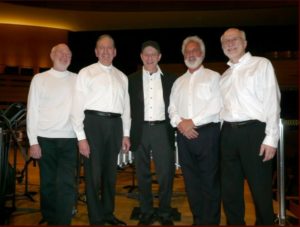 STEVE REICH'S NEW MALLET QUARTET    NEXUS was part of the commissioning of Steve's "Mallet Quartet" (thanks to Soundstreams Canada), along with Amadinda (Budapest), So Percussion (USA), and Synergy Percussion (Australia). The score's title page carries this dedication: "To the Amadinda Percussion Group on the occasion of their 25th anniversary, and to Nexus for a lifetime of playing together with them." Steve attended our 2010 Canadian premiere (just a year after receiving the the Pulitzer Prize in Music), as part of the grand opening season of Toronto's handsome Koerner Hall. The program, entirely devoted to Steve's music, was part of Soundstreams 3rd Cool Drummings! Festival and was completely sold out. Steve also performed with us in "Music for Pieces of Wood" and with Russell in "Clapping Music". Also on the program was Steve's 2008 piece, "2 x 5" (Russell was on drum set for that one), and his "Sextet" commissioned by Laura Dean Dancers and by the French Government for NEXUS in '84. One attendee wrote of the evening's "unexpected delights: The rock instrumentation of Reich's 2 x5. The growing murmur of anticipation in the crowd during "Music For Pieces of Wood". The roar of appreciation at the end of each piece. The remarkable premiere of "Mallet Quartet". The exquisite acoustics of Koerner Hall. The sheer pleasure of making music together, that was evident on each musician's face." Steve writes, "I had never written for five octave marimbas extending down to cello C. On the one hand I was delighted to have the possibility of a low bass and on the other hand apprehensive since just slightly too hard a mallet that low can produce noise instead of pitch. Eventually, after a bit of experimentation, this was well worked out." Bill Cahn reflects "on the seeming paradox in the aesthetics of NEXUS, that an ensemble which originated around a shared commitment to unstructured improvisation had so deeply embraced Reich's music which is so highly structured. But that is precisely what NEXUS means – making connections between diverse musical genres."
Read more: Steve's program notes: https://www.boosey.com/cr/music/Steve-Reich-Mallet-Quartet/49265; Bill Cahn's "Unpopular Music" p 125 (available billcahn@aol.com); the website www.DRUMMINGat50.com.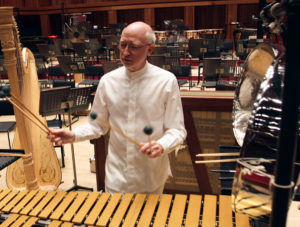 SEPTEMBER IN HYOGO, JAPAN  This was the opening of our 40th anniversary season, in the Hyogo Performing Arts Center in Nishinomiya near Kobe and Osaka with 3 concerts that were sold out weeks in advance. Each of the 3 featured Toru Takemitsu's 'From me flows what you call Time" with the Arts Center Orchestra conducted by Yutaka Sado. Canadian percussionist Ryan Scott performed with us. The concerts commemorated the 80th anniversary of the birth of Takemitsu, our cherished friend and mentor. We received an exceptional letter through our website from Bill's Japanese colleague Sachi who had attended one evening: "Dear Bill san, I saw Sado san's eyes filled with tears when he finally lowered his hands as the echoes finally had gone. What a music!" (Photos: thank you to Yasuhiro Ishino.) You can see photos of the very beautiful Arts Centre at http://bit.ly/37KRkHx . The Center had opened in 2005 to mark the ten-year anniversary of the Great Hanshin Earthquake which largely devastated Nishinomiya and the surrounding cities.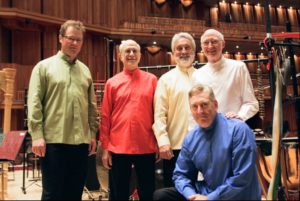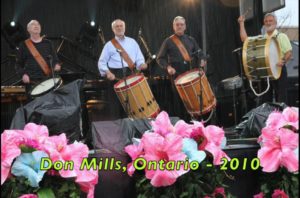 COME RAIN OR COME SHINE   On a summer afternoon, The Shops At Don Mills in Toronto are normally vibrant and brimming with life and activity. Who knew that for our outdoor concert it was going to be brimming with rain!  But the afternoon provided us with some of our favorite photos. Those silvery streaks? Yup, rain. Check out Bob checking out the opening heavens. And the beautiful puddle reflections! Some audience members managed to hang in, huddled under the surrounding colonnade – or an umbrella. Percussion for the brave!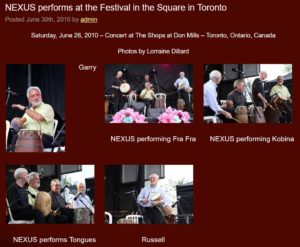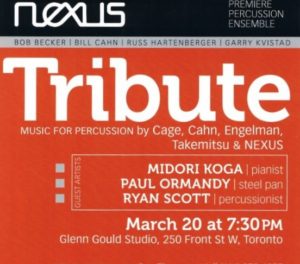 A TRIBUTE TO ROBIN   Our March concert at Toronto's Glenn Gould Theatre was in celebration of Robin Engelman who had recently retired from NEXUS. The program was significant: the world premiere of Bill Cahn's wonderfully-titled "R.E.member-ing"; the Canadian premiere of "Handmade Proverbs" by Toru Takemitsu, arranged by Robin (the proverbs have intriguing titles such as The Three Bonzes, and Cinderella's Misfortune). We also performed Robin's pieces "Remembrance" and "Lullaby for Esme" written for his granddaughter, and featuring guest artist Paul Ormandy playing the steel pan solo. Pianist Midori Koga joined us to perform Cage's "Credo in US" and percussionist Ryan Scott helped us out on the stirring Ancient Military Aires. We repeated the program at Brock University's Centre for the Arts in St.Catharines, ON.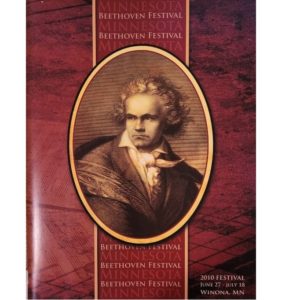 PLANETS, A RITE – AND BEETHOVEN?   The 4-year-old Minnesota Beethoven Festival in "the island city" of Winona invited us to provide its first percussion-focused concert, giving us the opportunity to perform again Steve Reich's new Mallet Quartet. Jason Treuting of Sō Percussion joined us for the remainder of the program. The review noted the sell-out crowd and said that Russell's Invisible Proverb was "a crowd favorite", garnering a standing ovation and "charming encores". Back in Toronto we were joined by 2X10 (pianists Midori Koga and Lydia Wong) with special guest John Rudolph performing "a pair of hefty two-piano transcriptions": Stravinsky's Rite of Spring and Holst's The Planets. The evening was a tour de force for Koga and Wong. Reviewer Everett-Green spoke of their "fleet, icy-clean performance…staccato passages …flew by on winged feet…NEXUS playing parts from the orchestral version…greatly enriched the bass at key moments." Of The Planets, he spoke of their "lyrical display…the meltingly lovely second movement (Venus), the rippling clean execution of the Mercury movement…NEXUS with John Rudolph and the big drums gave huge extra heft to Mars, the Bringer of War". It was a great evening!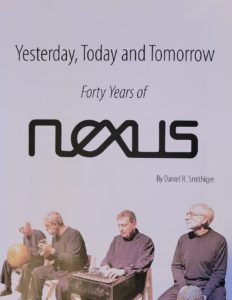 DANIEL SMITHIGER INTERVIEW   For our 40th, Daniel Smithiger authored a 7-page article in Percussive Notes. Below are some of the "pulled quotes" from the article. Bob Becker also posted his answers to Dan's interview questions on the NEXUS blog, and you can read those at  https://www.nexuspercussion.com/2010/03/nexus-cage-and-ewazen-answers-to-questions-by-daniel-smithiger/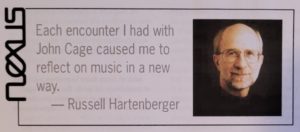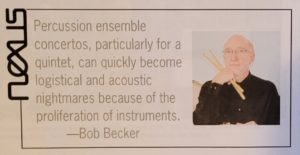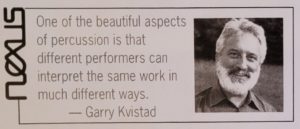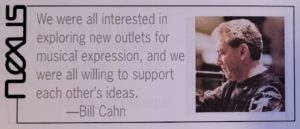 THE CRYSTAL CABINET    Taking its title from a poem by William Blake, this was a new work by Bill Cahn that we premiered at the State University of New York – Ulster. You can see and hear this performance of it on Youtube at https://www.youtube.com/watch?v=z7scSVtLMxM&t=69s    If you want to watch two other performances from that performance, Fra Fra is at https://www.youtube.com/watch?v=8HzfLyACvSM&t=36s   and The Ragtime Drummer is at https://www.youtube.com/watch?v=8eSHiUxa7jw