1995   CATHEDRAL SONGS, PEEPERS and COLGRASS   CBC Producer David Jaeger had asked the Winnipeg Symphony's composer-in-residence Glenn Buhr "to compose a piece that would be an expression of musical community building. The work would be designed as a surround-sound symphony for performance in the Barbara Frum Atrium at the new CBC Centre: on the ground floor, up in the balconies, and with antiphonal brass groups sounding from the very top floors." The result was Cathedral Songs for the Toronto Symphony, NEXUS, the Toronto Children's Choir and the Hannaford Street Silver Band. (Text by Margaret Sweatman). In March'95 we premiered the piece under the TSO's newly-appointed maestro Jukka Pekka Saraste. The concert was broadcast live-to-air to thousands of listeners and a full audience and "made a statement", said Jaeger. "Canadians, creating together and aspiring for excellence, can achieve greatness. Alec Frame, vice president of CBC Radio at the time, told me, "I wish that concert could have gone on forever!" It was a highpoint of Canadian music in the 90s, and there was still half a decade to go!"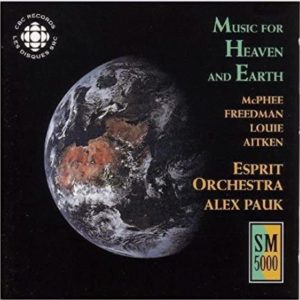 In April we premiered John Wyre's Peepers, with Esprit Orchestra under Alex Pauk, commissioned by Esprit. On the same program was our Harry Freedman commission Touchings and Alexina Louie's Music for Heaven & Earth. The evening resulted in a CD of the same name, released in Sep'95. You can hear Touchings here (NEXUS uncredited): https://www.prestomusic.com/classical/products/7971215–music-for-heaven-and-earth or hear the whole album on Spotify. Sadly, Peepers did not make it onto the album.
Bob Becker writes about our commission from Michael Colgrass (Pulitzer Prize-winning composer and former percussionist), featuring flute virtuoso Marina Piccinini. "We discussed instrumentation and logistics  – We all, including Marina wanted to be able to tour with the piece… Michael was a brilliant thinker, and a triple-threat author, composer and lecturer. He was excited about including steel drums in his music, and I was looking forward to getting a part from someone who actually knew percussion instruments first-hand…I stressed the importance of keeping the proliferation of equipment under control… A Flute in the Kingdom of Drums and Bells steel pan part collaborated beautifully with the solo flute; however, the total inventory of equipment required for the piece was enormous, including a grand piano… and completely covered the stage in a venue that can fit a whole symphony orchestra!..Touring was completely unworkable…The piece was performed only once." Read more: David Jaeger in TheWholeNote, "Coming of Age in the '90s" https://bit.ly/3kcTXp7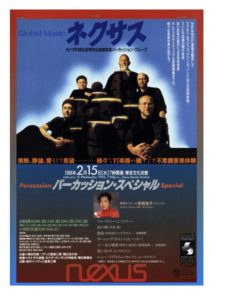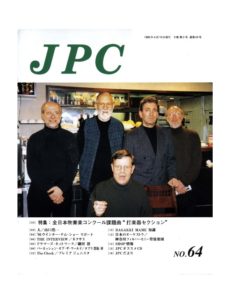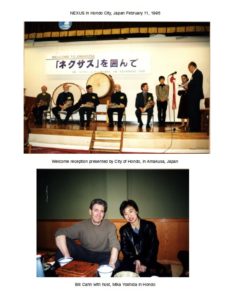 1995    A VERY SPECIAL JAPAN VISIT   In February in Japan, we performed at the Sagami Women's University, at Izumi Hall in Osaka, and at Tokyo Station with thousands of trains arriving and departing daily.  We were honoured to perform with the great Keiko Abe in the strikingly beautiful Tokyo Bunka Kaikan, renowned for its amazing acoustics. In Hondo we had the opportunity to perform with our good friend and great marimbist Mika Yoshida. We had a wonderful Tokyo dinner with Toru Takemitsu in Shinjuku along with some long-time Japanese composer and percussionist friends and several of their students. Bill Cahn says, "Shortly after we returned home from this Japan tour NEXUS was saddened to hear that Takemitsu was in the hospital. John Wyre and Robin Engelman exchanged letters with him during his hospital stay. His passing in 1996 came as a great shock to all of us."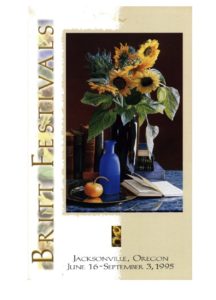 1995     DRUMS, BUGLES, HISTORIC SPACES   In April we were in Symphony Space, New York City, a building that had been a Crystal Palace skating rink, a boxing and wrestling arena and finally in the 1970s host of a free marathon concert, Wall to Wall Bach, that led to it becoming a performing arts centre! We performed there for the World Music Institute. Both the Institute and the Space are still going strong, including virtual concerts during these pandemic times. In Philadelphia we performed at the historic Settlement Music School, founded in 1908 to serve newly arrived immigrants – another institution that is still going and expanding!  Summer took us to the Arizona Festival in Flagstaff and the Britt Festival in Oregon where we were conducted by Peter Bay in a program called "Natural Classics, a fascinating evening of unusual sounds as well as good music," featuring Bill Cahn's Kebjar-Bali and The Birds. We shuffled off to Buffalo to appear with the Star of Indiana Brass Theater, a champion Drum and Bugle Corps that had decided they wanted to do more than short drum corps competition programs. In '94 they developed Brass Theater that brought the powerful brass and percussion and exacting choreography to pop, Broadway and  classical music – a new type of stage entertainment. We were ready for West Point a week later, where we performed with the U.S. Military Academy Band.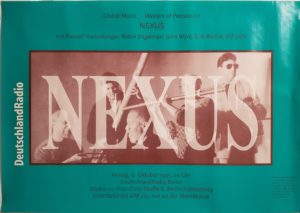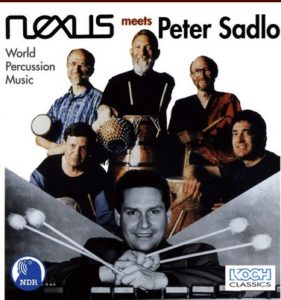 1995   FINLAND, AUSTRIA, and GERMANY REUNIFIED   Our tour began with the Takemitsu concerto with the Tampere Philharmonic (Finland) under Pertti Pekkanen.At the Mozarteum conservatory, Salzburg, we reconnected with Peter Sadlo, one of the leading percussion soloists in Europe. We headed to Hamburg to record our tour repertoire at the NDR (North German Radio) studios for a new CD on the KOCH label, "NEXUS Meets Peter Sadlo" released in Summer'97. Sadlo was a featured soloist on the CD. At Deutschland Radio in Berlin we recorded live for radio broadcast with a studio audience: John Wyre's new "Mitsue", and our piece "Kichari" that would later be released on our CD "Toccata" in 2001. The rest of our tour took us to the Kopenick Festival, then Amsterdam (at Pustjens Percussion), Luxembourg, and ended with the Stavanger (Norway) Symphony performing the Takemitsu under Hannu Koivula. Bill Cahn speaks of our Kopenick stop: "The NEXUS concert was in the beautiful old city hall building, which still had numerous bullet holes from WWII along the exterior stone walls.  Köpenick is a satellite town near Berlin, and was part of Germany's recently recovered eastern half, following the reunification only 5 years before. After the NEXUS concert, we were all treated to a wonderful dinner reception in the City Hall building, and I was seated next to the Mayor of Köpenick.  As dinner was served and I was sneaking bites of spaetzle, the Mayor and I exchanged small talk.  I asked him for his thoughts about the transition from East to West, and with a visible smile The Mayor told me that he had previously been a leader in the local Communist Party, but when the reunification happened, he simply took off his red Communist hat, and put on his new blue Capitalist hat – no problem.  We both looked at each other and just chuckled."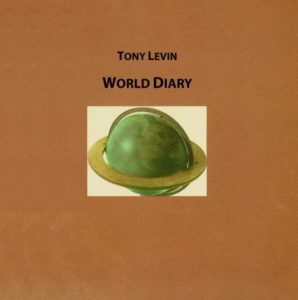 1995    AN ESPRESSO MACHINE, A NAIL SCULPTURE AND A STICK: TONY LEVIN    In August, the instantly recognizable Tony Levin released his first solo CD, entitled "World Diary".  Recorded over two years as he traveled the world in Peter Gabriel's band, the album features Tony's dynamic playing on the Chapman Stick with a variety of artists. We performed 2 tracks with him: "Heat" and "Espresso & the Bed of Nails". For the latter, the first sound on the track is Tony's Gaggia espresso machine and the last sound is John Wyre's nail sculpture.
       Tony's bandcamp page says this about the track: "[It] is about as unusual a track as you'll find anywhere. Nexus is a renowned 5 man percussion ensemble. . . What would come out of a meeting with the Stick? Of their myriad instruments, Tony favored a nail sculpture, played by John Wyre, and the only parameter put on this piece was that it end with that haunting sound. Later, Tony recorded his Gaggia espresso machine and cross/faded it into the music – hence the title." The CD track "is the short version of the piece, the full being too long for this CD!" Lol.
        "Heat" is "another offering from Nexus and Tony. The massive percussion collection allows the players to go wherever the music takes them — sonically through a jungle this time."
         You can hear the two pieces, and indeed the whole album, at https://tonylevin-papabear.bandcamp.com/album/world-diary. Tony brings a percussive approach to his playing, which is why he loves the Stick so much – tapping rather than plucking. He demonstrates it on Youtube, here: https://www.youtube.com/watch?v=78hlYpydv5g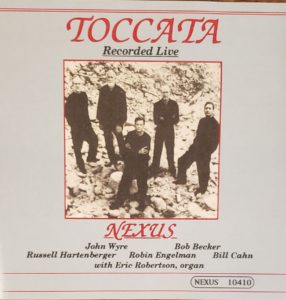 1996       25 YEARS, FOLKS!      To mark the occasion, we had a series of special concerts: In Toronto, with great friends who received fabulous reviews: Abraham Adzenyah, Glen Velez, Ray Dillard, Sal Ferreras, Alan Hetherington, Paul Ormandy, Trichy Sankaran – recorded by CBC. CBC also recorded us at St Paul's with organist #EricRobertson. And we recorded a Kilbourn Hall concert at Eastman where we gave our 1st concert in '71.
We released pieces from these 3 concerts in 1997 on a CD called "Toccata" (the name of the piece we performed with Eric). From the "many friends" concert, we included "Tongues". "Reunion" from the Eastman concert is on the CD. (Read more and hear it, below).
The anniversary season had kicked off in Fall '95 with our overseas tour, so we included Kichari, recorded in the beautiful Art Deco Studio 10, Berlin. Robin Engelman noted "the fantastic energy of our concert, and particularly enjoyable was the performance of Kichari." Of "Tongues", Bob Becker noted, "The mbira, whose name literally translates as 'tongues' is strongly associated with memories of the departed and with remembering. This piece often brought back memories of a wonderful friend and mentor, Toru Takemitsu, who passed away in Feb.'96."
Regarding "Toccata", Eric noted, "I took my son to a NEXUS concert. He was enthralled…especially by the…improvisation…Part of my musical life is…playing the stunning organ at St. Paul's Anglican…the largest in Canada…[With] school kids, I notice the same excitement to the instrument my son experienced with NEXUS…What if they combined!"     Toccata is that collaboration.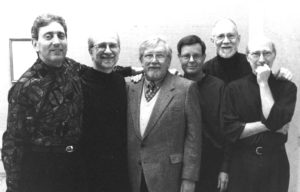 "Reunion" was a tribute to our improvisation roots.  Bill Cahn said "This great wooden recital hall is a wonderful acoustic space, and with a full house of friends…including Warren Benson, the mentor for the original NEXUS concert there, the evening was destined to be special." You can listen to "Reunion" here: https://bit.ly/36Baka9   The photo here is of NEXUS with Warren Benson at that concert. Ray Dillard edited and assembled the Toccata album.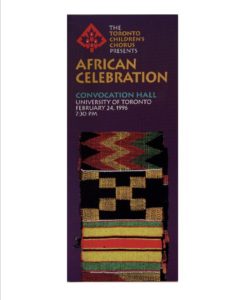 1995-96    SINGING WITH NEXUS   Many of the celebratory concerts for our 25th ANNIVERSARY included choir. The Elmer Iseler Singers commissioned John Wyre to write a new work, Toccare, premiered in beautiful St Patrick's Church, Toronto. With the Toronto Children's Chorus we performed an African Celebration in the great Convocation Hall, celebrating Black History Month. We performed Bill Cahn's choral work, Wright's Lessons with the TCC joined by Eric Robertson – and performed Toccata with Eric at that time. We also performed a new piece that day called Echoes, written by Thomas Brett for NEXUS and the choir. You can follow Tom's wonderful blog at Brettworks.com. Our "Rags To Riches" program received several outings to mark our quarter-century, and the CBC recorded it for broadcast – We were joined by David Mancini and Barbara Hannigan.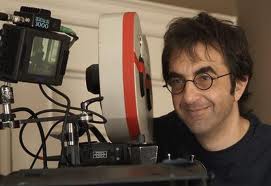 1996   TORONTO NEW WAVE, REICH and NEXUS     In October we celebrated our 25th ANNIVERSARY in a Toronto appearance with members of the Steve Reich ensemble, accompanying images by the highly acclaimed Canadian filmmakers Atom Egoyan and Peter Mettler. Egoyan and Mettler were part of a loose-knit group who, beginning in '81, had become known as the Toronto New Wave. Here is the description:
           "Egoyan and Mettler join forces with two powerful Canadian music ensembles, members of Nexus/the Steve Reich Band and The Evergreen Gamelan Club, in two astonishing journeys through image and sound. 'Nexus/Bolex 85-9' – Atom Egoyan compiles images taken on his hand-cranked 16mm Bolex and sets it to the intoxicating pulse of Steve Reich's Sextet. The film starts with a camera test in his Spadina Avenue apartment in 1985 and culminates in his first visit to Armenia in 1991." Sextet was performed live with Egoyan's film.
        Egoyan's film Exotica had won the 1994 Cannes Film Festival 'Critic's Award' and the 1994 Genie award. Mettler is known for his international-award winning Picture of Light and his Genie nominated adaptation of Robert Lepage's play Tectonic Plates. The year after the Egoyan/NEXUS collaboration, Egoyan released The Sweet Hereafter, nominated for two Academy Awards, winner of 8 Genies and 3 awards at Cannes. Where the Truth Lies with Kevin Bacon and Colin Firth was released in 2005 and nominated for a Palme d'Or in Cannes.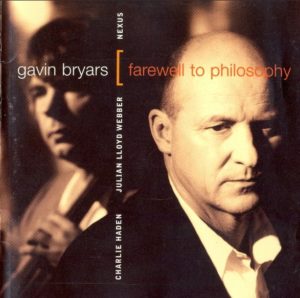 1996    FAREWELL TO PHILOSOPHY    Our Gavin Bryars commission, "One Last Bar Then Joe Can Sing" was released on the CD "Farewell to Philosophy". In Nov. '96, "Gramophone" reviewed the CD and called 'One Last Bar…'  "a high-point in sound recording" – kudos to Ray Dillard and David A.Dusman who were the recording engineers!  Also on the CD is jazz bassist Charlie Haden & cellist Julian Lloyd Webber. Here is the rather remarkable review:
                 "…varieties of tuned percussion (the glow of marimbas in contrast to the glitter of high bells), prompts some haunting modulations and fades to a tranquil coda. Quite aside from Nexus's executive expertise and a mass of fascinating textural invention, One Last Bar … marks a high-point in sound recording. The sessions, which date from last June, were held in the Kilbourn Hall at the Eastman School of Music in the USA and report an astonishing range of sounds. . The other works were recorded a few months later in London at Abbey Road and are hardly less impressive. By the Vaar . . . is performed by jazz bass-player Charlie Haden. . . It's a nice piece, but the Cello Concerto [played by Julian Lloyd Webber] is rather more than that, and One Last Bar, Then Joe Can Sing, more still."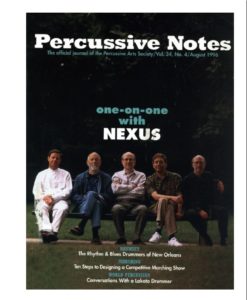 1996    TALKING WITH NEXUS    In 1996 Bill Cahn interviewed his fellow NEXUS members: John Wyre, Russell Hartenberger, Bob Becker and Robin Engelman. These interviews were not published until 2010 when Bill put them up on the NEXUS blog. Also in 1996, Percussive Notes did "One-On-One" with NEXUS, among them an interview of Bob Becker by Leigh Howard Stevens. The links for these interviews are below. Also attached in an interview of Bill Cahn by Kristen Shiner McGuire, leading up to our 25th Anniversary concert in Rochester NY, and an interview by the Toronto Star's Peter Goddard, in which John Wyre explains why he moved to Canada. Here are the links. Enjoy!
https://www.nexuspercussion.com/2009/02/john-wyre-interviewed-by-bill-cahn/
https://www.nexuspercussion.com/2010/12/russell-hartenberger-an-interview-1996/
https://www.nexuspercussion.com/2010/12/bob-becker-an-interview-1996/
https://www.nexuspercussion.com/2010/12/robin-engelman-an-interview-1996/
https://www.nexuspercussion.com/2007/08/interview-for-percussive-notes-august-1996/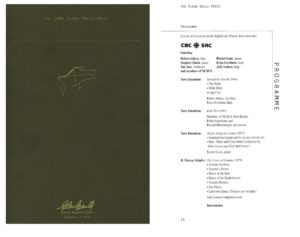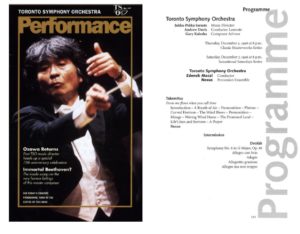 1996   TRIBUTES TO TORU   A bittersweet aspect of our 25th Anniversary was the passing of our dear mentor and friend #ToruTakemitsu early that year. It had come as a great shock to us. Indeed, Toru passed away on February 20, the day of our "Reunion" concert in Kilbourn Hall, Eastman, where we had first performed 25 years before.  It helped us that we had several opportunities to memorialize him in concerts during the year. There was a beautiful tribute concert at the Glenn Gould Studio in Toronto, recorded by the CBC, with Erica Goodman and Judy Loman on harp, Rachel Gauk, guitar, Stephen Clarke, piano and Robert Aitken, flute – conducted by Tan Dun. There was a November performance of Toru's meditative concerto "From me flows what you call Time…" with the Huntsville (AL) symphony orchestra conducted by Taavo Virkhaus, and another performance in December with the Toronto Symphony a few weeks later under the baton of Zdenek Macal. The reviews were exceptional, fueling us for our recording of the piece two months later with the Pacific Symphony Orchestra under Carl St Clair in California. John Wyre wrote a most moving tribute to Toru in his book "Touched by Sound", and he quotes his final letter from Toru written from his hospital bed shortly before he died: "Under no circumstances should we allow sorrow to close down our lives. Toru."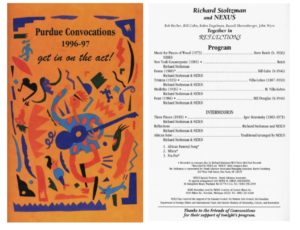 1996    RICHARD STOLTZMAN   Another major collaboration took place in '96 – with clarinetist Richard Stoltzman. It began in September at Purdue University. Check out this great programme! In Jan.'97, the music reviewer of the Ann Arbor News described Richard and NEXUS: 'Playing with the energy of teen-agers and the insight of seasoned masters, NEXUS and clarinetist Richard Stoltzman put on a fascinating display of virtuosity and cooperation.' Several rich performances with Richard over the next 4 years in the United States and Japan would lead to a recording session for the CBC and a CD release in the year 2000.  
1996     SURPRISE DISC!   When our manager Peggy Feltmate found this on Discogs – an apparently "rogue" NEXUS CD dated 1996 – she sent a query out to our resident archivist and scrapbook keeper, Bill Cahn, who tells us that this was "part or a nice package put together by 'Music & The Arts' Magazine which was granted permission to include 5 tracks by NEXUS on the magazine's monthly CD. The magazine gave us the opportunity to run a half-page ad for all of our other CDs." Here's the cover of the magazine, featuring Steve Reich (whose music is on the CD), and the magazine's review of the tracks:
https://www.discogs.com/Steve-Reich-And-Musicians-Reich-Nexus-18-Plays-William-Cahn-John-Wyre-And-George-Hamilton-Green-Reic/release/7693733
1996   TALLBREM VARIATIONS   Premiered in March as part of our Anniversary Celebrations, "Tallbrem Variations" was from Bruce Mather. This was the 3rd work he had written for us, premiered in Toronto with Esprit Orchestra under Alex Pauk. Also with Esprit, that year saw the release of the new CBC recording of "Touchings" by Canada's Harry Freedman.
          Bob Becker says, "Bruce Mather heard the sound of my steel pans and he was eager to explore them. I was somewhat nervous to embark on another big work featuring steel drums, especially when I found out Bruce planned to make the concerto a strict 12-tone composition. To my knowledge, Tallbrem Variations contains the first, and probably still the only, 12-tone serial writing for double tenor steel pans… Numerous early 20th century performers claimed it was humanly impossible to memorize 12-tone music, a proposition quickly disproved by the following generation. Nevertheless, the abstraction of Mather's 12-tone system compounded my memorization challenges on the pans. Even after four years of playing them in From me flows…, I was like a hunt-and-peck typist…As before, I needed to commit to memory the entire pan part for a 25-minute concerto. A sad fact of life for a performer of new music is many significant works are heard in public only once, even pieces that require a heroic amount of effort to prepare. Tallbrem Variations suffered the same fate, although at least the premiere was recorded and broadcast by the CBC…I thought the sound of steel pans fit well with the delicate and transparent nature of Mather's music. . . I found it very enjoyable to play. The Esprit Orchestra is a fine ensemble, and the concerto was given an excellent performance. . . Younger ensembles should take a serious look at this work now." The Toronto Star called the work "a flattering vehicle for the mallet percussion work of Nexus, Tallbrem Variations was economically scored and much of the time sensually seductive to the ears."   You can read more about the work in Bob's blog post, "Surviving Steel Pans – Part 2", https://bit.ly/2IFevt4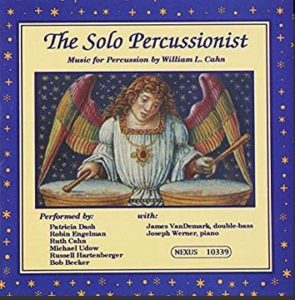 1996     BILL's NEW PROJECT   Bill had another ambitious project up his sleeve. He produced a number of his compositions on a CD entitled The Solo Percussionist on our NEXUS label. The CD features performances by Patricia Dash, Robin Engelman, Ruth Cahn, Russell Hartenberger, Michael Udow and Bob Becker, with Joseph Werner on piano and James VanDemark on double bass. While Bill was working on it, he saw the angel image in black and white in a book on musical instruments that identified it only as "from a Book of the Hours, made in Milan for the Sforza family ca. 1494". The book credited the British Library so he contacted them for permission to use it. He says, "It wasn't until after I purchased the license and received a colour transparency in the mail that I viewed the fabulous colours in the image – a spectacular bonus!" The album is available on Amazon.
1996    NEXUS AND FRIENDS    An excerpt from an article in Maclean's magazine by Brian D. Johnson, found in the Canadian Encyclopedia under "Drumming":
       "While it is true that anyone can beat a drum, or clone a riff, percussion still has its virtuosos. And five of them . . . make up the internationally acclaimed Toronto ensemble called Nexus, which celebrates its 25th anniversary this year…. 
      "Touring the world, Nexus has served as a kind of rhythm switchboard, inspiring the formation of similar groups in cities as far-flung as Budapest and São Paulo. 'What Nexus has done,' says Salvador Ferreras, a prominent Vancouver percussionist, 'is spawn a brand-new generation of percussionists that very comfortably walks the line between classical and world music.'
       "At a silver anniversary concert in Toronto, Nexus has modestly surrendered the spotlight to seven guest artists. On one end of the stage, Trichy Sankaran, who teaches Indian music at Toronto's York University, plays a skin tambourine. With lightning speed, his fingers construct rhythms of brain-teasing intricacy, filigree patterns that ascend into celestial abstraction. Across the stage, Abraham Adzenyah, a master drummer from Ghana who teaches at Connecticut's Wesleyan University, attacks a giant drum with an accelerating, but ever-simplifying, pulse that seems to flow right out of the earth. Between them, Nexus plays along, looking as pleased as monks who have struck a time-share deal on nirvana.
       After the gig, John Wyre retreats to his house in the woods…north of Toronto. The midsection of the house is circular, like a drum – a white geodesic dome filled with hundreds of percussion instruments from around the world. Like his fellow Nexus members, Wyre grew up in the United States. As a child in Philadelphia, he recalls, 'I was a tapper. I got in trouble at school for taking the bobby pins out of the girl's hair in front of me and plucking them. I'd throw a ruler on the edge of the desk to get a bass line.'
       Wyre, who went from rock bands to music school to orchestra work, met his future Nexus colleagues on the symphony circuit. They ended up in Toronto, he says, partly because it was 'a tolerant environment for a gathering of different cultures.' Nexus began as an improvisational ensemble. 'We didn't think about what we were doing. We just allowed ourselves to follow the music. It taught us to listen.'
You can read the rest of the article about drumming and drummers at https://bit.ly/2Jj7gYm