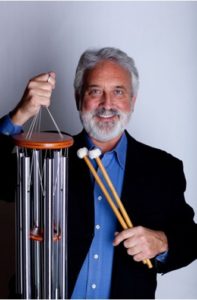 At this month's Percussive Arts Society International Conference in Indianapolis, Garry Kvistad and Russell Hartenberger received high honours.
Russell received the Lifetime Achievement Award in Education, and Garry was inducted into the PAS Percussion Hall of Fame.
Russell actually received the honour in 2020, along with co-recipients F.Michael Combs and William Moersch. But due to Covid, PASIC 2020 was online-only. Thus, the official presentation took place at PASIC 2021's Awards Dinner this week. As well as being a member of NEXUS and of Steve Reich and Musiciains for the past 50 years, Russell is Professor Emeritus and former Dean of the Faculty of Music at the University of Toronto where he taught for 42 years. His award citation mentions his compositions, arrangements, and articles along with his work with Cambridge University Press in the past 5 years resulting in three remarkable books. Russell received the Leonardo da Vinci World Award of Arts by the World Cultural Council at Leiden University, the Netherlands in 2017 and the Lifetime Achievement Award from the Toronto Musicians' Association in 2019. You can read the full citations for all three recipients HERE.  
Garry too was a 2020 inductee to the Percussion Hall of Fame, but due to Covid, the celebration last fall had to be online only. It was a great pleasure for him to be able to gather with so many friends and colleagues in person at the PAS Awards dinner on November 11th  this year. Also honoured were the 2021 inductees. It is a wonderful list: Garry Kvistad, Ndugu Chancler, Neil Peart for 2020;  James Campbell, Valerie Naranjo, Layne Redmond, and Garwood Whaley for 2021. It is a pleasure to see two women on the 2021 list, as the Hall of Fame has been mainly male for a long time. Naranjo and Redmond now join 4 other women in the Hall of Fame: Elayne Jones, Dame Evelyn Glennie, Vida Chenoweth and Keiko Abe.
NEXUS was inducted into the Hall of Fame in 1999 and we can now all be in The Hall together with our newest member. Garry joined NEXUS in 2002 and is one of 18 musicians to win a Grammy award for the 1998 recording of Steve Reich's Music for 18 Musicians. In 1972 he was cofounder of the Blackearth Percussion Group, a ground-breaking group well known for its commissioning and recording. Like NEXUS, Blackearth was one of the 1st percussion groups to write and perform music of the minimalists, played George Hamilton Green ragtime arrangements, and incorporated improvisation in many of its concerts. You can see why Garry fit seamlessly into NEXUS some 25 years later!
As an instrument maker, Garry founded Woodstock Percussion, Inc., makers of the beautiful tuned Woodstock Chimes as well as high quality musical instruments for children. In 1993 Northern Illinois University honoured him with its Distinguished Alumni Award. 
You can read Garry's full citation HERE. And if you scroll to the bottom you can see the terrific Hall of Fame video featuring some very special tributes.
Congratulations to Garry and Russell from all of us at NEXUS!