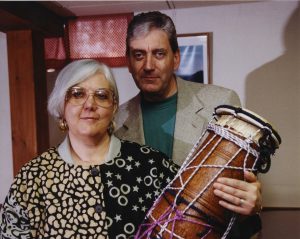 May was certainly a month of honours for NEXUS members!  Bill and Ruth Cahn were both recognized by the Rochester Philharmonic Youth Orchestra at their final concert of the season on May 14th at Roberts Wesleyan College near Rochester, NY. Bill is a founding member of NEXUS and apart from his many astonishing performing accomplishments (appearing with Chet Atkins, Aaron Copland, Chuck Mangione, Stowkowski, Stravinsky, Paul Winter – with whom he won a Grammy – to name only a very few), he has been an Associate Professor of Percussion at the Eastman School of Music for 10 years and visiting artist in residence at the Showa Academy of Music in Kawasaki, Japan. He was principal percussionist with the Rochester Philharmonic for close to 30 years,
a life member of the orchestra's Honorary Board of Directors and Chair of the  RPYO for 8 years.  Three-quarters of the RPYO's percussionists from 1971 to 2017 were Ruth's students at the Eastman Community Music School, and both Ruth and Bill have coached the RPYO in sectional rehearsals and annual retreats over the years. In 1988 Bill received the Rochester Philharmonic League's FANFARE AWARD for his "significant contribution to music education in Rochester" and he continues that work today in the "ROCmusic" initiative, a community program bringing music into the lives of young people.
Ruth is currently the Chair of the ECMS Wind, Brass and Percussion Department, and is a founder and director of the Music Horizon Program for talented high school students, still going strong after 27 years! She too was in the Rochester Philharmonic  – for 32 years – she beat out Bill's record! Her many accomplishments and undertakings make for a very long and inspiring list. She has students performing professionally in the Chicago Symphony, San Francisco Opera and Atlanta Symphony.   
At the celebration, Ruth's DRUM JOY GROUP performed Bob Becker's piece "Atenteben". Congratulations, you two! This recognition is most certainly well deserved!