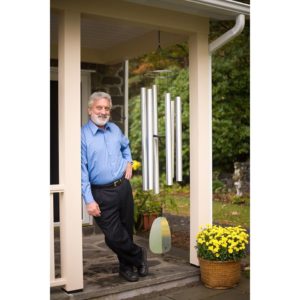 We are delighted to announce that NEXUS member Garry Kvistad will be inducted into the Percussion Hall of Fame this autumn, along with Ndugu Chancler and Neil Peart.
Garry joined Nexus Percussion in the Fall of 2002 and is one of 18 musicians to win a Grammy award for the 1998 recording of Steve Reich's Music for 18 Musicians. In 1972 he was cofounder of the Blackearth Percussion Group. In its seven years, Blackearth held several university residencies, performed 38 world premieres, gave 157 concerts in the US, Canada and Europe, made three recordings, and commissioned many compositions (including concertos with orchestras), as well as performing works composed by members of the group. The use of film, electronics, theatrical intermedia and homemade instruments were an important part of programming. Like NEXUS, Blackearth was one of the 1st percussion groups to write and perform music of the minimalists, played George Hamilton Green ragtime arrangements, and incorporated improvisation in many of its concerts. You can see why Garry fit seamlessly into NEXUS some 25 years later!
Garry attended the Interlochen Center for the Arts where he studied with Jack McKenzie and Michael Ranta. He earned his BM from the Oberlin Conservatory where he studied with Cloyd Duff and Richard Weiner, and his MM from Northern Illinois University, where he studied music, art and physics in the pursuit of musical instrument building. In 1993 Northern Illinois University honored him with its Distinguished Alumni Award.
In the 1970s, Garry worked with composer/conductor Lucas Foss as a Creative Associate in Buffalo, New York, after which he joined the faculties of Northern Illinois University and the University of Cincinnati College-Conservatory of Music – CCM. Garry has been featured in performances with the Chicago Symphony Orchestra, The Cleveland Orchestra, the Israel Philharmonic – התזמורת הפילהרמונית הישראלית, as well as many others in North America and Europe. Garry is the founder and CEO of Woodstock Percussion, Inc., makers of Woodstock Chimes and musical instruments for children.
In the Hall of Fame, Garry will be in good company; other members include Ringo Starr, Jack DeJohnette, Mickey Hart, Evelyn Glennie, Gene Krupa, Lionel Hampton, Buddy Rich and Tito Puente. You can read more here.