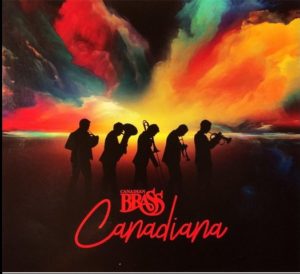 New Release! The latest Canadian Brass album, "Canadiana".
The title says it all. This is an album that celebrates exceptional Canadian song-makers.  Leonard Cohen's "Hallelujah" is here along with works from popular artists Joni Mitchell, Drake, Daniel Caesar, Shawn Mendes, Rush, Deadmau5, k.d.lang, Lara Fabian, and Bruce Cockburn. 
Bill was invited by the Brass to participate and is featured on snare drum on track 9, a beautiful rendition of Bruce Cockburn's "13th Mountain". Amid all the continuing Covid concerns, Bill was able to record the track from his home a few months ago in March.
Here are some links:
You can hear the "13th Mountain" track HERE.
Listen to the whole album and purchase it HERE.
You can listen to an interview with two of the CBrass members, talking about the making of the album HERE. 
A track list is available, along with more information about the album, in this September article at Tinnitist HERE. 
Enjoy! (And isn't that a fabulous cover image?)