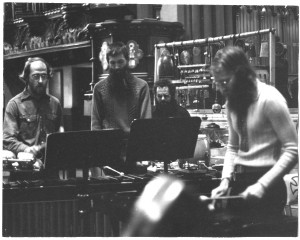 May 22nd is NEXUS' 43rd Birthday! On May 22nd 1971, the first NEXUS concert took place in Kilbourn Hall at the Eastman School of Music. The idea originated with Warren Benson who had been in Canada rehearsing one of his compositions and wanted to bring the founding members from both sides of the Canada-USA border together for an entirely improvised concert. The rest is …. well …. history!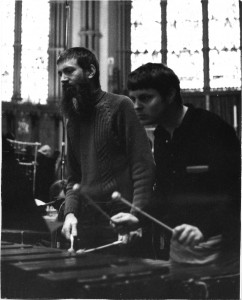 The founding members of NEXUS were John Wyre, Michael Craden, Bob Becker, Bill Cahn, Robin Engelman, and Russell Hartenberger. Today's members are Bob Becker, Bill Cahn, Russell Hartenberger, and Garry Kvistad. Happy Birthday, guys! Here are some great early shots of NEXUS , thanks to Eric Cadesky who took them when he was a mere slip of a lad at the "Everest Session", a recording session for the movie "The Man Who Skied Down Everest", at the old Manta Sound Studios, Adelaide St., Toronto. Robert Aitken played flutes on the session. Again, the music was completely improvised with instructions from music director Larry Crosley. The film, produced by Canadian film maker Budge Crawley and narrated by Douglas Rain, won the Oscar for Best Documentary 1975.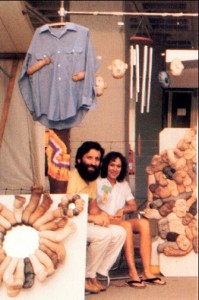 And of course we must include a vintage shot of Garry Kvistad too, who joined NEXUS in 2002.  Why should he escape unscathed! Here is a 1977 photo from Garry's Woodstock Chimes website of he and his wife Diane at the Cincinnati Craft Fair the day his first Chimes of Olympos were sold. Also in the photo are Diane's handmade soft sculptures. Garry was inspired by visits with John Wyre to found his own Blackearth Percussion  Group, and we are looking forward to an upcoming panel discussion in South Carolina where NEXUS will  discuss their history and shared connection with the Blackearth Percussion Group and the impact these groups have had on contemporary percussion composition! We will keep you posted on that one!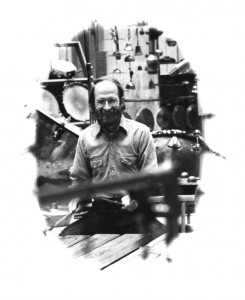 You can see some more vintage NEXUS photos here taken by Arnold Matthews at the Nimbus 9 Studios in Toronto in 1976. Arnold  says, "We were sort of Nexus groupies …"   . And if you want to know more about the amazing four decades of NEXUS history, check out Dan Smithiger's article "Yesterday, Today and Tomorrow" by clicking here.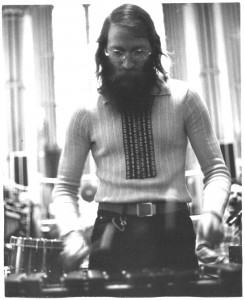 Meanwhile, Happy Birthday to NEXUS! Come celebrate with us at our Open Ears Festival Concerts in Kitchener-Waterloo, Ontario on June 13 and 14!