The week of Dec. 1 was a special one at the Eastman School, beginning with a day-long visit by the Hungarian percussion group, Amadinda, on Monday.  A  2-1/2-hour morning masterclass with student performances was facilitated by Amadinda members, Zoltan Rácz and Aurél Holló.
After the morning masterclass, I drove to the Rochester Airport to pick up Kazunori Meguro, my colleague and friend from the Showa Academy of Music in Kawasaki, Japan.  He flew to Rochester just to be my guest at the Eastman School for four days.  Before he even had a chance to unpack his bags, we drove directly to the School to observe some of the Amadinda dress rehearsal prior to the group's concert that evening.  The Amadinda program and performances were magnificent.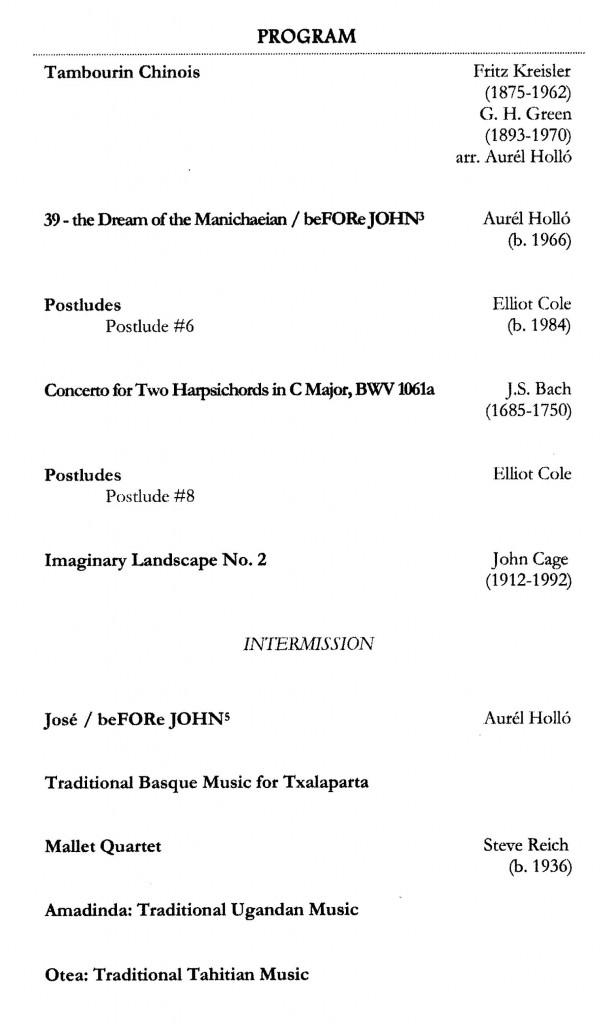 The Amadinda programme included Aurél Holló playing my arrangement of the Red Norvo xylophone solo "Knockin' On Wood" with two marimbas accompanying – minus the harp.
On Tuesday, Dec. 2 Kaz joined me for several regular percussion lessons at Eastman.  I had asked each of the three students to prepare a piece of their own choosing to play for Kaz.  All three selected works by Bach and performed them wonderfully. Kaz was unstandably impressed.  I also asked each student about their "take-aways" from the Amadinda concert the preceding night.  Among their observations were:
• Amadinda had a marvelous sense of ensemble – each player contributed just the 'right' amount
• There was a wonderful sense of shape and balance to every phrase, especially in the "Concerto for Two Harpsichords in C Major" by J.S. Bach – a deceptively difficult work to perform and make it sound easy and flowing, as Amadinda certainly accomplished.
• The two vibraphones in the Bach were perfectly balanced, and it was enlightening to see and hear the exchanges of phrases perfectly rendered between the two instruments.  The wonderful lines were perfectly phrased on the vibraphones, with nuanced stick-dampening throughout that was so natural-sounding that it might have gone entirely unnoticed if not actually seen.
• The sounds selected by Amadinda (produced by a combination of factors – instruments, mallets, strokes) were ideal for each of the pieces.  Obviously, a considerable amount of thought was given to sound selection.
• The programming was eclectic and appropriate for audiences having a diversity of tastes.
After the lessons, Kaz and I attended an evening concert by the Eastman Jazz Ensemble.  Kaz was amazed at the performance level – professional in every way with great arrangements by Eastman students and fabulous solos throughout.  The second half of the concert featured arrangements by guest arranger/artist, Jim McNeely, who also played piano on a few of the tunes.
On Wednesday, Kaz and I attended a performance of the Eastman Philharmonia, the School's top orchestra, conducted by Brad Lubman.  The program included Magnus Lindberg's incredibly challenging "Clarinet Concerto" (2002) performed superbly by Sammy Lesnick, an Eastman junior.  That was followed by the Sibelius "Symphony No. 6 in d minor," a work I had never heard before.  It was surprisingly different from what I expected; it had a light character, but still with an underlying darkness.  Each of the four relatively short movements ended abruptly (at least as I would have expected) leaving a sense of incompletion.  Kaz and I both thought – very interesting!  The final piece was Ravel's "La Valse" with the timpani and bass drum parts being played perfectly.
Thursday morning I took Kaz to the Rochester airport for his flights back to Japan after such a brief but full visit.  Later that afternoon back at the Eastman School Leigh Howard Stevens directed the weekly studio percussion studio gathering for a session of two student performances followed by a workshop devoted to the performance of Bach's music on marimba.
A memorable week indeed!