One of the advantages of being associated with a major conservatory like the Eastman School is the ability to regularly connect with visiting guest artists from all over the world.
Such a visit occurred on Thursday, September 20, 2012 when Tim Genis, the timpanist of the Boston Symphony came to Eastman to present a two-hour clinic/masterclass for the entire Eastman Percussion studio, including Professor Michael Burritt, John Beck, Brian Stotz and myself.
Tim focused at first on snare drum basics – suggesting efficient ways to utilize the muscles of the arms, wrists and fingers, to grip the snare drum sticks, and to play even rolls.
The focus then turned to timpani basics – tuning the drums to the correct pitch, making clean attacks on rolls, utilizing the strokes and beating spots that produce the best sound at various dynamics, placing the final stroke on rolls, and more.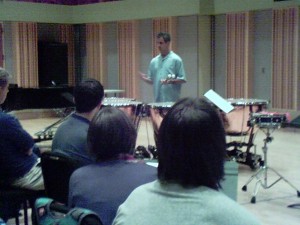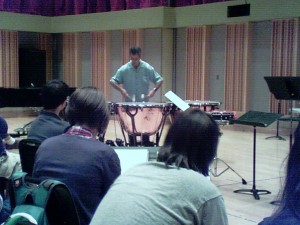 This was Tim's first return visit to Eastman since he was an undergrad back in the 1980s, at which time he also won the audition for the position of extra percussionist with the Rochester Philharmonic Orchestra.  It was in that capacity that Tim and I had performed together in several concerts while I was still the orchestra's Principal Percussionist.
Years later, in October 2000, after I had departed from the RPO to be with NEXUS full-time, NEXUS performed Takemitsu's "From me flows what you call Time" with the Boston Symphony at Symphony Hall under Seiji Ozawa.   The second-half of that concert was the Berlioz "Symphonie Fantastique" and it was then that I had the pleasure of hearing Tim's timpani performance – alongside Vic Firth – for the first time since he left Eastman.  Needless to say, it was wonderful.
Now, with Tim having served a number of seasons as the timpanist of the Boston Symphony, everyone in the Eastman percussion department – students and colleagues –  had the honor and privilege on September 20 to see and hear his artistry up close.