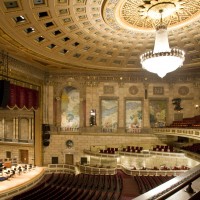 NEXUS is counting down the days to their May 9 and May 11 performances with the Rochester Philharmonic of Takemitsu's extraordinary 1990 concerto, "From me flows what you call time…". The performances and pre-concert chats will take place in the beautiful Eastman Theatre in Rochester. The Theatre celebrated its 90th birthday last year and has been Rochester's preeminent performance space since its opening in 1922, a year after the opening of the Eastman School of Music.  NEXUS will be in good company. The Eastman's wonderful stage has welcomed such musical luminaries as Bob Brookmeyer, Stan Getz, Keith Jarrett, Dave Brubeck, Renée Fleming, Paul Robeson, Yehudi Menuhin, Leonard Slatkin, Sir Georg Solti, composer John Williams,  Stravinsky and Penderecki – just a few of the famous names that have graced the Eastman Theater.
The Theatre, as you can see, is magnificent. George Eastman built it as a center for music, dance, and the silent films of the day that could be shown there with orchestral and organ accompaniment. Today, in addition to being the principal hall for the Rochester Philharmonic Orchestra, it is also the primary concert hall for the Eastman School's orchestras, wind ensembles, jazz ensembles, chorale, and The Eastman Opera Theatre. It is large enough to present fully staged operatic productions each spring.
Not a place to rest on past laurels alone, in 2004 a major renovation replaced the stage and improved the acoustics. In 2009, phase two of the renovations was completed (wider aisles, box seats, an expanded lobby) and also included a new building for teaching and performance spaces. It was in the Autumn of 2009 that the hall reopened as Kodak Hall at Eastman Theatre. The new building, the Eastman East Wing, opened in December 2010, and features a small recital hall, teaching studios, rehearsal room, recording studio and the wonderful Wolk Atrium illuminated by a Dale Chihuly blue-and-gold chandelier. You can see some stunning close-ups photos of it by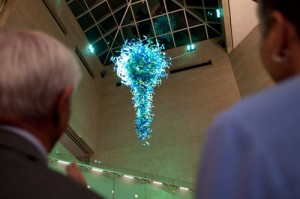 NEXUS member and composer Bill Cahn has a long-standing relationship with Rochester, and he teaches at Eastman – a great fit, as new music has been a vital part of the Eastman School's mission from the beginning. The school regularly presents a Composition Symposium. The Rochester Philharmonic itself has a rich history of giving readings and performances of Eastman composers' music. The Eastman Wind Ensemble will be performing Bill's "Kebjar-Bali" with NEXUS in Toronto later in May. Eastman Musica Nova regularly interprets contemporary music under the directorship of Brad Lubman.  The school has a whole New Music section on its website, and tells us that "in recent years there has been so much interest in new music performance on the part of undergraduate and graduate students that autonomous performance organizations such as Ossia, the Composers Sinfonietta, and the Eastman BroadBand, have emerged to perform new music not easily presented by traditionally established performance forces and venues."
NEXUS is looking forward to being once again on the Kodak Hall, Eastman Theatre stage.