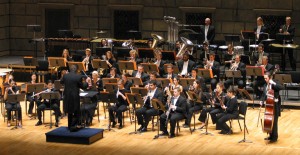 In mid May NEXUS will be performing with America's leading wind ensemble, the Eastman Wind Ensemble conducted by Mark Davis Scatterday during MusicFest Canada, a huge educational event being hosted by Toronto. The EWE has been in existence for 60 years and has a core of about 50 performers who are undergraduate and graduate students of the Eastman School of Music at the University of Rochester. Mark Scatterday is only the fourth conductor of this prestigious group!
The ensemble has been known for its recordings from the time of its founding, a great many of them using pioneering recording techniques over the years: binaural, stereo, quadraphonic,and digital. Their collaboration with Wynton Marsalis, the album Carnaval, was nominated for a 1987 Grammy. The group is also known for its innovative and adventurous embracing of new music and has premiered more than 150 new works in its 60 years. A performance with NEXUS, then, is a perfect fit. With NEXUS, they will be performing Kebjar-Bali by Bill Cahn.
The EWE has several other things in common with NEXUS too: between 1990 and 2004, the EWE undertook seven summer tours of Japan with the 2004 tour also including performances in Taiwan and China. The ensemble has recorded a concerto by Eric Ewazen who also composed a concerto for NEXUS, "The Eternal Dance of Life" (2008). Both the EWE and NEXUS have played Carnegie Hall, and both groups have recorded with the Canadian Brass.  The Eastman Wind Ensemble and NEXUS both performed at Percussion Rochester last May.
You can listen to several recent live recordings of the Eastman Wind Ensemble here. This is going to be a wonderful pairing!