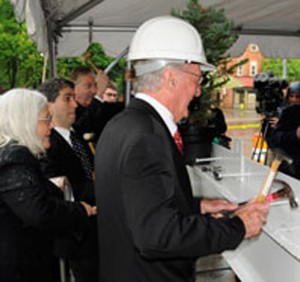 As the first academic year ends for the new percussion department at the Eastman School of Music, the percussion team was called upon to provide music for a ceremony celebrating the construction of a new facility.
The new building is being constructed adjacent to the historic Eastman Theater,  and it will feature the new Hatch Recital Hall, along with percussion studios, a rehearsal room and a recording studio.
Eastman school officials conducted a "topping out" ceremony, which is a tradition in the construction trade marking the installation of the last steel beam on the top of a building.  Many civic leaders from Rochester were in  attendance, and one of the highlights of the ceremony was an ad-hoc performance by Eastman percussionists "playing" on that final beam just before it was lifted into place.
The all-Eastman percussion ensemble (pictured above) included – from left to right – Ruth Cahn, Charles Ross, Bill Cahn, John Beck (with hard hat), Howard Potter (not pictured) and Michael Burritt (not pictured conducting).
The new building is expected to open in 2011.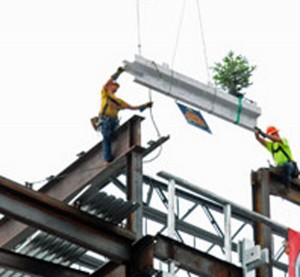 The final beam being "topped-out".