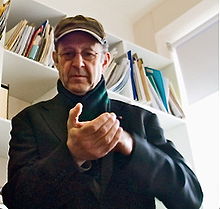 THIS JUST IN: APRIL 29th CONCERT IS OFFICIALLY SOLD OUT! THERE ARE STILL A FEW TICKETS LEFT FOR April 28th FUNDRAISER.
Is it on your calendar?  Have you bought your tickets? The NEXUS guys are converging on Toronto today to begin the final rehearsals for the STEVE REICH LIVE! concert on Thursday night, April 29th, at Koerner Hall in downtown Toronto. Great seats are still available in the first and second balconies, so get clicking. Steve himself (seen left, demonstrating his Clapping Music) arrives on Tuesday.
You can check out his master class, open to the public, on Wednesday morning. Imagine a master class with, "by general acclamation, America's greatest living composer" (Kyle Gann), a man considered  to be "one of a handful of living composers who can legitimately claim to have altered the direction of musical history"! (The Guardian).
April 29th at 8 p.m. is the big moment : NEXUS' premiere of Steve's newly commissioned Mallet Quartet for vibraphones and five octave marimbas.  Also on the program will be Reich favorites 2 x 5, Clapping Music, Sextet (for which percussionist Ryan Scott and Steve Reich will be joining NEXUS onstage) and Music for Pieces of Wood.  Actually, Sextet was originally commissioned for NEXUS too, and premiered in Paris!
You can also participate in an especially-elegant evening with Steve Reich at Integral House on Wednesday evening. Read all about it here.
Steve Reich was named the 2007 recipient of the Polar Music Prize, together with Sonny Rollins, and in 2009, he was awarded the Pulitzer Prize for Music for his Double Sextet.  You can read a great interview with Steve here.