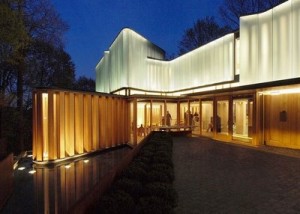 A spectacular fundraiser will take place at "the most- talked-about house in Toronto" on Wednesday, April 28th at 7:30 pm. We hope you will join NEXUS in this opportunity to meet Pulitzer-Prize-winning composer Steve Reich, "the most original musical thinker of our time" (The New Yorker). In Toronto's Rosedale, you will be surrounded by the beautiful vistas of Dr James Stewart's home, Integral House, hailed by architects as "the house of the century". The evening will feature an exclusive performance by Steve Reich and NEXUS including a preview performance of Reich's new Mallet Quartet, and his much-loved Clapping Music, a joyous piece in which four hands are the only instruments. This is a chance to enjoy a cocktail, hors d'oeuvres by grano Ristorante, great music and great company – and it's all for a good cause – the support of new music and Soundstreams Canada, a recognized international centre for new directions in music.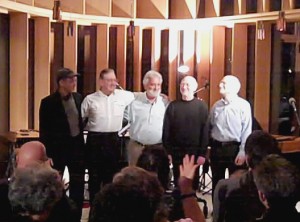 There will also be a silent auction in support of Soundstreams that will feature one-of-a-kind items, including a photogram by Max Streicher, donated by the artist.   You will remember Max's magnificent installation entitled Quadriga II, four 9-meter horses afloat in Toronto's Union Station in 2007.
Integral House was created by architects Brigitte Shim and Howard Sutcliffe as a home for Dr James Stewart, a mathematician, musician, and activist. Dr Stewart specified that he wanted curves, glass and a concert hall, and indeed the entire building was built to be a premiere venue for classical musical performance. The Salon is a double-height concert space that can accommodate about 200 guests. Balconies, like opera boxes, overlook the space and house the sitting and dining areas. With its bright lively sound, it will be an ideal environment for listening to NEXUS' exceptional mallet work.
Needless to say, Integral House has been attracting attention from architects and musicians worldwide. Articles in the National Post, the Wall Street Journal, etc. provide interesting tidbits.  Canadian Architect magazine calls it  "A captivating architectural experiment of movement and beauty". Architectural Digest put the house on its annual Toronto tour, and Glenn Lowry, director of New York's Museum of Modern Art, has described it as " one of the most remarkable houses I've ever been in", and "one of the most important private houses built in North America in a long time."
The 18,000-square-foot  house-cum-concert hall overlooks a lush ravine. On the first floor, push a button and a 24-foot wall of glass windows vanishes into the floor, opening the pool area to the outside. Dr Stewart himself is a classical violinist and mathematics professor who earned his millions writing calculus textbooks. Indeed, he named the building "Integral House", after the calculus sign, and he asked the architects to focus on curves because they demand the use of calculus. Violinist Joshua Bell has visited the house to get ideas for his own home concert space in New York, and soprano Measha Brueggergosman is interested in recording at the home. "It's a space where people are able to look into the eyes of the musicians…while still having the sound quality of a concert hall," she says.
For this once-in-a-lifetime evening, tickets are $180 each, or $150 each for 6+ if you wish to bring your friends! Integral House is at 194 Roxborough Dr, Toronto. Tickets are very limited so do hurry! A tax receipt for the allowable amount will be issued following the event.
To purchase your tickets, please visit http://stevereich.eventbrite.com, or contact Erin Bustin at 416.504.1282 or erinb@soundstreams.ca.