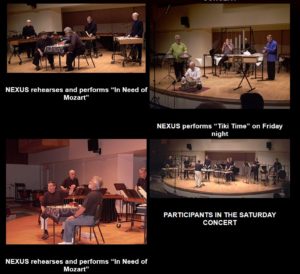 TIKI TIME AND MOZART   We opened the inaugural season of the Toronto Summer Music Academy and Festival (TSMAF) in Summer '06 with four world premieres! Following its recent preview, Bill Cahn had been able to put the finishing touches on his new work "Night Ride" so it received its official premiere here. The piece was composed for and is dedicated to Kazunori Meguro and the students at Showa Academy of the Arts in Atsugi, Japan. Robin Engelman had written "In Need of Mozart", a comedic vignette commissioned for the opening by Agnes Grossmann. Robin said, "Because this [2006] is the year of Mozart and his music is frequently performed and heard everywhere, I decided to contrive a spoof about people who simply cannot get enough of his music."  Garry Kvistad made his debut as a composer with "Tiki Time". The instrumentation includes some of his interesting sculptural Baschet instruments (pictured here). We also premiered Linda Caitlin Smith's "Blue Sky" but we will tell you more about that piece and its "thicket of triangles" in tomorrow's post. Here are some photos! TSMAF was produced by the Silver Creek Music Foundation.
       Speaking of Tiki Time, for something a little different check out Garry's experiment with two vintage musical toys creating Steve-Reich-like phasing! https://bit.ly/3iEap2h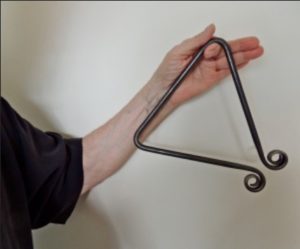 A CLOUD OF CYMBALS, A THICKET OF TRIANGLES  In Summer '06 we premiered a new commission, Linda Catlin Smith's "Blue Sky". Linda consulted with Bob Becker and discovered songbells. She decided to "surround the songbells with a choir of variegated pitched metals… I decided to work within a restricted palette of these instruments, to work with gradations of pitch and colour, to get lost in a cloud of cymbals and a thicket of triangles." Robin Engelman found a very special triangle for this work, one that he purchased by telephone after reading a Sunday New York Times article about a triangle maker in rural Louisiana. Here's Robin's story: "For years Dieu Donné Montoucet (Don) had been combing the countryside in ever-growing circles, harvesting antique tines from old farm machinery. Properly tempered, these tines were durable, rang true and had a penetrating sound much admired by Cajun afficionados…As Don's business grew, he had to search  farther and farther afield to find the proper metal. Antique tines were becoming scarce. The future of these Stradivarius or Montoucet triangles looked grim. The Savoy Music Center in Eunice, LA sold Don's triangles, so first thing Monday morning I telephoned Louisiana information and asked for the Savoy's phone number.  I was soon talking to a woman I took to be one of the owners. I had called just in time. When I told her I wished to buy three triangles, one of each size, she said it wasn't possible. She too, as well as many other people, had read the Times article and now she had only 3 left. One had already been sold and one had to be kept in the store for display. That pretty much narrowed it down, so I took the only triangle left, an 8-inch model. I sent her a check and not long after, the instrument so prized by Cajun musicians everywhere, was in hand…The first time I used that beautiful instrument was in a piece of contemporary music written for Nexus by Linda Smith… Linda wrote a wonderful, delicately spacey work wherein, among other things, each member of Nexus needed a triangle."
       Above is a photo of Robin's special triangle. You can read the rest of his interesting "triangles" article at https://robinengelman.com/?s=balfa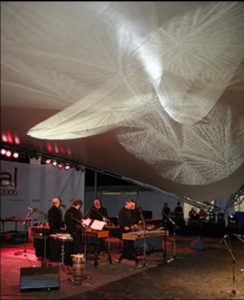 AN UPBEAT WEEK DOWN UNDER   The Commonwealth Games drew us to Melbourne Australia where they held a concurrent arts festival that included an International Youth Masterclass in Percussion!  We received the nicest letter afterwards from the masterclass's producer Kay Jamieson: "What a coup it was having NEXUS as part of this memorable event. The students revelled in being able to tap into your wealth of experience and incredible skill as musicians… Thank you so much for throwing yourself into the event with such enthusiasm and giving so much of yourselves to the students…"  This was our 3rd visit to Australia and our week of activities included 3 afternoon promenade concerts at the Alexandra Gardens Soundshell, each attended by hundreds of local listeners and international travelers in town for the Games. Young percussionists and percussion teachers were brought in from all over Australia for our series of workshops. This culminated in the 'All Star World Percussion Spectacular' Concert. We joined with other visiting artists from Canada, England, India, Trinidad, Ghana, and Australia in this grand finale attended by over 12,000 enthusiastic listeners in the Sidney Myer Music Bowl amphitheatre. All of the young Australian workshop percussionists also performed. They had rehearsed with the artists throughout the preceding wonderful week.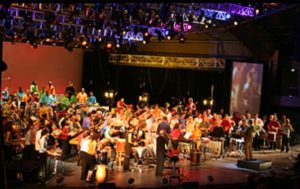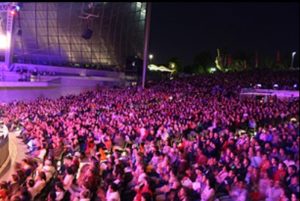 THE PHOENIX   In 2006, Canadian composer Elizabeth Raum wrote a new piece for us that we premiered a few months later at the Colours of Music Festival in Barrie ON in 2007. The piece is based on the myth of the Phoenix, the ancient magical bird that rises out of the ashes of its previous existence. Elizabeth wrote the following note: "The Phoenix lives for 1,000 years, and then, in a wild dance, self immolates only to be reborn for another cycle of life and immolation. This work for percussion ensemble and violin begins with the stirrings of life swirling into the birth of the Phoenix. She dances to celebrate her self-awareness, growing more and more frenzied until she is devoured by flames and returns to ashes only to begin the cycle once again." It is lush romantic work that (as Bill Cahn says) "effectively merges the sonic worlds of strings and percussion". The solo violinist for the premiere was Lynn Kuo, a native of St. John's, Newfoundland, whose virtuosity was apparent. The prolific Elizabeth Raum is based in Regina, Saskatchewan. Her works include three operas, over 60 chamber pieces, vocal works, ballets, concerti, and major orchestral pieces.
        You can read Lynn's entertaining biography – it covers everything from karate to salsa! – at https://www.lynnkuo.com/about-me
     You can see and hear some beautiful renditions of Elizabeth music at https://elizabethraum.com/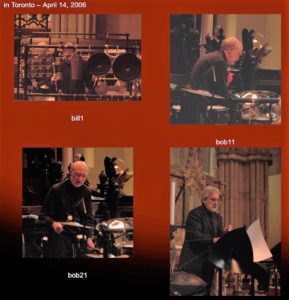 A MIGHTY THUNDER   We thought you would enjoy seeing photos of some of our instruments and set-up for a concert at St Paul's Anglican Church in Toronto with organist Eric Robertson. You can spot Garry Kvistad's Baschet instruments. Ten years prior, in 1996, we had recorded our album Toccata with Eric on the amazing pipe organ at St Paul's, so this was a welcomed reunion. Our vast array of instruments fueled a NEXUS improvisation and the performance of A Mighty Thunder, and of Yeve Cult (in Ghana, Yeve is believed to be a Thunder God). Like other instruments, each pipe organ has its own special characteristics. "The reeds at St. Paul's are renowned for their power and clear tones, including an impressive tuba division. They were made in England for Casavant by W.G. Jones, Frank Wesson and Harrison and Harrison. With multiple tuba stops, the sound is rich and full." You can read more about – and hear – St Paul's pipe organ in Anya Wasssenberg's "Tour Of Toronto's Big Three Pipe Organs" at http://bit.ly/3oiwg0p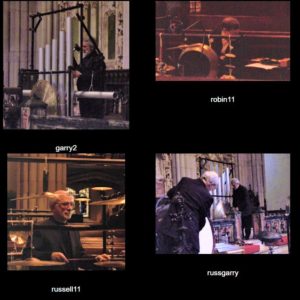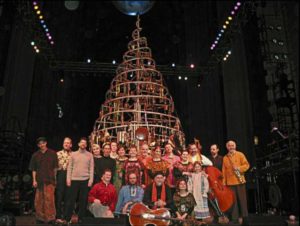 SOLSTICE GRAMMY FOR BILL CAHN    Bill often performs with the Paul Winter Consort and in 2006, Bill received a GRAMMY Award as part of the Consort on the DVD titled, "2004 Solstice Concert."   NEXUS has some additional special ties with Paul Winter. Garry Kvistad created many of the chimes in the revolving "Solstice Tree" musical sculpture, and Bob Becker toured with the Paul Winter Consort as a drummer/percussionist. NEXUS also enjoyed a wonderful concert with Paul Winter in 2015 which we will tell you about in a coming week. Here is a photo of the Solstice Tree. Paul Winter is far right, and Bill is second from left. You can read Bill's wonderful description of the remarkable Solstice Concerts on "The Longest Night in Manhattan" in his book Unpopular Music, pp 141- 143. (available from billcahn@aol.com)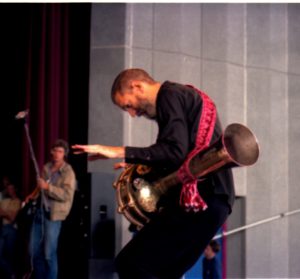 SADNESSES   April of 2006 took us back to where it all began, the Eastman School of Music, to celebrate the man who had started it all, Warren Benson. On October 31, 2006, our inspirational founding member John Wyre passed away. At both Warren's memorial and at John's memorial in March 2007, we performed our evocative mbira piece entitled Tongues. You can read a tribute to John and his Norland home at http://bit.ly/3n1ZqQW; a lovely memorial article by Lauren Vogel Weiss at http://bit.ly/3sW3AOm; excerpts from a tribute by Stewart Hoffman at http://bit.ly/3sWKKGN. There are two wonderful films about John made by Canada's National Film Board. You can find World Drums at
http://onf-nfb.gc.ca/en/our-collection/?idfilm=17380   and Drawing On Sound at http://onf-nfb.gc.ca/en/our-collection/?idfilm=18483
The group photo is NEXUS performing Tongues.