Q: What's the difference between trampolines and timpani?
A: You don't have to take your shoes off when you jump on timpani.
Trampolines and timpani have a few things in common. They both have membranes, are fun to play on, and you can impress people of the opposite sex if you are good at either one. Some people know timpani (plural for the Italian word timpano) under the old name of kettledrums. This is the instrument I was trained to play throughout my school days in hopes of playing with a national orchestra eventually. I've played percussion in many orchestras throughout the world as a guest artist and have played timpani in the Grant Park Symphony in Chicago, Northern Dutchess Symphony Orchestra, Cabrillo Festival Orchestra, Hudson Valley Symphony Orchestra, Woodstock Chamber Orchestra and Phoenicia International Festival of the Voice orchestra.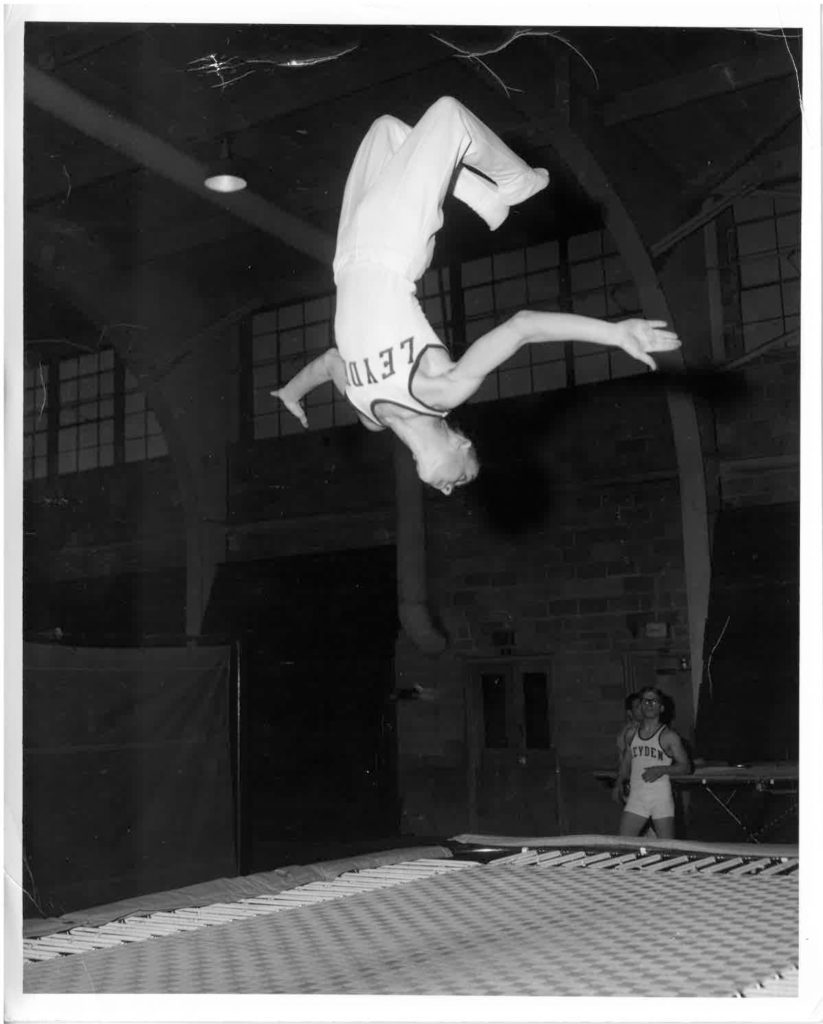 I started doing gymnastics and playing percussion in elementary school, learning all the percussion instruments and all the gymnastic apparatus. I ended up specializing in timpani and trampoline as a youth. My brother, Ken, eight years my elder, was a conference-winning high school gymnast and I was inspired by his achievements. My other older brother, Rick, six years older than I, was an award-winning percussionist in high school and even demonstrated timpani on episode 1175 of Mister Rogers' Neighborhood in 1971 [scroll down to see video]. I had a lot to live up to!
The turning point for me came when I was sent to the Interlochen Arts Academy at the age of 13, where we rehearsed orchestral music every day and gave a concert every Sunday. We blew through the major and not-so-major repertoire in the three years I attended. There wasn't a gymnastics team there and no trampoline, but I think it literally saved my neck since I was one of those fearless kids willing to try the most difficult tricks without hesitation. As a high school freshman, I managed to break my nose while trying one of those dangerous tricks (it's still a little crooked today as a result). I have so far managed to not get hurt playing the timpani. I think it was the right choice for me!
Garry Kvistad
P.S., Take a look at this vintage clip of the Mister Rogers' Neighborhood episode that featured Rick's demonstration, which starts around 10:30. Diane and I saw the recent release about Mister Rogers, A Beautiful Day in the Neighborhood, starring Tom Hanks and really enjoyed it.