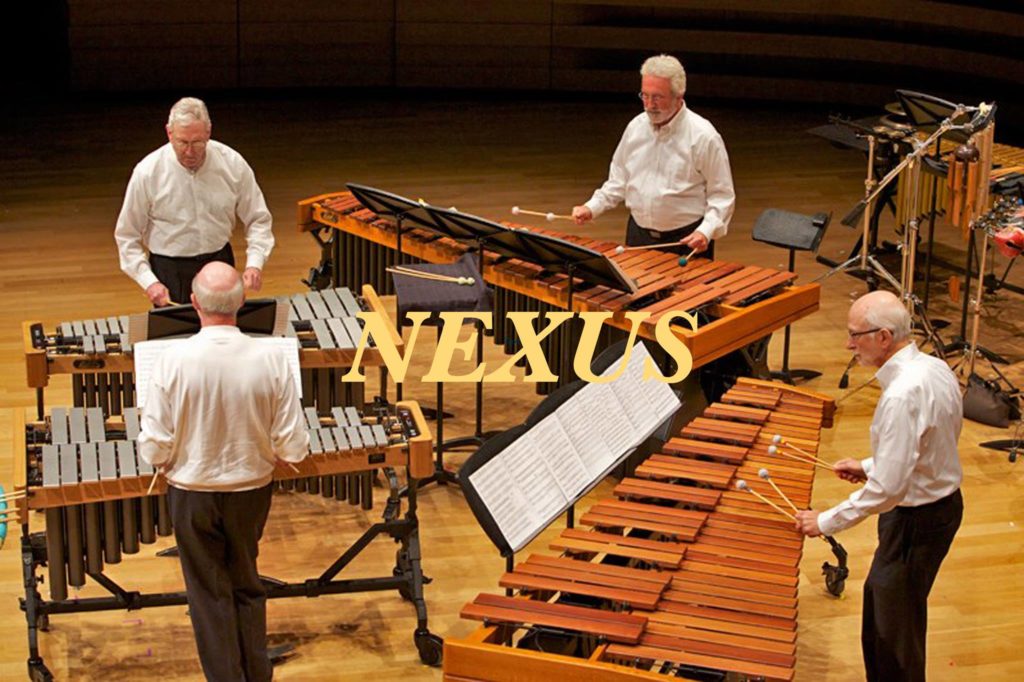 It's Spring – and a LOT is happening. Russell Hartenberger has been at Virginia Tech workshopping his new piece "Magic Time" commissioned by Escape Ten. Tonight (May 4th) is the premiere. The duo is performing "Magic Time" on marimba with a quintet (the Virginia Tech Percussion Ensemble ) performing on tuned cymbals newly created for the piece by Dream Cymbals of Toronto, Canada. The piece also showcases several Dream Cymbals gongs and other mallet instruments.
Last week, Bill Cahn also enjoyed the world premiere of his "Bombala" for drum ensemble and orchestra with the Rochester Philharmonic Orchestra. Written for Hands-On-Drumming Ensemble with Orchestra, Bill composed it for the students in the ROCmusic Collaborative, an after school hand drumming program in Rochester NY that Bill has been facilitating for 4 years. The Collaborative is modeled after the El Sistema orchestra education program. Bill serves on the RPO's Education Committe, and is an honorary board member. "Bombala" features the performance of children on hand ddrums alongside the professional musicians of the orchestra. Congratulations to both Bill and Russell on these new works!
Next up, we'll be in Ray Dillard's Crush Studio in Springwater, Ontarios this month with the vocalists for Russell's octet "Requiem": Bryan Martin of Toronto, Cory Knight (of the Tafelmusik Chamber Choir) and Lindsay Kesselman, well-known for her own commissioning and collaborations in contemporary music. Fanfare Magazine recently hailed her as having "a voice of goddess-like splendor". These should be exciting sessions!
This week NEXUS was honoured to be inducted into the Canadian Broadcasting Corporation's "In Concert" Canadian Musician Hall of Fame – NEXUS being the 13th inductee. It was such a pleasure revisiting our recordings that were featured in the broadcast: Steve Reich's "Sextet" (written for NEXUS) and his "Music for Mallet Instruments, Voices and Organ"; Bob Becker's "Palta"; Russell Hartenberger's "Moondog Suite"; and Toru Takemitsu's "From me flows what you call Time…" (written for NEXUS and the Boston Symphony, recorded with the Pacific Symphony). It made for some beautiful Sunday-afternoon listening. We thank host Paolo Pietropaolofor his thoughtful commentary and many kind words concerning NEXUS' influence on music and education worldwide.
Coming up in June, jet-setter Russell will be the Keynote Speaker at the Brazilian Percussion Conference in the handsome city of Belo Horizonte ("Beautiful Horizon"). He will also be coaching and performing Steve Reich's "Drumming" with percussionists from across Brazil. Then he is off to Michigan US for the biannual Rhythm Perception and Production Workshop (RPPW) where he and Michael Shutz of McMaster University will talk about their research into the inner workings of "phasing". (You will have a chance to hear 'What Really Happens in Steve Reich's "Drumming"' at PASIC 2019 this fall.) From Michigan, Russell rushes to lovely Lunenburg, Nova Scotia for the TorQ Seminar . The TorQ quartet has joined with NEXUS for our upcoming "Requiem" recording, Russell's octet.
Not to be outdone, Bill Cahn is gearing up for a month of Creative Music Making courses at Eastman; Bob Becker will be workshopping at the Leigh Howard Stevens Summer Marimba Seminar in Asbury Park, New Jersey, in early June; and Garry Kvistad is heading to the Interlochen Center for the Arts in northern Michigan to give two workshops during their Percussion Institute week in late June. Garry will also be performing in the faculty concert, playing pieces by Harry Partch and Lou Harrison on instruments that he built.
Talk about Spring into Action! Gotta run! Catch you later!