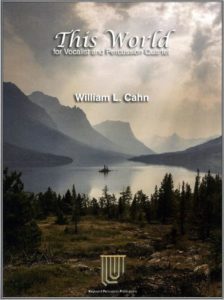 If you've followed us on Facebook, you'll know it's been a busy and varied summer.
Bill has been involved in Eastman's Summer Horizons with young music students in his wonderful program "Creative Music Making". We will be presenting that program at Ithaca College in early September, so stay tuned, as it will be open to anyone who wants to participate. Bill also was part of a remarkable reunion of Rochester Philharmonic Orchestra percussionists spanning fifty years!
Garry was a part of the Phoenicia International Festival of the Voice, presenting "Carmen" in 4 acts. On August 25th, he and Russell are performing a Leonard Bernstein 100th Birthday Fete with the Maverick Chamber Orchestra Concert in Woodstock, NY. (Aug 25, 6 pm, 845-679-8217, www.MaverickConcerts.org 
Russell put his "Steve Reich hat" on, and spent a week with Canada's National Youth Orchestra prepping "Drumming". (BTW, stay tuned for some exciting "Drumming" news on September 1st!)  Then he put his own "composer hat" on, and he and Bob went into the rehearsal studio with Toronto's TorQ to work on Russell's new multi-movement piece called "Requiem". You'll be hearing a lot more about this, soon! (So much going on!)
Check out two great summer podcasts: the first one features Garry on Josh Quillen's Concert Honesty series. It's in two parts, the first part being music talk and the second being a fun tour of Garry's awesome studio. Here are the links: Part 1 – Chat    and Part 2 – Studio Tour  . The second podcast features Bill at Tocalo Tucson. The interviewer is Casey Cangelosi, and the other participants were Dr. Morris Palter, Michael Pratt , Jacob Ransom, and Tiffany Johnson. You'll find some intriguing NEXUS insights! Here is the link  and here are the timestamps:
2:10 Morris: The name "Tocalo Tucson"?
4:50 Bill: The history of Nexus and use of improvisation?
24:23 Morris's interest in refurbishing and selling Rogers drums.
39:38 Casey Cangelosi on the Theatrical/gestural paradigm current in new percussion pieces
55:15 Are there roles that the Nexus members played in the ensemble?
1:02:18 Nexus Ragtime album
Last but not least, Bill's beautiful piece "This World" – music for voice and 4 percussionists – is now available from Keyboard Percussion Publications. "This World", performed by NEXUS with soprano Katherine Ciesinski, can be heard on the "Home" digital album (NEXUS # 10959) at cdbaby.com – Keywords: NEXUS Home. The audio download price for "This World" as a single is $3.99. Check it out!