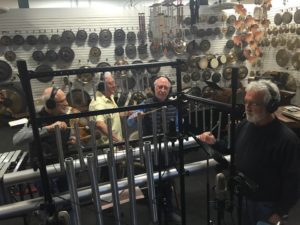 Never rains but it pours! April is full, Full, FULL! This coming weekend the vans get loaded with instruments, and NEXUS heads to Garry's studio to meet up with So Percussion and a stellar group of guests. Yup, it's studio time with some heavy duty rehearsing for a super-project that we can't wait to tell you about. Keep an eye on our social media pages for NEWS. At left, this is what recording in Garry's studio looks like!
After a week (yes, I said a whole week!) in the studio, having worked up an appetite we leave our guests and it's off to the Culinary Institute of America in Hyde Park NY for our April 14th night of sizzling Latin music: As Garry says, "Come hungry for entertainment, victuals and inspiration!" On the menu is the Schedrin arrangement of Bizet's Carmen Suite, scored for string orchestra and forty-seven percussion instruments (but who's counting?). Kathleen Beckmann will be conducting NEXUS and the North Dutchess Symphony Orchestra. Adding to the evening will be Four Seasons from Buenos Aires by Piazzolla featuring soloist Marka Young on violin. 8 pm, April 14, Marriott Pavilion at the Culinary Institute. Buy Tickets HERE.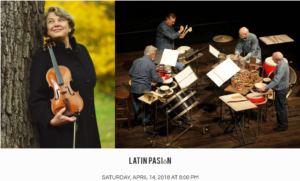 The following week will be spent in Princeton NJ in the studio again with the awesome So Percussion – (yes, I said a week,  AGAIN!). There will be work but there will be play, too:  The week features an April 18th Steve Reich celebration at the Richardson Auditorium, Princeton University, beginning with Pendulum Music on the lawn and ending with a Reich and Adam "talk back" after the concert. And in between, So and NEXUS will be joining Beth Meyers, Daisy Press, and Alex Sopp for Music for Mallet Instruments, Voices and Organ, and for that extraordinary work Drumming.

Are we done yet? No! We then head back to Garry's to prepare for our Ulster Chamber Music Series concert on April 22 in Kingston NY where it will be our pleasure to help the UCMS celebrate 50 years of bringing excellent music to the area. Redeemer Lutheran will be set up with big suspended tubes placed at the compass points of the hall for Greeting Prelude by Pauline Oliveros, followed by Solo for Anthony Cirone by Lou Harrison performed on Garry's newly created metallophone – he calls the instrument "Lou's Tubes".  It's going to be an exceptional night with some classic NEXUS works (including an improvisation!) and we won't let you leave without hearing some superb ragtime! Tickets HERE.