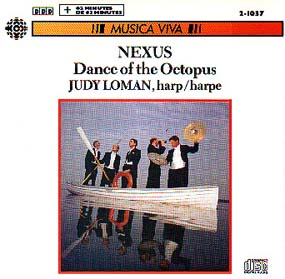 In January, 1989 NEXUS recorded a new CD for the Canadian Broadcasting Company's Musica Viva label. CBC no longer distributes our Dance of the Octopus CD, which is unfortunate because it includes a lot of wonderful repertoire not available anywhere else. A truly great harpist, Judy Loman, joined us for two works by Bill Cahn: In Ancient Temple Gardens (composed in 1976), and Red Norvo Suite (arranged in 1981). Two of the three pieces included in Bill's suite are xylophone showpieces: Breakfast Breakdown and Knockin' on Wood.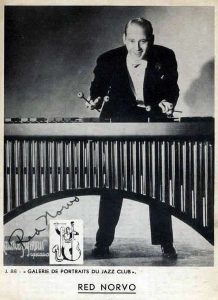 Red Norvo (1908 – 1999) began his career as a xylophonist, but his performance sound and style were dramatically different compared to earlier players such as Green, Breuer and Herman. In the photo, Red is posing with his Deagan Imperial Xylophone – a unique instrument made specially for him. I got to see and test this very instrument around five years ago in Los Angeles where it was in storage along with Emil Richards' phenomenal collection of instruments from around the world. Deagan made only two of these 3.5 octave xylophones, using the same great wood used on the Imperial model marimbas, and with the same type of frame and brass resonators.
Red was one of the early pioneers, along with Lionel Hampton and Adrian Rollini, who successfully made the transition from xylophone to vibraphone, helping to establish the new instrument as a major sound in the swing styles of the 1930s and 40s. Red's xylophone compositions are extremely challenging, both technically and stylistically, due in large part to his legato swing conception and a greatly expanded harmonic vocabulary.
In 1978 I had an opportunity to jam together with Red. He was in Toronto with his quartet, and John Wyre and I went to hear the group at a local night club. We said hello to him during one of the breaks, and John mentioned my Deagan #268 five-octave xylophone, which I had set up in my loft. Red, who had just played the trio from G.H. Green's Rainbow Ripples as his break tune, was interested to see the instrument and so he stopped by the next afternoon. He laughed when he saw my Deagan, and said he hadn't seen one of them in years. When I handed him a pair of mallets he went straight into a blues in F, and I joined him for a while – there's plenty of room for two players on a 268! The last time I saw Red was in New Orleans during the 1992 PAS convention. He was seated in the front row of the historic Orpheum Theatre for NEXUS' performance of our From Rags to Riches program on Friday night. I often remember a question John Wyre asked him: "Red, how come you never look down at the keyboard while you play?" Red was famous for this, and his habit was always to look out at the audience with a dreamy smile. His answer was: "Because it sounds so much better than it looks!"