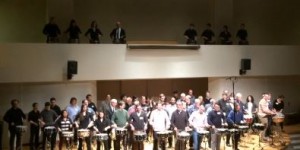 If you follow us on Facebook (and we hope you do!) you have been treated to a play-by-play of these busy weeks. Steve Reich is here in Toronto celebrating his 80th with Soundstreams. The birthday gala is on Thursday evening at Massey Hall, and Bob, Russ and Garry will share the stage with Steve for Music for 18 Musicians (all 4 of them won a Grammy for that amazing recording with the Steve Reich Ensemble), the exultant Tehillim, and the iconic Clapping Music with Russell and Steve.
Bill is in town too, as is Alan Abel. NEXUS, Alan, Steve, and many many others congregated to help Russell celebrate his decades with the University of Toronto Faculty of Music. The tribute concert on April 10th was put together by Beverley Johnston and featured great stories and playing from Bill, Alan, and Bob, to name only a few, and an extraordinary snare drum roll salute played by SIXTY-SEVEN drummers! (They handed out ear plugs…) UofT is going to miss Russell, as he is retiring from University duties – but we are looking forward to him having more time for composing and performing!!
Bill just did a great podcast with @Percussion which you can enjoy here:
https://www.youtube.com/watch?v=WnqPMraj25M 
as he talks about NEXUS, creativity, launching a musical career, his contribution on orchestral percussion to the new Cambridge Companion to Percussion that Russell edited, and much more.
Russell and Steve Reich were interviewed by the BBC for the Modern Muses: "Hear and Now" series, and you can listen to it here:
http://www.bbc.co.uk/programmes/p03nygk7 – as they share insights and describe their historic and enduring friendship and musical collaboration.
Garry just completed a TEDx Talk that is quite wonderful. We will have the link for you very soon and will post it here and on Facebook. They are just putting the finishing touches on the website posting. Garry's 12 minute talk features the deep vibrations of his Vistaphone, a sneak peek at NEXUS and Prana performing Baird Hersey's Chiaroscuro, and a look at and listen of his Reichphone.
The icing on this multi-layered cake is that Russell has completed his new piece and NEXUS is in the studio this week, giving it it's first reading and rehearsals!! (psst!  I hear there are vocalists involved). Stay tuned for more information – and follow us on Facebook and Instagram @NEXUSpercussion to stay up-to-the-minute!!