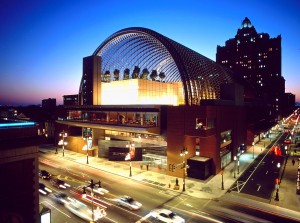 Hard on the heels of NEXUS' beautiful Toronto concert at Walter Hall and recording session at Noble Street Studios with Sepideh Raissadat, the fab four are now heading to Philadelphia for a busy week of concerts, coachings and clinics. A joint presentation of the Philadephia Chamber Music Society, The Curtis Institute of Music and Temple University, November 9th to 16th has something for everyone!
The week will culminate with the November 16th celebration of Alan Abel's 85th birthday (3 pm at the Kimmel Center's Perelman Theater). Alan Abel is a beloved teacher and former Associate Principal Percussionist of the Philadelphia Orchestra. Alan retired in 1997 after 38 years of service!  He will be one of the concert performers and conductors on the 16th.  The concert program has been designed by principal timpanist of the Philadelphia Orchestra Don Liuzzi; NEXUS and members of the Philadelphia orchestra will be  performing  a selection of original works by Russell Hartenberger, Bob Becker, Rolando Morales-Matos and Maurice Wright.
Alan is not the only one celebrating his birthday that week. Our very own Garry Kvistad and Bill Cahn will also be on the lookout for some cake and candles!
The whole week will of course be full of rehearsals, but in addition NEXUS will be at Temple University coaching the Reich "Mallet Quartet" and Peter Schickele's "Sonatas 1 & 2". All were written for or co-commissioned by NEXUS. You can hear a bit of Schickele's "Sonata 2" on the NEXUS website by clicking here and scrolling down a wee bit.
Each member of NEXUS will be giving clinics over the course of the week: Garry on Acoustics (Nov 11 Temple U), Bill on Improvisation and Bob on Ragtime Xylophone (both on Nov 12 at the Curtis Institute), and Garry and Bill on the Business of Music (Nov 13 at Curtis).
NEXUS will also be involved with coaching students in the Steve Reich works "Drumming" and  "Music for Pieces of Wood" in preparation for a free event where NEXUS will join the students onstage: 8 pm, Curtis Institute's Lenfest Hall,
Which brings us to the grand finale of the week, Nov 16th,  the 3pm concert at the Kimmel featuring NEXUS along with members of the Philadelphia Orchestra: Don Liuzzi, Christopher Deviney, Angela Zator Nelson & Anthony Orlando percussion; Hirono Oka, violin; Lisa-Beth Lambert, violin; Che-Hung Chen, viola; Yumi Kendall, cello….and Guest Artists: Alan Abel, percussion/conductor; Pablo Batista, percussion; Rolando Morales-Matos, percussion; Phillip O'Banion, conductor; Natalie Zhu, piano.
The Program is as follows:
Wright: Grand Duo
Morales-Matos: Day and Night
Becker: Preludes
Intermission
Hartenberger: Cadence
Becker: Mudra
Wright: Octet
Russell has packed his Low C singing bowl for the performance of his recent work "Cadence". Bob has two pieces on the program: "Mudra" and "Preludes". This will be the US premiere of the complete "Preludes". (The second movement alone was performed last year at Wright State University). The piece was commissioned by Canada's Banff Centre for the 2011 Roots & Rhizomes Percussion Residency, and was premiered on August 19 2011 with Steven Schick conducting. Follow us on the NEXUS Facebook page for updates as the week unfolds, and to share some of Bob's insights regarding the writing of "Preludes".