Isn't that great?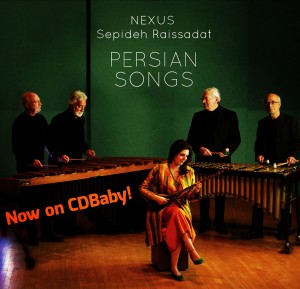 ! We made it onto the CD Hotlist's Top Picks for December! Check out this GREAT review:
"The percussion quartet Nexus has prepared two suites of arrangements for this recording: the first is a set of six compositions by the famous outsider composer Moondog; the second is a suite of seven songs by contemporary Iranian composer Reza Ghassemi and performed by Nexus with singer and setar player Sepideh Raissadat. The two parts of the program could hardly be more different, but each is gorgeous in its own way: the Moondog pieces with their shimmering, pulsating tonality, and the Ghassemi pieces with their complex melodies and Raissadet's supple, expressive singing. In both cases you'll hear echoes of 1970s minimalism, but that's about all they have in common stylistically. Highly recommended."
The album is available direct from NEXUS by dropping a line to Billcahn@aol.com, or on CD Baby (search "Nexus percussion").