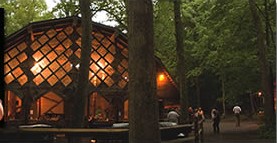 While some of the NEXUS team are catching a bit of rare down-time here and there, others are off on recording sessions and tours in various locales. It is hard to keep track of them but Bob Becker wrote to me today from California, and Garry Kvistad is near St. Louis MO as part of the SUIE Percussion Institute. Meanwhile, much is in the works:
We have heard from TV Asahi in Japan that tomorrow, June 12th they will be airing a feature on Toru Takemitsu and his wonderful piece composed for NEXUS, "From me flows what you call Time…" on their long-running music program "Untitled Concert".  Maestro Yusaka Sado is the conductor and the MC of the show. It will feature him conducting this piece with the Berlin Philharmonic.
The logistics are being worked out for the stirring NEXUS/Canadian Brass concert in Woodstock, New York on Saturday July 2nd in Maverick Concert Hall at 8 p.m.  Entitled "Stars and Stripes with The Canadian Brass and NEXUS", the concert is a Fourth of July tribute to the USA. Tickets for this concert are ONLY available directly from the Woodstock Guild at 845.679.2079.
We have just finalized the details of NEXUS' appearance at Wittenburg University in Springfield, Ohio, not far from Dayton. But you will have to wait until next spring to attend that one. Much closer on the summer schedule is the Ottawa Chamber Music Festival on July 31st at 8 p.m.  in Saint Brigid's Centre for the Arts in the Grand Canal Concert Hall. It's your chance to hear and see NEXUS perform works by legendary composer Steve Reich, music from Africa, ragtime compositions for xylophone, and the exceptional John Cage piece, Third Construction. And it's NEXUS's 40th Anniversary Birthday Bash as well!
Join us!