On Wednesday, October 24 I facilitated the second of two "Creative Music Making" workshops at Buffalo State College. The 2-1/2- hour afternoon session took place at the Burchfield-Penney Performing Art Center. There were 16 partticipants on a variety of instruments – electric bass, trumpets, flutes, violin, viola, banjo, oboe and percussion, including a homemade amadinda (Ugandan xylophone) that I provided. Everyone had an opportunity to play in a freeform improvisation that was recorded and played back for listening and discussion.
This session followed on the first session of a week earlier, on October 17, and the improvised pieces clearly showed that the players were more confident in their musical ideas. This second session served as a dress rehearsal for the performance to occur that evening. There were four quartet pieces and one "Tag Team" improvisation.
The evening concert brought in a small (fifty-or-so) but enthusiastic general audience.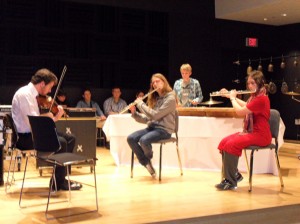 Creative Music Making Performance at Buffalo State College on October 24, 2012 (L to R) Charlie Coughlin, violin / Samantha Arcara, flute / Laurel Presher, amadinda / Kaitlin Reynolds, flute[/caption]
After the concert I congratulated each of the participants, and I was pleasantly surprised when several of them asked for my thoughts on how they could startup their own freeform improv ensemble.