On July 14, 2010 I facilitated a "Creative Music Making" workshop for 23 participating students as part of the week long Eastman Summer Percussion Institute directed by Michael Burritt.  The 2-1/2-hour workshop focused on freeform improvisation, and was based on my book, "Creative Music Making" published by Routledge Books in 2005.
Each of the participants had the opportunity to perform and record improvised pieces for listening and discussion.  An evening public performance in the Eastman School's Kilbourn recital hall provided the forum for participants to put their workshop experience into practice.
The evening recital on July 15 consisted of 12 pieces performed on solo marimba, followed by the freeform improvisation titled, "Smörgåsbord," in honor of the visiting artist from Sweden, Anders Astrand, who is an ardent advocate for improvised music.  The improvised piece was performed in a "tag-team" manner, with three players always playing as one-by-one each player rotates into and then out of the playing.  Here's the program: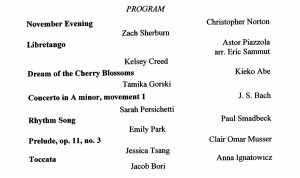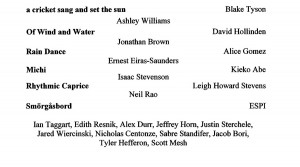 Earlier in the week there was a faculty recital by Michael Burritt on which many of the guest clinicians also performed in a diverse program.  Michael's performance was great throughout and I was especially pleased with our duo in "The Crystal Cabinet."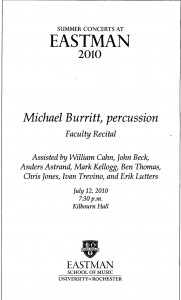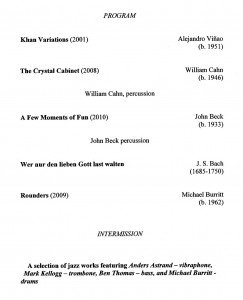 My participation in the summer institute was made possible with the generous support of Sabian Cymbals, and Vic Firth Inc.  In addition to Michael Burritt's sessions, also presenting workshops at the Summer Percussion Institute were Anders Astrand, John Beck, Rohan Krishnamurthy, Gordon Stout, Rich Thompson, and Lee Vinson.
Here are some photos from the Eastman week: