It has been a very mild winter in western New York so far in the 2011/2012 season. The temperatures have been in the 40s for extended periods. February had the highest number of days (25) ever recorded in which there was a temperature above freezing at some point during the day. Snowfall totals have been well below the average for the season. So, was it nostalgia for a normal winter that made Ruth and me decide to go to a cold, snowy and dark part of the world for a week in February?
No; it was an invitation extended to us last year by Maria Finkelmeier to visit the Luleå University of Technology Institution for Music and Media in Piteå, Sweden, where she is in the middle of a postgraduate residency along with her colleagues Jacob Remington and Charles Martin, collectively forming the percussion trio, Ensemble Evolution.
Ruth and I had both made arrangements in our teaching schedules to have a free week to travel. It was another mild, sunny day when we flew out of Rochester heading for Sweden, with a 6-hour layover in Newark (also mild & sunny), followed by a 7.5-hour flight to Stockholm where there was another 2-hour layover before a 2-hour flight to Luleå in the far north, just a few miles below the Arctic Circle.
We were met at the Luleå Airport by Maria and Jake, who had rented a car (a Pugeot diesel) to drive us to Piteå, about 50-miles south along the Bay of Bothnia. The car was large enough to accommodate the four of us with some room left over to fit in two large suitcases full of percussion instruments and two carryon shoulder bags with clothing and importantly, two 15-inch film reels for the 1926 Japanese silent film, "A Page of Madness," by Teinosuke Kinugasa. The percussion instruments in the suitcases had been carefully selected and packed over the days preceding this trip, with keeping the weight under 50-pounds per suitcase being the main concern.
The temperature was about minus-5-degrees (F) and the snow covered roads in Luleå were flanked by 6 to 8-foot high snow banks. The main highway south (the "E-1") was navigable only by the double-track in the road surface exposed by the tires of the traffic that had already headed southbound in the late afternoon, with the approaching winter darkness.
We arrived at our quarters in about an hour. We would be staying in a simple, but comfortable guest dormitory at the Framnäs Folkhögskola (people's high school) on the outskirts of Piteå.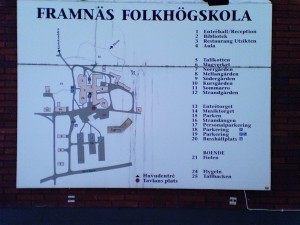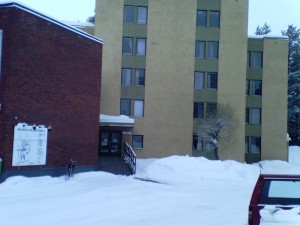 After settling in to our twin single rooms (with a shared bathroom), Maria drove us about 10-miles to the Institution where we checked out the Bell & Howell 16mm projector that had been procured for the film performance. There had been some concern over the preceding weeks that a suitable projector capable of carrying a 15-inch reel and having enough brightness could be difficult to find. It was a relief to finally know that the projector would work just fine.
With the projector problem solved, we returned to our lodgings where Ruth and I napped for a few hours before meeting Maria, Jake and Charles for dinner (lasagna) at a coffee shop in town, about 12-miles from our dorm. After dinner we stopped at a supermarket to pick up some bottled water, snacks, soap and shampoo (labeled "for Nordic hair").
We then drove to the percussion studio at the Institution for Music and Media, where Ensemble Evolution performed some of their original new pieces for us so that we could give them some feedback. Ruth and I really enjoyed hearing each of the three pieces, mostly composed for two marimbas and vibraphone, first by Charles,then by Jake and finally by Maria. All of the pieces were solid and interesting with Steve Reich-like (minimalist) sections, but still with each piece having its own distinct character. Ruth and I were very impressed, and we both encouraged more. Our long day of travel and introductions then came to an end as we tucked in for a good night's sleep.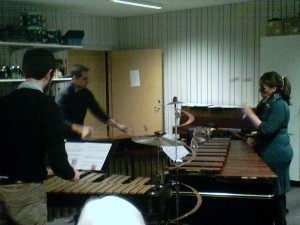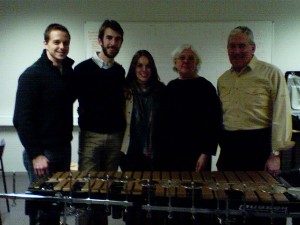 Day 2, Wednesday, February 22 began with a buffet brunch at the Institution's cafeteria, along with Maria, Jake, and Charles. The cafeteria was filled with students and faculty, as is the normal routine between the hours of 12:00 noon and 1:00 PM, at which time the cafeteria becomes virtually empty as everyone goes back to work.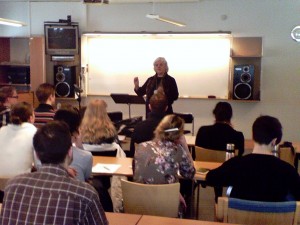 In the afternoon Ruth presented her lecture/workshop on mentoring and teaching styles for about a dozen faculty members and students, while at the same time I conducted the first 90-minute Creative Music Making workshop. The CMM participants were an eclectic group of musicians – a balalaika player from Russia, two pianist/composers from Germany, a flutist from Brazil, a guitarist from Italy, Charles Martin (the Ensemble Evolution percussionist from Australia), as well as several other composers and a conductor playing hand percussion instruments. As is normally the case, the participants had little or no prior experience in free improvisation. To begin the session, one of the participants bravely volunteered to perform in a duo with me on vibraphone, and we created a 2-minute piece which was also recorded. After a short question – "what were you thinking as you played?" – everyone listened to the playback which stimulated more questions and discussion.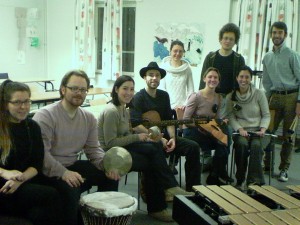 This process was repeated with new players until everyone had a chance to perform, listen to playback, and discuss what they heard, thought, and felt. With each successive piece the doubts and skepticism diminished. It was good start.
Ruth's workshop was still in process, so I stopped in and Ruth had me respond to her question about my mentors when I was in school. I talked about the Philadelphia Public School System in the 1950s and 1960s and how many opportunities were provided to students to become involved with music. Of course, I mentioned Dan Hinger, Alan Abel and the Philadelphia Orchestra where I was given the privilege to hear great music played by one of the world's great orchestras.
After the workshops, Ruth, me and Ensemble Evolution were invited to an informal party at the apartment of one of the percussion students at the Framnäs Folkhögskola. We were greeted by the hosts, Lisa Wagner and Henrik Wiman, both percussionists. Soon afterwards a third percussion student, Micro Boström, arrived to join us in sampling Lisa's excellent cinnamon buns with green tea. We shared stories about percussion, saunas, and Japanese baths, and by the time we had to leave, we were all laughing so hard that we almost couldn't stand up and walk back to our dorm.
Day 3, Thursday, February 23 began late with Maria driving us downtown in Piteå for a brunch at one of the coffee shops. There we each had coffee with a Swedish puff pastry called a "semla" which is kind of like a Whoopie Pie – a generous glob of whipped cream sandwiched between two halves of a puff pastry . Semlas are seasonal in Sweden, and they a normally baked around the end of February. Coincidentally, Ruth and I both had heard an NPR feature on our car radio a few days before we left for Sweden about the tradition of semlas baked in Swedish communities in America.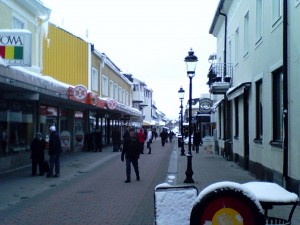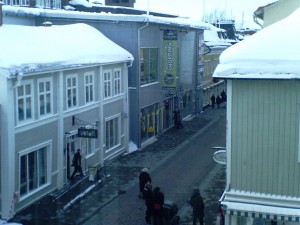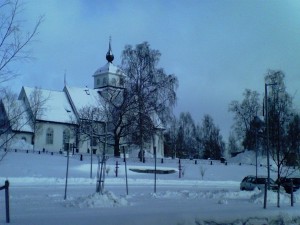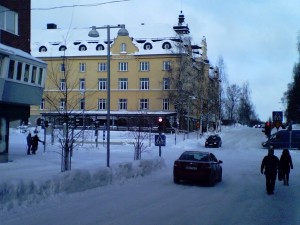 After brunch we headed back to the Institute percussion studio to setup the percussion instruments needed to rehearse "A Page of Madness." Our instruments filled up most of the space in he studio. We played through the key "groove" sections and then we used our timers to play through all of the 58-minute score in real time. Ensemble Evolution had looked over their parts in advance, and the rehearsal went really well. Jake had inadvertently prepared the part that Ruth would play, so he had to essentially sight-read the correct part for this rehearsal, which he did effortlessly.
Later in the afternoon Ruth presented her workshop session on snare drum stick control exercises. In attendance were Maria, Jake, and the percussion students from the Institute and the Framnäs Folkhögskola.
Meanwhile, I facilitated the second CMM session. I started the session by playing the NEXUS & Kronos improvisation that had been performed for a CBC broadcast some years ago. I commented that NEXUS and Kronos had never done an improv together before this broadcast, and that we were all doing essentially the same thing that the Piteå CMM participants were doing. There was virtually a unanimous observation that the NEXUS/Kronos piece presented a strong 'organic' sense, and that the wide spectrum of sounds were played with confidence and worked very well. Hearing the NEXUS/Kronos recording seemed to provide the CMM participants with the motivation to leap ahead into new levels of freedom in performing their second day's pieces, in preparation for the pre-concert performance to come on the following day.
For dinner Maria, Charles, Ruth and I went back into town to a local pizzeria. We each ordered single-size pizzas, but when they arrived at our table, each one looked large enough for two. Maria reassured us that the pizzas were thin crust and relatively much less filling than the pizzas we're used to in America, and she was right; not a bite was left over. On stomachs filled with pizza and Coke we crashed for the night.
Day 4, Friday February 24 was concert day. After another brunch at the Institution cafeteria, we moved the percussion instruments from the percussion studio down the hallway to the Acusticum theatre, a rather nice concert hall with seating for about 700. The projector had already been setup about halfway back into the stepped seating by the tech director, Roger. He had also hung the screen and border curtains. We decided to arrange the percussion in a 'V' on either side of the screen – Maria and me on stage right and Charles, Jake and Ruth on stage left – which allowed a very large open area in the front of the screen up to the first row of seats; perfect!
Maria, Jake and Charles wanted to see the film, so as soon as we were set up the film was played completely through without music as we all watched from the seats. Because the story in the film is rather ambiguous until it can be viewed at least a couple of times, I narrated some of the key storylines for everyone to follow as the film ran.
Now that all of the performers had some sense of the film's overall look, we synchronized our timers, pressed our 'start' buttons and played through the score for about 20-minutes without the film running; the timers controlled the players' entrances, so it wasn't necessary for the players to see the film at this point. As soon as we had played through the key 'groove' passages I asked if everyone needed to go on to the end, and the consensus was that we could stop. Everyone was ready for the performance Everyone went back to their housing to change into concert dress – all black.
At 8:45 PM all of the Creative Music Making participants arrived in the lobby of the Acusticum theatre to warm up their instruments for the pre-concert improvisation. By 9:00 the lobby was filled with the concert audience. I stepped in front of the ensemble and announced: "Ladies and gentlemen! I am pleased to introduce the 'Piteå February 24 Free Form Improvisation Ensemble' who will perform this evening's overture here in the lobby. We we only formed two days ago and we don't know exactly what we will be playing. We have only two rules for this performance: 1) everyone can play whatever they want to play, and 2) everyone should try to listen . . . but there's no penalty for not listening."
As I stepped aside the improvisation began. I had a large Wuhan tam-tam which I played from time to time along with the ensemble. Exactly 15-minutes later, as planned, the piece came to an end, and to say the least, based on the responses from the audience as well as the players, the performance was a resounding success.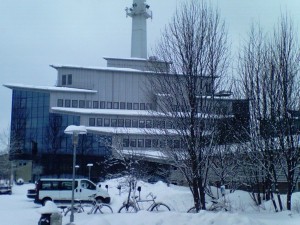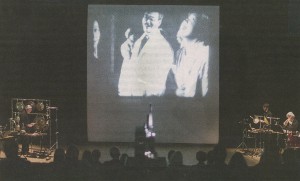 The audience then moved into the Acusticum for the performance of "A Page of Madness." There were printed programmes in English with information about the film and the story. Throughout the stay in Sweden, as has been the case virtually everywhere I have traveled, our English language presented no real problems for us. I made a brief introduction to the audience about the film and then t was: "Lights . . . Roll it!" Everything went perfectly and the audience responded very positively. After the last bows, Maria invited the audience to stick around for a post-performance "Q and A." Virtually everyone – about 250 people – stayed, and we responded to a half-dozen questions about the music and the film. Immediately after the discussions ended there was the normal greeting and chat with individual audience members.
One of the resident composers came up to me and asked if Stravinsky, Copland, and Varese were already famous when I encountered them (as was printed in my bio in the programme book). I replied, "yes, they were already quite famous well before I crossed paths with them." The composer looked somewhat startled; he seemed to go into a deep meditation on the nature of fame, and with that I left him.
The last task of the day was to pack everything – two large suitcases of instruments, the film and timers and the take-up reel, and transport all of it back to our dorm.
Day 5, Saturday, February 25 began at the Institute where Charles Martin was presenting a status report on his thesis to his advisor and other graduate students thesis. Ruth and I wanted to sit in and listen. Charles spoke at some length – with projected slides for visual help – about the use of electronic handheld devices (not including laptop computers) in live-performance music production. He also demonstrated examples of how the notepad device could be used to trigger digital sounds.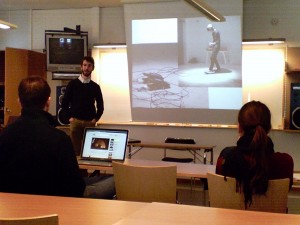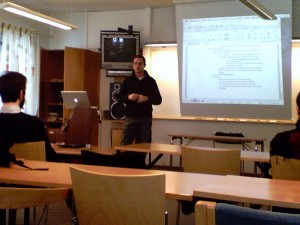 Charles' report was followed by Jake giving a report on his own thesis having to do with new works created by composers especially for Ensemble Evolution. Last was a report by another grad student, a German composer, who had completed his thesis with a performance of his short theatrical piece for soprano, accordion, violin and percussion. Ruth and I both found the recorded excerpts from the premiere performance of this piece to be very interesting and enjoyable.
Maria and Charles drove Ruth and me to a late brunch at a restaurant on main pedestrian mall in Piteå, after which Maria took Ruth and me on a walking tour around the town center – the old Lutheran church with its Eastern Orthodox dome spires; the harbor area, the old central plaza, and the town museum. In the old plaza there was one cart vendor selling home made pastries, and of course, we purchased a cake roll which we later gave to Charles. The museum was interesting. It had antique furniture, a scale model of the original village, and a wonderful photo exhibition, the subject of which was an elderly Swedish man at his home in the far north.
After the museum we waked back on the main mall street and stopped at a toy shop which had lots of stuff, but very few musical toys. So we next went into the village liquor store, the only place in Piteå where legal alcohol could be purchased (like the Liquor Control Board stores in Toronto). I purchased two bottles of a sweet Italian Muscat wine and carried it as Maria drove us first to see an old Swedish village called, "Öjebyn." and its centuries-old Lutheran chapel, and then to Charles' apartment at the Institute for a late afternoon break; the Swedes call this break a "feeka." The wine went perfectly with the home made cake that was purchased earlier. Our feeka lasted a few hours and that's how we ended the day.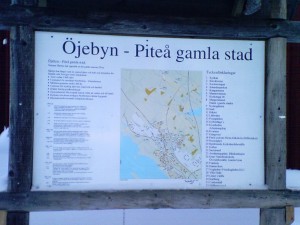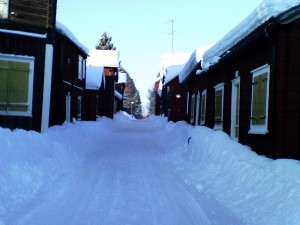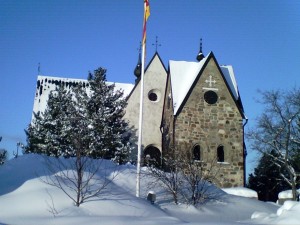 Day 6, Sunday February 26, was our last full day in Sweden. Maria picked up Ruth and me for a late morning brunch at coffee shop back in one of the old buildings in Öjebyn village. The quasi-buffet brunch was perfect for that sunny morning and the comfortable ambiance of the old house cafe was very nice.
After a relaxing meal, Maria drove us to the Percussion House at the Framnäs Folkhögskola, where we linked up again with Charles, Jake, and the Framnäs percussion residents – Henrik, Lisa, Micro, and Astrid Lindh. The Percussion House (Slagwerket) is literally an entire house for the percussion department, with a large studio room and several practice rooms. In this house the percussionists have the luxury of being able to practice at any hour of the day or night, because the house is somewhat separated from the other buildings on the Framnäs campus.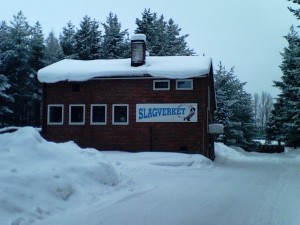 After a brief tour of the Percussion House, Charles set up his SONY recorder and we all began to do some creative music making with the available instruments in the main studio. We had fun recording two improvs and then I asked if everyone would be interested in some African drumming. Of course everyone was interested, so we did a few quick versions of "Agbekor" with everyone rotating on the drum parts. Our afternoon ended with some rudimental fife and drum music – using the sampled fife iTune files on my laptop for the fifes.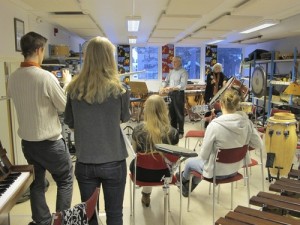 As 5:30 Pm approached we all realized that we'd have to get moving to beat the Sunday closing time of a nearby restaurant that serves traditional Swedish food, so we hopped into Maria's rented Pugeot and drove about 15-minutes to a gas station/convenience store/restaurant and arrived just in time to place our orders. We all ordered "palt" – a Swedish potato dumpling. I had "pitapalt," a large potato dumpling ball stuffed with pork and served with shredded carrot, cabbage salad and a sweet berry sauce. It was simple, but very filling.
Back at the dorm we packed all of our stuff to get ready to wake up at 4:15 AM the next morning. Day 7, Monday, February 27 was our departure day. We awakened on time, and fortunately the weather clear, though still quite cold. Our taxi ride to the Airport in Luleå was scheduled to pick us up at our dorm at 5:12 AM for the 45-minute drive to catch a 6:30 AM flight to Stockholm. At 5:10 AM I started to worry, because it was now going to be a very tight timeframe. We would need to get to the airport by 6 :05 at the latest to pay the taxi, check bags, get ticketed, and get to the gate in time.
Finally, the taxi van arrived late at 5:17. When the driver opened the rear hatch to put our two large suitcases inside, I saw that the taxi was full of other passengers and luggage, with no apparent room for our suitcases. The driver just stood by the hatch, and it was clear that he was bamboozled. I took one of the smaller cases out and after several tries I was able to repack it along with the smaller of our suitcases. The luggage compartment was now floor to ceiling full, with no room for our large suitcase. There were only two passenger seats open, so the large suitcase was placed on the floor in front of one open bench seat, thereby rendering the seat unusable. The only seat left was the passenger seat in the from, opposite the driver's seat, so Ruth and I squeezed into that seat along with our very full backpacks. Then the driver closed all the doors and got in.
It was very lucky for us that it wasn't snowing, because the roads were still snow covered, but passable at highway speeds. 45-minutes later we arrived at the Airport in Luleå, and after taking forever to pay the taxi fare using my credit card – the driver had to swipe the card several times for my fare, and then again for Ruth's fare, reentering the information over and over. By the time we finally had our receipts, we ran into the airport check-in just make it in time to check our bags and board the plane; the airplane door was literally closed right behind us as we boarded.
Our flight to Stockholm arrived on time for the 2-hour layover and the connection for the 9-hour flight to Chicago. In Chicago, during the 4-hour layover, while sipping on Starbucks iced lattes, we were surprised to meet Helen Smith, who is the Eastman School's Director of Technology and Media Production. She was returning to Rochester from a week in London (UK), her native stomping ground. On returning flights to Rochester it's not unusual to meet people one knows.
As we were about to board our final flight, I noticed with dismay that Ruth and I were booked on two different flight to Rochester – mine at 4:40 PM and Ruth's at 6:20 PM. Ruth's luggage would be on the later flight, so either way, we'd have to stick around the Rochester airport until the arrival of the second flight. So as I boarded my flight I waved 'goodbye' to Ruth.
I landed in Rochester at about the same time as Ruth's flight was taking off from Chicago. Since I had some time to kill, I dropped Helen Smith off at her home in Brighton, about a 15-minute drive from the Rochester Airport, and then returned to the Airport to await Ruth's arrival, which was on time.
All in all, we were very lucky with the weather. All of our flights and connections – going to and coming from Sweden – were on time and with clear skies, a very unlikely scenario in both Rochester and certainly in the far north of Sweden in February.