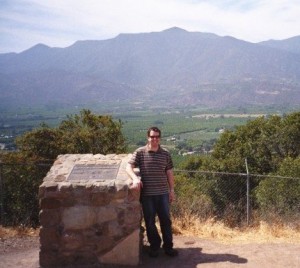 We have a guest blogger today. Craig is going to tell us about moving NEXUS around North America! Thanks, Craig, for this behind-the-scenes look!
My name is Craig Snowden and since Autumn 2004 I have been working on the road with NEXUS. I have been asked to write a short blog about my experiences on and off the road and since I am not actually that creative a writer, I think I will answer some of the questions that were presented to me to get my creative mind working.
-How long have you been driving for NEXUS?
Since late 2004. I had worked for another company in Toronto that rents percussion gear and provides instrument cartage. When NEXUS was looking for a new driver, they asked the boss and I got the call. It was actually quite short notice as I think Bob called me in September for a gig to Nashville PASIC then off to Edmonton right after that. It was one of the longer trips but I was able to see friends in Manitoba, family in Saskatchewan and Alberta and my in-laws in Northern Ontario.
-How many miles do you think you have clocked?
I'm not sure exactly but some of the destinations from Toronto have included, Florida, Nashville, Austin, Kansas City, Los Angeles, Edmonton, Thunder Bay, Dayton, Windsor, Ottawa and Collingwood.
-What was your longest trip?
The longest was Toronto – Rochester – Los Angeles and back. 4.5 days of about 1000kms per day and a round trip of almost 10,000kms. It was definitely the longest at 21 days but also one of the most interesting drives through the South West USA. I actually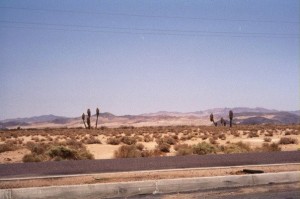 On the way home I took the northern route through Las Vegas and Utah. One stretch in Utah was over 120 MILES without a gas station, house, telephone pole or any other sign of humanity except the highway. It was quite a spectacular drive.
-Do you travel by yourself, or does someone drive with you?
Usually, I am by myself. There have been trips that my wife has flown to the destination for a day or two and driven back with me. We did that when I was in California and stopped for a day in Las Vegas with the truck. I do all of the driving, but it is nice to have someone to talk to besides all the drivers on the CB radio.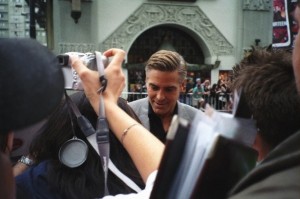 -Do any of the NEXUS guys ever go in the truck with you?
No, as I usually have to leave early to get to a venue on time as the truck is slower. NEXUS will mostly fly but sometimes they will carpool or drive themselves if the show is not too far. One time in Florida Robin and I wanted to go to the beach so we hopped in the truck and drove about 30mins to the Gulf of Mexico. When we arrived we found that a hurricane had gone though and almost completely destroyed the beach-front homes and cottages. A number of them were flattened while others were simply pushed back into the trees from the storm. I did take some time to wander in the waves with my shoes off.
-What is the usual size of the truck that you take?
Either a 14 or 16 foot cube van. It's not too exciting as most of them do not have cruise control or a CD player. It's not such a big deal on the shorter drives but I sure would like to have cruise control on the California trip. It's not that comfortable to drive either so I think that's why the NEXUS guys try to steer clear of having to ride in it!
-Do you do the load and unload/strike too?
Yes, but every hall is different. Union halls will have a staff there that will help unload and assist with the setup of the percussion instruments. Some have little experience with percussion gear so sometimes it is faster for me to just set things up myself. In non-union halls such as universities or churches the presenters will provide help as well. Most of the university shows will have percussionists assisting which is most helpful. One show in Ohio we had about a dozen percussionists helping and from the final note of the show I was completely packed and closing the door of the truck in about 45 minutes which was the fastest one ever!
-What is it like crossing the border with all that stuff?
When I first started with NEXUS it was a huge ( 3 hour ) pain. I would arrive at the border with the required paperwork and then have to park and go inside the customs building and submit my paperwork then wait. Usually it was about 2-3 hours depending on how busy the border was. For the last few years, NEXUS has changed the paperwork or the US Government has changed their procedures as now I have a bar code that they simply scan and wave me through. No more 3 hour waits, but I do have to supply NEXUS with all sorts of personal information as well as the license plate and VIN number of the truck.
-Do you do winter driving as well? Any scary moments or huge delays?
Yes! We did a tour to Northern Ontario in November where it became so cold at night that the truck literally froze and would not start. I had to go to the hardware store for an extension cord and run it out of the hotel to plug in the truck heater. And the time to Kansas City that Toronto received the storm of the decade and shut the city down for two days just as I was leaving. It took me 14 hours to drive about 800kms. Eventually I had to get off the road because the headlights had completely iced over. When I finally found a hotel I had to kick the snow drift away from the door so I could open it.
– What is it like travelling with NEXUS? What is the funniest story (or two) about road-managing for NEXUS?
Saving the hardest question to the end. I have not had a bad trip with NEXUS. I am very fortunate that I have been able to travel with the Premier Percussion ensemble and the experiences have always been positive. We usually get together for some nice meals on the road and the conversation is always lively and engaging. We always have a good laugh at someone's expense! I look forward to working with them in the future.
Cheers,
Craig Snowden