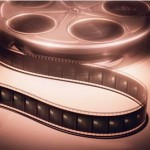 I've been thinking about NEXUS and their film programmes and film scores. NEXUS has two fascinating programmes of Silent Film Accompaniments: the fun "Teddy At The Throttle",
Mack Sennett's great silent comedy starring Keystone Teddy the dog, who saves the girl tied to the railway tracks. (This summer NEXUS performed "Teddy" in the Ottawa Chamber Music Festival's   "Late Night at the Legion" program). The other programme is the much more serious "A Page of Madness"  by the Japanese film-maker Kinugasa, a ground-breaking film that had been lost for 50 years. In 2007, NEXUS was called upon to create the musical score for the National Film Board's "Inside Time"  about bank-robber Stephen Reid of the notorious "Stopwatch Gang". The film won the 2008 Yorkton Golden Sheaf award for best social/political documentary and the 2008 Robert Brooks award for cinematography. And you will remember that NEXUS created a chilling score for the Academy Award winning feature-length documentary "The Man Who Skied Down Everest"
So all this has me musing on movie metaphors. "Representing NEXUS" could be a great title, like "Driving Miss Daisy" or "Being John Malkovich". There's actually a lot in common between Representing NEXUS and making a film. I guess, what with all of NEXUS' world-wide touring, the type of film that first springs to mind is the classic "Road Trip" flick ("Planes, Trains and Automobiles"? Or maybe "The Muppet Movie", featuring that crazed drummer "Animal"). On the other hand , as with any ensemble, there can't help but be the bio-doc elements of "This is Spinal Tap".  Suffice to say that NEXUS has everything it takes to make a great film: a quirky cast of characters (the NEXUS guys themselves), plot twists (if you've done any touring, you know!), conflict and resolution (all kinds), lots of happenings "on location", and many of the "locations" are exotic (take Seoul or Schleswig-Holstein, for example!) It's like "Ocean's 12" but with only five. So when you think NEXUS, think movies, and check out their film work!  That's a wrap.