On Tuesday morning September 7 after the obligatory coffee at Starbuck's, we decided to go to Kyoto for the unanticipated free day. (The conductor, Yutaka Sado, was only going to rehearse with the brass section this day, so NEXUS was excused.)  The train ride to Kyoto was only about 45-minutes at the ridiculously low ticket price of about $4.50 per person each way.  We started out at the Higashi-Honganji Temple – one of the two temples near the Bullet Train station.  We tried to find a big temple bell outlet store that we visited in 1976, but it's either gone or we simply missed it, so we went to see the other (west) temple – Nishi-Honganji.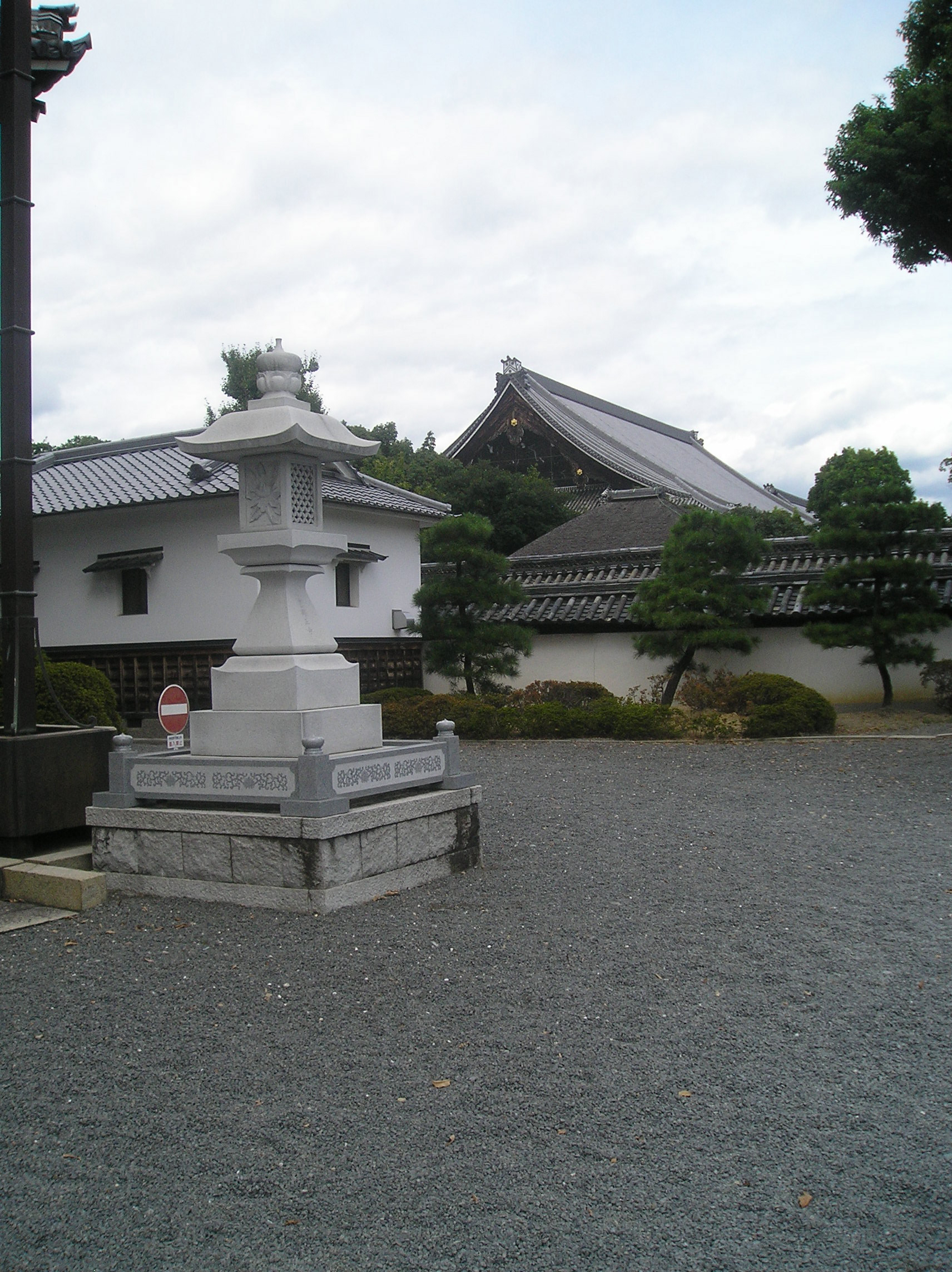 Then we took a taxi to a soba restaurant in the old part of Kyoto that was recommended to Bonnie.  It was very good, and after lunch we walked through some roofed-over market streets that went on for about a mile. There were hundreds of vendor stalls, most with uncountable quantities of fish, vegetables, and sweets.
After that, a short taxi ride brought us to the Kyoto Folk Craft Center – the same place where I purchased a beautiful set of cultured pearls for Ruth in 1976.   We walked through the seven floors, but this time I didn't buy anything.  Then we walked about a mile to a street in the Kyoto hills called "Philosopher's Path" which runs alongside a stream lined by some impressive private homes.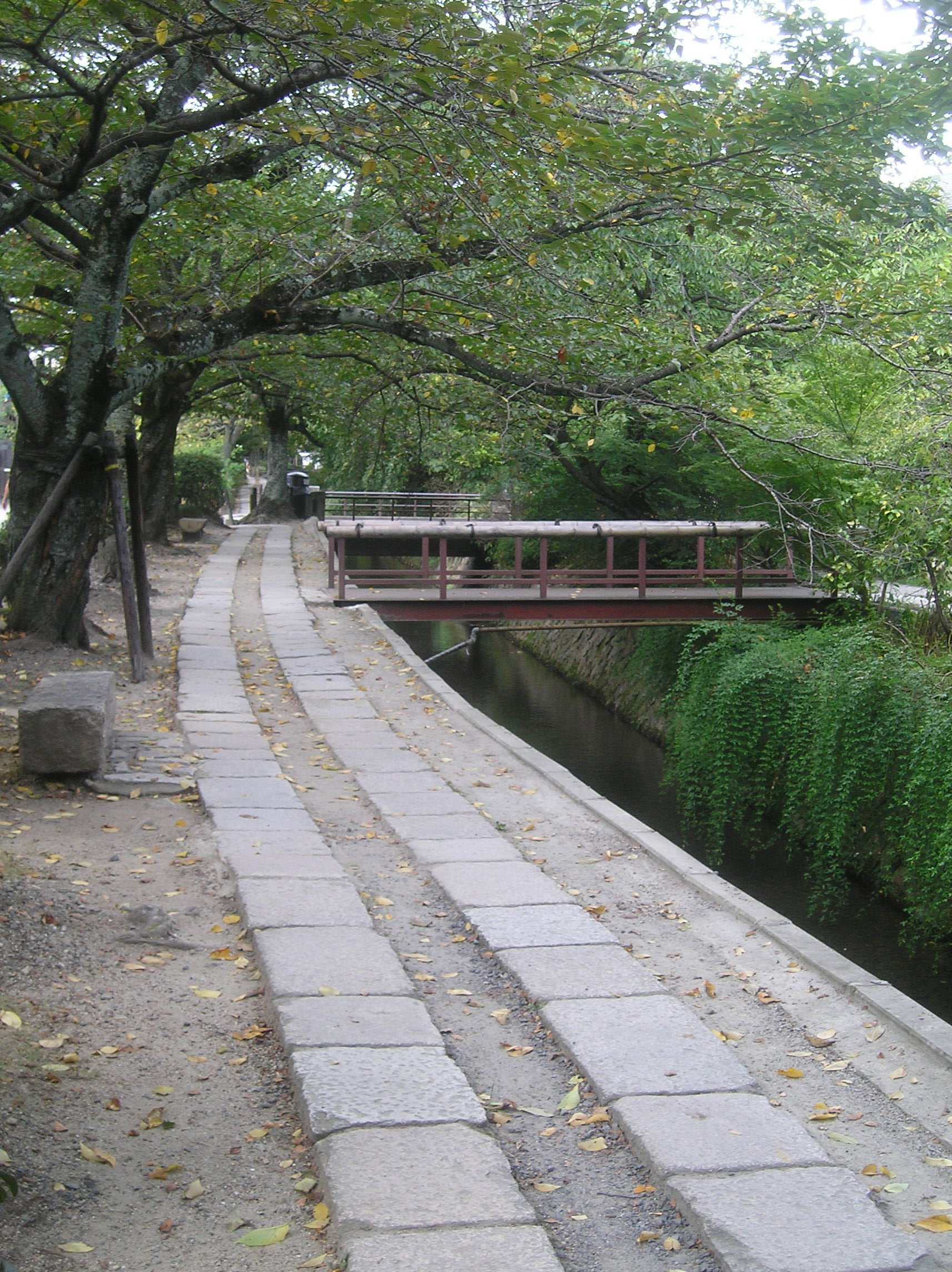 Around 4:00 PM  the muggy weather and increasingly dark clouds turned into a heavy downpour, so we scrambled to a nearby coffee house for shelter and a rest from our walking.  When the rain finally let up we walked a bit more and found a small shop along the Path devoted to cat images and drawings.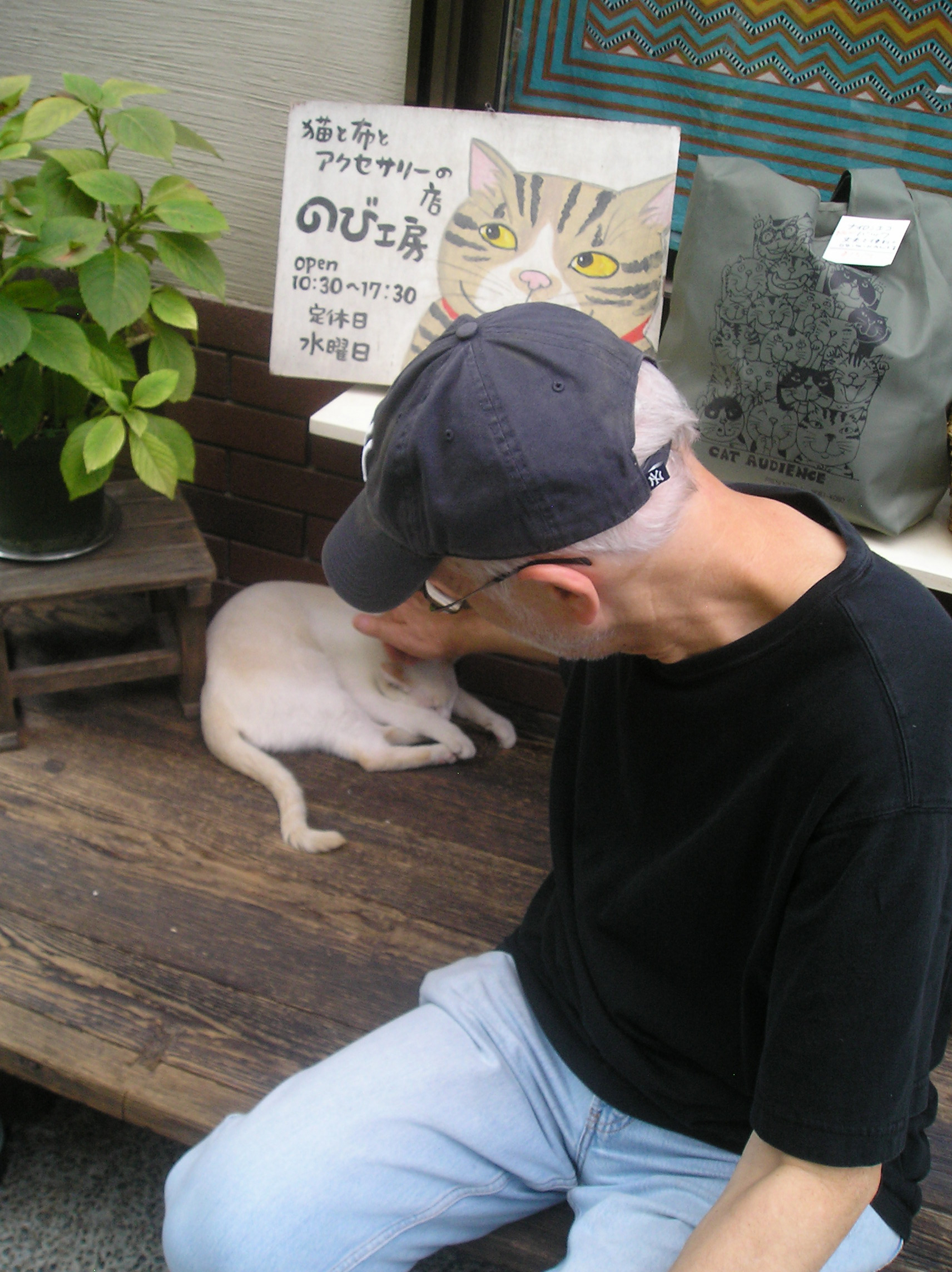 Russell suggested that we try to find the tempura restaurant that Toru Takemitsu liked – the same one visited by NEXUS and Toru on our first Japan trip in 1976.  We found it – the Yoshikawa Ryokan – just as they were opening for dinner at 5:00.  We were escorted to the tempura bar, which Russell and I both recognized immediately as the same place we visited with Toru.  I mentioned this to our waitress (dressed in a formal kimono, of course) and she said there were still waitresses at the ryokan who would have been there in 1976. (We even spoke with a couple of them).  The tempura was fantastic – shrimp (including heads and tails), fish, several kinds of eel, vegetables, relishes, miso, and salad.  This tempura restaurant was considered by Takemitsu to be the best in Japan, and Seiji Ozawa was also a regular customer.  The ingredients were all very fresh, and the very light batter was just enough to add to the flavor without overwhelming the fish or vegetables.
While we were eating we kept hearing the sporadic sounds of very high-pitched bells ringing.  It sounded like it was coming over some kind of amplification system in the restaurant, so we assumed at first that it was some kind of doorbell, but it kept sounding even when no one was entering or leaving.  Finally, Garry asked the waitress what was making the sound.  The waitress turned around, walked over to one of the walls, removed a terrarium from a shelf and brought it to us.  Inside the terrarium were a number of crickets that all by themselves – without amplification – were making the bell sounds.  It was very truly amazing, because the sound was just like the sound of small bells and quite loud.  Apparently, these are a special kind of Japanese crickets aptly called "bell crickets" and they are only alive in the late summer.  It was great to hear something so outside of our  experience – something that becomes increasingly rare with age.  All of the kimono-clad waitresses enjoyed our fascination with the crickets as they escorted us to an after-dinner lounge for desserts.  This was again a most memorable occasion.
After the tempura dinner we walked to a nearby covered mall street for some late (7:30 PM) shopping.  We came upon one shop that had some small cup bells (rin) in the window, so we went inside and the prices were remarkably low  – at least half of the prices we knew existed elsewhere – for bells of reasonably good quality.  We each purchased some of the rin (3 for me), and at 8:00 PM we took the express train back to Osaka-Umeda station near our hotel.  As might be implied by now, this was in many ways a deja-vu day, revisiting many of the places that NEXUS visited in '76.